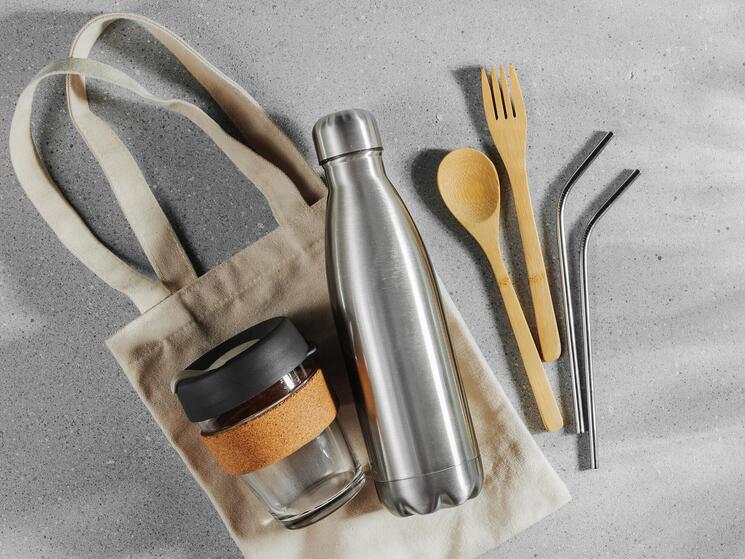 Date

: 17 August 2023

Author

: Tessa Bellone, Plastic Waste Specialist, WWF
Many people considered the invention of single-use plastic to be the height of innovation at its time, with disposable plastic bags, cups and utensils skyrocketing in popularity due to their versatility and convenience. However, after decades of overconsumption and mismanagement, these same products have now become a symbol of environmental degradation – clogging our oceans with millions of tons of plastic pollution every year.
As the plastic pollution crisis grows in severity, the world is in dire need of new business models that are capable of matching the ease, function and affordability of single-use plastic without the devastating levels of waste.
That's where reuse comes in.
Reusable materials and systems present a multifaceted solution that balances durability and sustainability, drastically cutting down on the amount of total plastic waste generated while still meeting the demand for a convenient, lightweight packaging option. Effective reuse systems can enable consumer behavior change, drive more responsible use of materials, and help us become more conscious of how we value the materials we use. Reuse systems are also cost effective; according to the Ellen MacArthur Foundation, reuse systems that replace 20% of single-use plastic packaging would represent a $10 billion opportunity for our economy, thus demonstrating the potential for reuse to achieve the ultimate triple bottom line: benefits to people, planet, and profit.
As part of ongoing efforts to support the widescale adoption of reuse, WWF had the honor to participate in The Reusies 2023, created and produced by Upstream, earlier this summer. This annual awards show celebrates the innovators at the forefront of the reuse movement, underscoring the remarkable potential of reuse systems to change the trajectory of the plastic pollution crisis. While the 2023 award winners range across sectors, all showcased the power of creativity, collaboration, and conscious decision-making in reshaping businesses, governments and behaviors.
WWF commends the pioneering efforts of these individuals and organizations, as well as the spirit of critical innovation each embodies. As we continue to search for new solutions to stop the flow of plastic into our oceans, this level of innovation across a wide range of stakeholders – from individuals and small businesses to governments and industry leaders – will be essential to driving meaningful impact.
See the full list of winners from the 2023 Reusies below:
Daniel Vukelich | Activist of the Year
Reuse Seattle | Community Action of the Year – Building Reuse
The Town of Banff | Community Action of the Year – Policy
Re:Dish | Most Innovative Reuse Company – Food and Beverage
Generation Conscious | Most Innovative Reuse Company – Consumer Packaged Goods
Bleckmann (The Renewal Workshop) | Most Innovative Reuse Company – Fashion and Apparel
The Clorox Company | Corporate Initiative of the Year
Photos and bios reprinted with permission, courtesy of Upstream.
Daniel Vukelich | Activist of the Year

Taking on the one-way throw-away paradigm from a unique angle, Dan provides hospital management and policy makers with the tools to reduce greenhouse emissions, cost, and waste through the safe reuse of "single-use" medical devices. When he began this work in 2000, roughly $20M worth of single-use devices were collected and reprocessed at a handful of hospitals. Today over $468M worth of these devices are reused at over 10,500 hospitals. He has worked tirelessly to advocate for strict regulations globally to level the playing field and keep patients safe; educate EU and US policy makers on well-designed life cycle studies; and speak with surgeons, nurses, and hospital purchasing agents on the rapid growth of the field.

Reuse Seattle | Community Action of the Year – Building Reuse

Reuse Seattle brings reusable food and beverage container solutions to the city's businesses and residents. Their vision is for a convenient, connected, interoperable, and standardized network of reuse systems throughout the city. Through Reuse Seattle's efforts, more than 20 venues around Seattle now have reuse services in operation, and a wash facility has been established in the city. To help more businesses make the switch to reuse, Reuse Seattle launched a rebate program that will provide incentives and assistance to up to 250 businesses. Through partnership and collaboration, Reuse Seattle is building the blueprint for systems change at a citywide level.

The Town of Banff | Community Action of the Year – Policy

As a town located in Canada's first national park, with wildlife and sensitive ecosystems all around, reducing landfill waste in Banff is a key priority. As a result of grassroots efforts led by groups "The Bear Minimum" and "Banff Isn't Disposable", the Town alongside a Business Environmental Leadership Working Group, developed a Single-Use Item Reduction Strategy & Bylaw adopted in 2023. The bylaw, among the first in Canada of its kind, requires reusables for on-site dining. It also includes a strategy focused on reduction and reuse, tailored to their unique tourism-based context. Beginning in 2024, Banff aims to be a community where there are "no takeaway only businesses" which they see as a strong message to send to visitors from around the globe.

Re:Dish | Most Innovative Reuse Company – Food and Beverage

Re:Dish delivers reuse-as-a-service, providing the warewashing infrastructure and software that makes reuse possible at scale. They offer solution to third parties as well as a Reusable Dishware Program, helping foodservice generate less waste, and companies and schools meet their ESG goals. In 2022, Re:Dish enabled the diversion of 32 thousand pounds of waste, reduced CO2e emissions by 47K kgs, and saved more than 65 thousand gallons of water from client sites. With Re:Dish, institutions help normalize reuse behavior every day, proving that when you enable individuals to participate in the reuse economy at scale, exponential progress can be made towards fighting climate change and mitigating the waste crisis.

Generation Conscious | Most Innovative Reuse Company – Consumer Packaged Goods

Partnering with universities, multi-family buildings and commercial real estate developers to install laundry soap refill stations, Generation Conscious has built a zero waste, zero water infrastructure to end hygiene insecurity and create a paradigm shift necessary in U.S. consumer culture.It is a first-generation Black-led company that employs local labor, reinvests surplus profits into BIPOC and queer-led fellowships, and ensures economic success is shared by the workers. In one year, they've grown from 2 to 23 University paid partners, amassing more than 500 student volunteers and 71 first-generation low-income student workers. Since 2021, Generation Conscious has also eliminated 4.8 tons of water, saved 154 tons of carbon emissions and diverted 32,000 plastic jugs from landfills, incinerators and the environment.

Bleckmann (The Renewal Workshop) | Most Innovative Reuse Company – Fashion and Apparel

The Renewal Workshop (TRW), acquired by Bleckmann in 2022 identified a need in the market for apparel and textile brands to extend the life of their post-consumer products that were once considered waste. So they created "The Renewal System" restoring products to standardized conditions for resale. Bleckmann partners with brands to tell a new and different story to their customers, increasing brand equity, loyalty, retention and customer value, as the leading provider of circular solutions for apparel and textile brands. From 2016 to 2022, TRW experts and their partners have prevented 693 metric tons of greenhouse gas emissions, saved 99 million gallons of water, and prevented the use of 686,000 lbs of toxic chemicals.

The Clorox Company | Corporate Initiative of the Year

Clorox has ambitious plastic and waste reduction goals, including a 50% combined reduction in virgin plastic and fiber packaging by 2030; 100% recyclable, reusable or compostable packaging by 2025; double post-consumer recycled plastic in packaging by 2030; among others. They recently launched a Bathroom Foaming & Multi-Purpose Spray refill system, which features up to 80% plastic reduction throughout product life. Clorox's long-term vision goes beyond this one product launch – they broadly encourage category transformation that can lead to significant reductions and encourage consumers to reuse and refill. Spray refills are one such example that can enable significant reductions in greenhouse gas emissions, plastic use, transport cost, among many more.