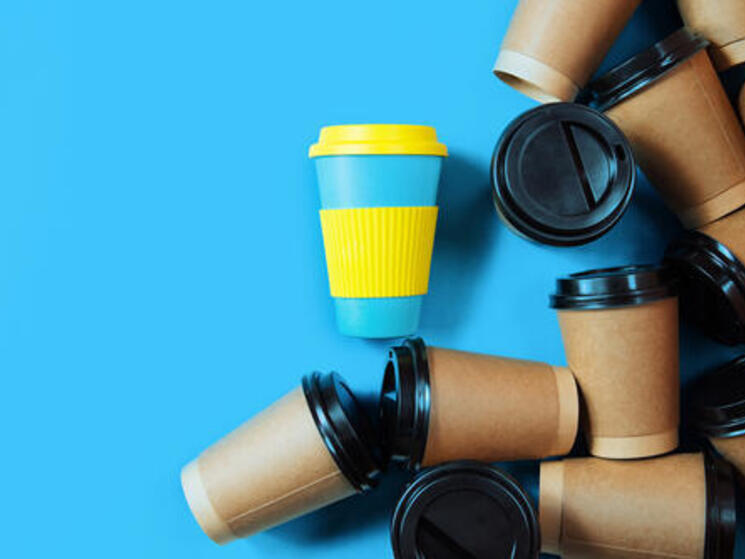 Date

: 17 November 2022

Author

: Erin Simon
Take a moment and look around. How many single-use plastic items can you spot?
No matter where you are, single-use plastic isn't far behind – whether it's a shopping bag, food packaging or even a bottle of medication. And more likely than not, many of these items will end up contributing to the 11 million tons of plastic pollution that enter our oceans every year.
Consumption of single-use plastic has exploded in recent years, creating a global crisis that impacts nature, people, and the climate. To reduce this stress, we need to start by reducing how many resources we take from the planet– and just as importantly, start valuing the resources we already have in circulation. That's where reuse systems come in.
The wide-scale adoption of innovative reuse models could reverse the harmful throwaway culture that has plagued our society for decades. Just imagine if the products you relied on every day were designed with high-quality materials and the durability to be used time and time again – rather than crafted with the intention of becoming trash. Keeping these valuable resources circulating for as long as possible in the material loop could lower the demand for virgin plastic, and in turn, reduce both the carbon emissions associated with production and the amount of waste flooding our oceans, rivers, and coastal communities.
Reuse has the incredible potential to be a high-impact solution to the plastic crisis, transforming the way we purchase and use materials– and the benefits go beyond just protecting our environment. Reuse can also open the door for much needed innovation and growth, encouraging companies, governments and cities to explore creative business models and new ways of serving the public. According to the Ellen MacArthur Foundation, replacing just 20% of single-use plastic packaging with reusable materials represents a $10 billion economic opportunity.
Reuse can also lead to public health benefits by reducing the negative impacts of waste mismanagement, such as air pollution from plastic incineration or contaminated water supplies from waste-blocked drains. As these issues often disproportionally impact disadvantaged communities, investing in reuse has the unique opportunity to support environmental justice as well.
Of course, reuse systems must be implemented effectively in order to unlock their full potential as an intervention for plastic pollution. WWF's latest global position paper provides the necessary framework and recommendations for exactly how reuse systems can be properly established and supported so that they drive ambition at the scope and scale our planet needs.
As more and more businesses, cities, and governments move to capitalize on the immense benefits of reuse, credible resources such as this will be key to delivering the significant impact that we know is possible. The opportunity is especially lucrative for companies in the fast-moving consumer goods space – thus, WWF is calling on these companies to shift 30% of their portfolios to reuse by 2030.
Bringing reuse to market scale will not happen overnight – it will require working with policy makers to change the political landscape, business leaders to leverage their immense influence, and the public to adapt to new behaviors. However, by accelerating the uptake of reuse models that are convenient, safe, affordable, and environmentally sound, we can realize a future where the plastic we use today does not need to end up in our oceans tomorrow.
Read WWF's Position: The Role of Reuse In a Circular Economy for Plastics