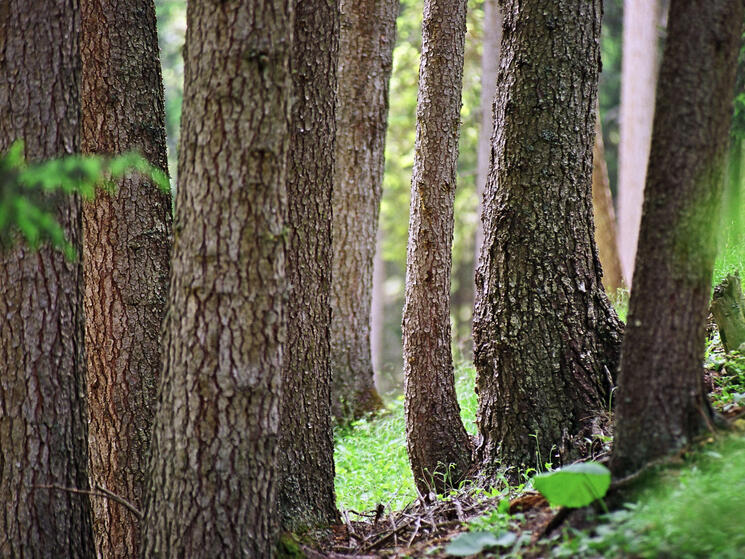 Date

: 19 May 2016

Author

: Martha Stevenson
Imagine you're at a poorly managed logging site. Nothing but stumps as far as you can see. Deep ruts in the soil. Nearby streams so overwhelmed by soil runoff that the water is brown. Birds looking for their nests. And fences that literally and figuratively block out the local community, giving them no voice in the future of the forest.
A Life Cycle Assessment (LCA)—a commonly used technique to assess environmental impacts associated with all the stages of the life of a product or service –does not capture any of this damage or loss.1
Now imagine you're in a forest managed responsibly. Birds are nesting in the trees and other wildlife is moving freely throughout the forest. Evidence of logging is limited to selective skid trails. Only an appropriate amount of logs have been removed from the site. And the local community is engaged in the ongoing management of the forest.
A LCA doesn't capture this either.2,3,4,5
Few decision makers who use the LCA technique address its limitations. This is concerning, as the technique is being adopted more regularly by companies and governments to conduct sustainability assessments of products, services and sector-wide criteria6,7,8,9 through programs such as The Sustainability Consortium in the US and the EU Commission's Product Environmental Footprint program. That's because LCA is sold as a one-stop-shop that analyzes "all environmental impacts."
Yet LCA has significant limitations in the near and long term for characterizing some of the most pressing environmental and social challenges of our time, including biodiversity, land use, ecosystem services,10 indigenous rights and labor practices. While there is momentum to develop better methods, these are a long way off and the data lag will be even longer.
Over-reliance on this method could result in unintended penalties for forest product companies who have invested heavily in responsible forest management.11 It also could provide a windfall for bad actor companies, whose business models are dependent on land clearing, efficiency and short term gains that result in high impacts to the environment.13,14,15
One solution is verified responsible forest management, which connects abstract supply chains to the forest in ways that other tools cannot. In a world where 70 percent of our global forests are vulnerably within 1 kilometer16 of a forest "edge," responsible forest management is one of our most effective tools to reduce the threats of ongoing forest degradation and illegal activity, while supporting the livelihoods of 800 million people17 globally and acting as an important carbon sink to slow the coming impacts of climate change. We cannot afford to make critical decisions based solely on a tool that fails to measure the importance of holistic forest management.
Forest Stewardship Council (FSC) certification is currently the best tool for responsible forest management. It was established more than 20 years ago by WWF and others to promote and embed the values of responsible forest management into the production forests that supply our wood, paper, and non-timber forest products. FSC has been used for decades to determine the sustainability of forest products at their source and includes performance-based indicators that assess many of these difficult environmental and social impact areas at the point of extraction.
WWF has conducted a detailed analysis of LCA and FSC and found that they complement each other well to combine supply chain assessment with responsible forest practice. Not only should we be applying these two in tandem for forest products assessment, but also in other supply chains like agriculture, aquaculture and fisheries. Let's play to each of the tool's strengths.
__________________________________________________________________________________________________________________
Note: This paper is considering the current and most common practices in LCA.

Johnston, Robert. The Industrial Green Game: A Critique of Life Cycle Analysis: Paper Products. National Academy Press. 1997. Pp. 225–233.

Alvarenga, R.F., Erb, K.-H., Haberl, H., Soares, S., van Zelm, R., and Dewulf, J. (2015): Global land use impacts on biomass production—a spatial-differentiated resource-related life cycle impact assessment method. The International Journal of Life Cycle Assessment. 20(4): 440-450.

Fruhwald , Arno and Solberg, Birger. Life Cycle Analysis: A Challenge for Forestry and Forest Industry. EFI Proceedings No. 8, 1995.

Klinglmair, M., Sala, S., and Brandão, M. (2014): Assessing resource depletion in LCA: a review of methods and methodological issues. The International Journal of Life Cycle Assessment. 19(3): 580-592.

Erlandsson, J., Tillman, A.-M., 2009. Analyzing influencing factors of corporate environmental information collection, management and communication. Journal of Cleaner Production 17, 800e810.

Fava, J., Baer, S., Cooper, J., 2011. Green(er) product standard trends in North America. Journal of Industrial Ecology 15, 9e12.

The Sustainability Consortium. https://www.sustainabilityconsortium.org/adopting-lca/ Accessed: 30 December 2016.

European Commission: DG Environment. http://ec.europa.eu/environment/eussd/smgp/policy_footprint.htm. Accessed: 30 December 2016.

Wegener Sleeswijk, A., Kleijn, R., Meeusen-van Onna, M.J.G., Leneman, H., Sengers, H.H.W.J.M., van Zeijts, H., Reus, J.A.W.A., 1996. Application of LCA to Agricultural Products; 1. Core Methodological Issues; 2. Supplement to the LCA Guide; 3. Methodological Background. Centre of Environmental Science, Leiden University, Leiden.

Friedberg, 2013.

Fruhwald, 1995.

Finnveden, 2009.

Asia Pulp & Paper's Carbon Footprint study by ERM in 2008 was highly questioned and criticized by the environmental NGO community for ignoring land use change and peat draining. All references of original report have been removed from APP website. https://environment-analyst.com/3213.

Alvarenga, 2015

Haddad, Nick M. et al. Habitat fragmentation and its lasting impact on Earth's ecosystems. Science Advances 20 Mar 2015: Vol. 1, no. 2, e1500052.

World Bank, 2004.