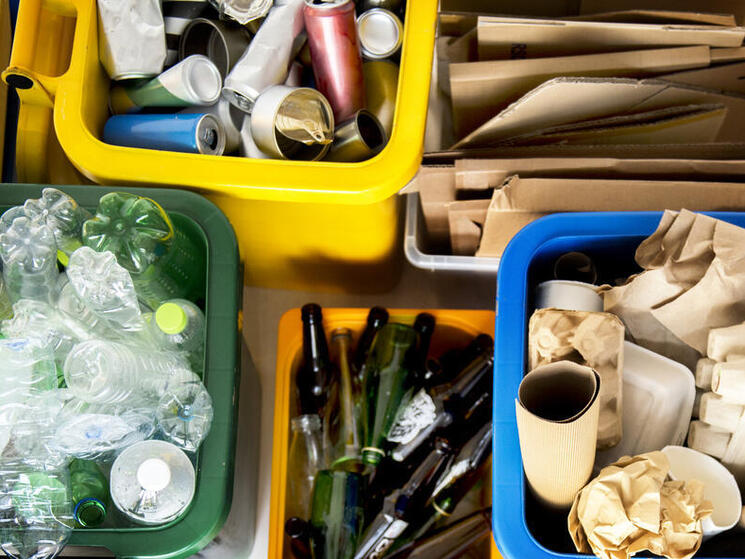 On America Recycles Day 2020, the United States announced a target recycling rate of 50% by 2030. It's an impressive goal, and there's a lot of work to be done to get there. Just two years into that goal, not enough progress has been made. With about 22,000 municipalities managing their own recycling systems, we need national ambition and consistent action to change the way we recycle.
That's why OneSource Coalition is putting Extended Producer Responsibility—also known as EPR—at the forefront of today's America Recycles Day 2022.
EPR is a policy framework that would shift the financial stewardship of recycling away from municipalities and put it on the producers of plastic packaging. This would bring much-needed funding and efficiency to recycling, and also incentivize companies to design packaging that's recyclable.
We need EPR because our recycling system isn't producing the right results. We need to ensure that systems are financially sound, that producers of packaging create packaging that is recyclable at scale, and remove barriers to access and problematic materials. Only then – when we streamline our system for businesses and consumers – can recycling be a productive tool in our toolbelt to end plastic leakage into nature.
OneSource Coalition -- a group of ambitious companies, environmental organizations, and industry leaders – is working to advance Extended Producer Responsibility, environmental justice and international leadership in the United States.
Here's why OneSource Coalition signatories—many of whom represent brands that rely on packaging—support EPR:
---
"One of our industry's highest priorities is creating a circular economy for our valuable, 100% recyclable plastic bottles and aluminum cans. The principles we developed with World Wildlife Fund for successful recycling systems will reduce our plastic footprint by boosting the amount of plastic that is recovered and remade into new products rather than wasted in landfills or ending up in nature. What we achieved in Colorado to establish an Extended Producer Responsibility system will expand access to recycling to millions of people and decrease our use of new plastic."
- Katherine Lugar, President and CEO, American Beverage
---
"We need well-functioning, standardized recycling systems to increase the collection of our bottles and cans, so we can reuse the material back into our packaging. We appreciate the opportunity to partner with WWF, our industry colleagues, NGOS and others to help advance well-designed EPR systems and build a circular economy for our packaging."
– Kurt Ritter, Vice President of Sustainability, Coca-Cola North America
---
"Amid historic supply chain disruptions, rampant climate change, and pervasive plastic pollution, there has never been a more important time to invest in recycling. Colorado is proud to be leading the way as one of the first states to adopt EPR for packaging and paper. The Colorado EPR law was championed by a broad coalition of national and state businesses, local governments, environmental advocates, recyclers, and residents, demonstrating unquestionable support for easier, more effective recycling in Colorado."
- Suzanne Jones, Executive Director, Eco-Cycle
---
"At Keurig Dr Pepper, our vision is a future in which the materials we use can be recycled, reused or repurposed. That's why we support federal policy focused on creating a national EPR program to generate strong environmental outcomes, provide convenient services to consumers and create a financially and operationally sustainable circular economy. The proper design of an EPR program is critical to ensure that it is effective, equitable and leads to demonstrable improvements in recycling systems across America."
- Peter Depasquale, Vice President, Government Affairs, Keurig Dr Pepper
---
"We support EPR because it's an effective way of investing in recycling infrastructure and helping improve recycling rates. Having the necessary infrastructure to collect, sort and recycle packaging materials is crucial to ensuring no packaging ends up as waste in the environment. As we continue to innovate and find ways to extend the use of packaging materials as a resource, EPR is a holistic way to help drive a circular economy."
– Molly Fogarty, Head of Corporate & Government Affairs and Sustainability, Nestlé
---
"EPR is a critical policy approach to prevent plastic pollution. It enables the financing conditions necessary to collect and manage materials, and places the responsibility on producers and manufacturers, rather than placing the burden on consumers, recyclers and municipal waste managers."
– Mark Spalding, President, The Ocean Foundation
---
"As part of our vision to build a world where packaging never becomes waste, PepsiCo actively supports policies used to promote a more sustainable, circular economy for packaging. We believe that Extended Producer Responsibility (EPR) programs are one good example. EPR, if properly designed and funded, can provide significant support to recycling systems. PepsiCo was proud to champion the EPR legislation that recently passed in Colorado as an example of something that we believe will work for all key stakeholders."
- Lauren Cotter, Head of Global Sustainable Packaging, PepsiCo
---
"U.S. has enough innovation to pull the national recycling and compost rate up from 32.1%, however, we lack effective economic drivers to break the inertia of the current resource depleting and waste producing linear economic model. It's time to create a channel of communication between producers and recyclers, the engines of the circular economy. All good systems have feedback loops that enable continuous improvement. Implementing EPR policy that rewards producers for designing for efficient use and recovery by recyclers is a critical first step in shifting toward a circular economy."
- Nina Bellucci Butler, CEO, Stina, Inc.
---
"America Recycles Day reminds us of our collective promise to reduce our negative impact on our planet by doing more with less. Producers play a critical part in this process and should be encouraged to do their part for people, business, and nature. Extended Producer Responsibility offers them incentives and calls for accountability putting us one step closer to our goal of a circular economy."
– Alejandro Pérez, Senior Vice President, Policy and Government Affairs, World Wildlife Fund