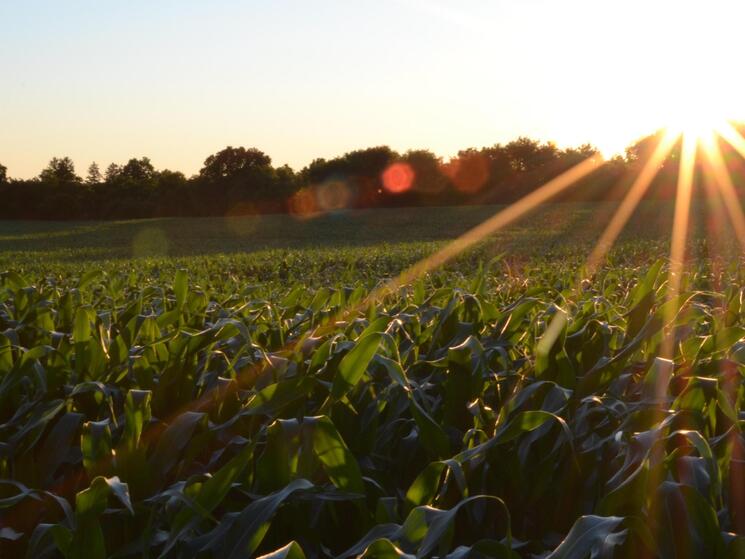 Date

: 24 September 2021

Author

: Marcene Mitchell, Senior Vice President, Climate Change, WWF
As Climate Week and the first ever UN Food Systems Summit (The Summit) come to a close in NYC, it is worth reflecting on the relationship between our climate crisis and our broken food system – and what we can do to fix them both.
The food system is responsible for about 21–37% of total greenhouse gas (GHG) emissions and agriculture is clearly implicated as the primary driver of land conversion. Roughly 40% of the world's land that is not desert is now used for food production, and in addition to its climate footprint, land conversion to agriculture is also the primary cause of natural habitat and biodiversity loss.
As our global population grows, we convert more and more of our arable land to produce food for animals and people. At the same time, our food systems are not supporting our health and well-being, with approximately 3 billion people suffering from food-related maladies ranging from malnutrition to obesity.
Despite its impacts, agriculture is the only sector that has the ability to be part of the climate solution.
So how do we change our food system so that it is good for both our health and the health of the planet?


Transforming the landscape
Rethinking how we use land has the potential to not only reduce emissions, but also pull carbon out of the atmosphere. We need to rehabilitate our soils and grasslands, and restore and manage our forests while increasing the productivity of our agricultural lands within their current footprint.
For example, from 2018-2019 an estimated 2.6 million acres of grassland were plowed up in the U.S. and Canadian portions of the Great Plains (one of the world's last intact grassland ecosystems), primarily to make way for row crop agriculture. When we clear land, we not only release tons of carbon into the atmosphere, but also take away an opportunity to sequester carbon in the soil and plants.
Instead of expanding agriculture into natural habitats, partners in WWF's Northern Great Plains program are learning production practices that restore soil health to agricultural land and store carbon through improved pasture management and a range of regenerative practices such as reduced tillage and cover cropping.
WWF is also helping companies step up to take deforestation and conversion out of their supply chains. Over the last decade, we have been working with these companies to help move their commitments on reducing their footprint to measurable action.
We also need to have science-led ambition to drive us towards the future we want – where companies can deliver on their climate goals and simultaneously support a food system that provides healthy products to a growing and diverse population.
Through WWF's work with the Science Based Targets Initiative (SBTi), we are developing mitigation pathways for the forest, land, and agriculture (FLAG) sector to bring land-based mitigation into their climate goals.
We can't avoid the need for behavior change
What we eat, the diversity of our food basket, and the levels of consumption per person, all contribute to our planet being pushed beyond its boundaries. A global shift toward healthier, more sustainable diets is needed to combat climate change and food insecurity.
WWF's study on planet-based diets shows that we can improve human health, make supply chains more resilient to shocks, reduce GHG emissions and even help decrease the risks of future pandemics if we take a holistic approach to nutrition, health, and agriculture. This is not only about individual choice. Food companies need to consider the health and environmental impacts of their products, and governments need to consider the food impacts on the health and well-being of their citizens and natural environment.
Food waste is another significant contributor to agriculture GHG emissions
And then there's the problem of the food we don't consume. Globally it is estimated that we waste up to 40% of the food that we produce, nearly 2.5 billion tons annually. When we include the embedded deforestation and agricultural production emissions in this number, this food waste equates to 10% of global GHG emissions.
Reduction in food loss and waste can reduce the additional land area needed for food production. WWF is working to create a shared vision of healthy, safe, and nutritious diets in balance with nature and on a global action plan to halve global food loss and waste from farm to fork.
Solutions are here to create food systems that serve people, climate and nature
The people and communities who produce food hold solutions to the climate and nature crisis and can help transform the food system. The often-underrepresented perspectives and experiences of local communities are critical to successful transformation.
Rural women are responsible for half of the world's food production and produce between 60-80% of the food in most developing countries. We must empower women with information and decision-making which will strengthen household food security, adaptation to a changing climate, and enhance carbon sequestration.
We are looking at a future ripe with both possibilities and uncertainty due to the mutually reinforcing impacts of climate change and food production. It is imperative that we change our means of food production to incorporate greater resiliency through diversification, nature-based solutions, and innovation across all stages of the system. We have the ability to feed ourselves while maintaining healthy, functioning ecosystems and biodiversity. However, we cannot expect to succeed without bold change. To achieve this future, we must place food system transformation prominently and securely on the climate agenda. There will be more work to do as we head down the road to COP 26 in Glasgow in November, where we need bold commitments on reducing emissions from agriculture and land use change.