Wildlife and Climate Change
Overview
Changes in climate and extreme weather events have already begun to affect people and nature across the globe. And climate change exacerbates other threats like habitat destruction, overexploitation of wildlife, and disease.
From the shrinking habitat of the polar bear to increased water scarcity driving human-wildlife conflict, these changes will become more pronounced in years to come.
WWF is working to better understand how a changing climate impacts species, and we are developing and implementing solutions to help them adapt to these changes. We are assessing our priority species to determine traits that make them resilient or vulnerable to changes in climate, funding projects through our Wildlife Adaptation Innovation Fund, and crowdsourcing data and implementing projects for people and nature.
WWF is launching a new project to make wildlife like tapirs less vulnerable to drought during the dry season by installing and monitoring artificial water sources in Mexico's Calakmul Biosphere Reserve through the Wildlife Adaptation Innovation Fund.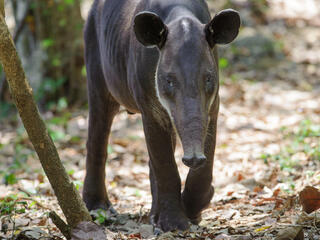 Why It Matters
Range Shifts

Climate is the most important predictor of butterfly species distribution. Butterflies have been documented shifting their range toward the poles and to higher altitudes.

Changing Food and Water Availability

African elephants need up to 300 liters of water a day, just for drinking. As rainfall patterns change, humans and wildlife are competing for diminishing sources of water.

Increase in Pests and Disease

As winters get warmer and shorter, moose populations in the northern US are declining due to tick infestations.

Changes in the Timing of Life Cycle Events

Responding to warmer spring temperatures, plants are flowering earlier than they used to, resulting in a mismatch between peak plant growth and the animals that depend on them.

Coral Bleaching

Oceans have absorbed much of the planet's warming since the Industrial Revolution. Warming oceans are causing corals to expel the algae living in their tissues and turn white—a phenomenon known as coral bleaching. Over time, the corals can die off and no longer offer a healthy ocean habitat for the species that rely on them for feeding and protection.