In-Depth
Climate Change on the Rio Grande
Issue: Fall 2015
Author: Gary Borders
Photographer: Day's Edge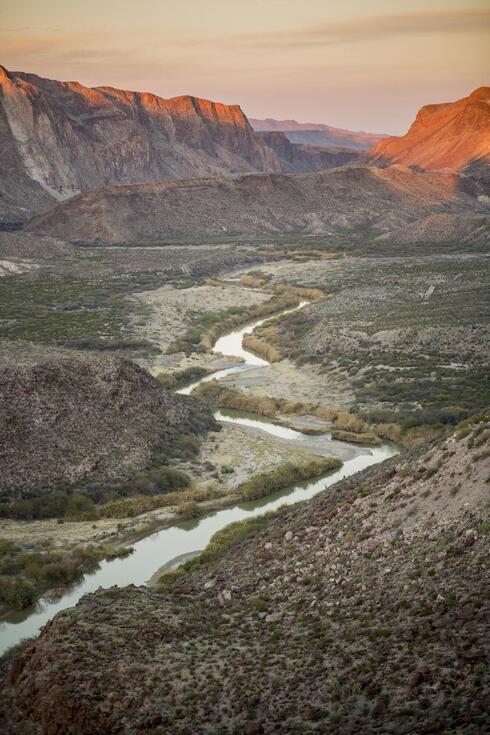 On the parched lands that straddle the US-Mexico border, binational cooperation and practical innovations on the ground are helping to secure a future for a bare-bones lifestyle that is being pushed increasingly closer to the edge.
Life in the Chihuahuan desert hangs on raindrops. Up to 90% of that life-giving rain arrives in summer, nourishing one of the most biologically diverse deserts in North America. In a parched landscape, it comes down to this: We must stretch each drop of water as far as we can.
The Chihuahuan Desert sprawls like a salt stain from Arizona through southwestern Texas and deep into Mexico—nearly 140,000 square miles. It is dotted with poetically named "sky islands," mountaintop habitats with genetically isolated plant and animal populations, including proud stands of ponderosa pine and maple trees. The desert floor below is awash in creosote, yucca and agave cacti. Few rivers snake across its landscapes. More than 1,000 endemic species live here.
People too make their way in the desert's unforgiving environment. Farmers have eked out a living growing water-thirsty crops here for centuries. Some desert cities—El Paso and Chihuahua among them—are growing at alarming rates, and industries are moving in to meet people's growing needs. Both agriculture and industry guzzle water in huge amounts—water on which wildlife, people and businesses also depend. River tourism in Big Bend National Park is just one example. As Jeff Renfrow, a guide who has worked on the river for more than 20 years, puts it: "the river must flow or the paychecks won't."
Rivers and water, then, are life. On the Big Bend park stretch of the Rio Grande (called the Río Bravo in Mexico), however, virtually all of the water feeding into the river comes from Mexico's Rio Conchos basin, which enters at Ojinaga, west of Big Bend. Without that flow, the river would be dry for much of the year—as it is upstream in Texas, where for a 200-mile stretch southeast of El Paso it is known as the Forgotten Reach.
From Big Bend, through the remoteness of northern Mexico, and along that thin ribbon of life known by locals simply as "the river," an extraordinary level of cooperation is taking place among those dependent on this desert for their livelihoods. Its primary driver? The urgent need to conserve water resources. Farmers, ranchers and river guides are working with government agencies, academics, nonprofits and other partners to learn how to use, as effectively as possible, those precious drops.
Why? Because these desert dwellers understand they are headed toward a hotter, drier future—a shared environment already on the edge of its ability to sustain life.
In a landscape on the knife's edge of climate change, they work together to preserve their already parched way of life.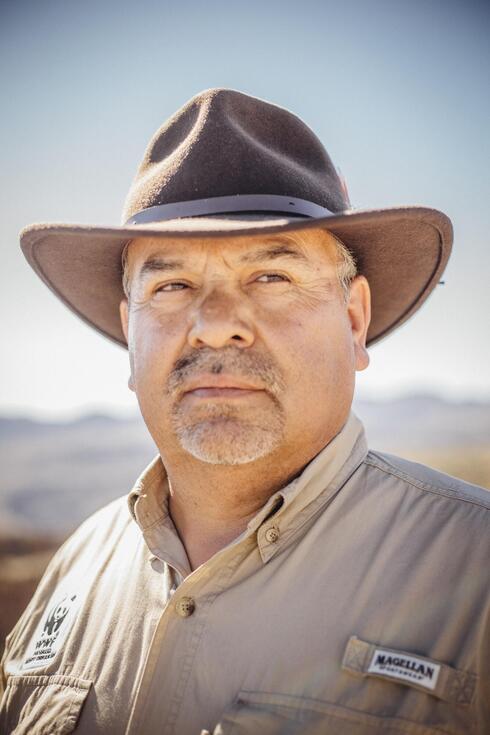 More than 80 years after the decade-long Mexican revolution ended with the redistribution of millions of acres of land, there are 3.1 million acres of rain-fed farms in the state of Chihuahua. Dr. J. Alfredo Rodríguez-Pineda, hydrologist for WWF-Mexico, says the people here are some of the poorest farmers in Chihuahua—and the largest group of people in the region who still live primarily off the land. These communities also offer an important comment on the Latino diaspora—they are home to families who didn't have sufficient resources to move away during the epic droughts of the 1990s, which caused mass migrations of Mexicans north to the United States.
The ejido farms, named for their original communal structure but now individually owned, rely solely on precipitation in an area that receives an average of just under 16 inches annually; some drought years have seen less than nine. Though there is precipitation here every year, almost all of that rain falls from July through September.
"These farmers," Rodríguez says, "are among the people most vulnerable to climate change."
A year ago, he began working with nine farmers in the La Noria community, located in the arid upper basin of the Rio San Pedro, about an hour southwest of the city of Chihuahua. Rodríguez, a gregarious and passionate scientist who has worked for WWF for nine years, held workshops, brought lunch, and made sure to invite women to the meetings in which he proposed changing the way the farmers prepared their land for the bean, corn and oat crops grown here. "The women are the ones who push them to do things," he says.
With the farmers' help, Rodríguez instituted a keyline system developed in Australia 60 years ago by P.A. Yeomans in a similar desert climate. That system, called la línea clave in Chihuahua, relies on the land's natural form and shape to determine how crop rows are designed and laid out. "The idea is to catch and keep as much rain as possible for farming," says Rodríguez.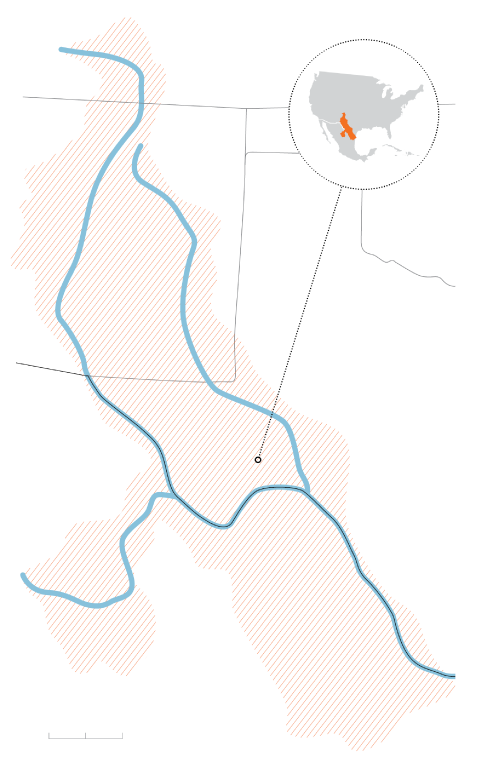 1
2
3
4
5
6
El Paso
Presidio
Big Bend

National

Park
Chihuahua
United States
Mexico
Rio peco
Rio grande
rio concho
0
50
100 miles

Rio Grande River Basin
1 ojinaga, mexico
The Rio Conchos, which provides about 90% of surface water flow in Big Bend, joins the Rio Grande near the cities of Ojinaga and Presidio, Texas.
2 the forgotten rEACH
Southeast of El Paso, Texas, the Rio Grande disappears, leaving a dry riverbed to serve as the US-Mexico border between there and Presidio.
3 luis lÉon dam
Under the auspices of the 1944 US-Mexico water treaty, Mexico provides crucial water to the US, primarily from the Luis L. Léon dam and reservoir.
4 elephant butte dam
This dam, near Truth or Consequences, New Mexico, impounds the Elephant Butte Reservoir, which is used for both recreation and agriculture. Since its completion in 1916, the dam has reduced the flow of the Rio Grande to a small, seasonal stream.
5 La Noria
About an hour southwest of the city of Chihuahua, ejido farmers here survive on rain-fed agriculture. Due in part to efforts guided by WWF, local adaptations are helping catch and keep rainwater, reduce erosion, and increase crop productivity in a hotter, drier environment.
6 Pandeño Hot Springs
The Chihuahuan Desert is the third most biodiverse desert in the world and supports species like the Julimes pupfish. The fishes' hot spring is part of a Ramsar wetland site, and is under the protection of a local coalition of farmers and other residents.
Isidoro Márquez sports days-old stubble and wears an untucked Western shirt, blue jeans and boots. Considered to be the agricultural leader of La Noria, he has movie-star looks and wears a straw cowboy hat low on his brow. His wife, Brenda, proudly shows off their small backyard garden, which is irrigated by narrow canals. She pulls a giant squash—proof of success—from amid the plants nourished by the damp channels. The youngest of their three sons, a five-year-old, is his father's constant companion, kicking up stones on the gravel road as Márquez talks and ruffles the family dog's fur.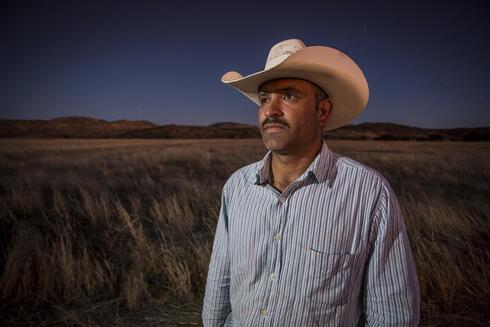 Using la línea clave, he saw results soon after the rains came, a bit later last year than usual.
"The very first thing we saw was the distribution of moisture along the land," he explains. "We saw it start getting green right away after the first rain in mid-July."
A year later, WWF scientists monitoring these efforts measured an increase of crop productivity of 50%, much less soil erosion and moister soil—even during the dry winter months. This year, more farmers in the community hope to participate.
Then there are the stones, piles of which are scattered among the farmers' fields. Rodríguez describes putting the question to the group, "Hey guys, tell me why you never finish cleaning up your lands from stones?"
When nobody had an answer, Rodríguez explained that the stones appear because topsoil is washed away during intense rains, and the stones in the subsurface pop into view. Then, as the farmers well knew, the rocks had to be wrestled from the plots before planting each spring. In the month after those first meetings, he worked with the farmers to structure the furrows in a way that would reduce the force of the water.
"We expect less frequent, more intense rains with climate change," Rodríguez explains. "We are going to have heavy rains, maybe in shorter bursts. When that happens, the water has no time to infiltrate the ground, so the soil starts flowing away with the water. Soil erosion," he says, "is to nature like cancer is for humans. It destroys little by little. And farmers have been unintentionally destroying all this landscape little by little by applying the wrong farm techniques."
Márquez agrees that the farmers saw the soil erosion but didn't realize it was a serious problem—and they didn't know why the stones kept reappearing. Now the number of newly revealed stones is diminishing, and the ones that do appear are being used to create stone dams to contain the water in more easily irrigated farming plots.
"They got a much better crop," Rodríguez says, "so they got a little more money—and the environment gets the benefit."
Ejido farmers on horseback in La Noria community

Pandeño Hot Springs, home of the endemic Julimes pupfish

Farmers build a rock dam to help hold rainwater on their fields

Brenda Márquez shows squash grown with minimal water in the Chihuahuan Desert
The Rio Grande forms the southern boundary of Big Bend National Park as it meanders for 118 miles through canyons and desert. And it is here that north-south collaboration offers particular hope.
The water from the Rio Conchos is released into the bigger river as a result of a 1944 treaty between the United States and Mexico. This is a necessary partnership: a functioning binational treaty governing shared water rights, and one that both nations are committed to keeping strong. Remember, this stretch of river would look drastically different without the water from the Conchos, which supplies 90% of the Rio Grande's water as it flows through the park.
But with rising temperatures and more erratic weather patterns, the flow from the Conchos may be decreasing. In some years, Mexico has not always been able to deliver the agreed-upon amounts of water, or to do so within a time frame that most benefits the Rio Grande's natural water cycle. Yet despite those challenges, Mexico does honor its commitment, making up for those dry stretches later, when, for example, a tropical storm manages to make it over the mountains from the Pacific and dump a lot of rain.
Carlos Alberto Sifuentes-Lugo, regional director of Mexico's CONANP

A portion of the Rio Grande's shore that is free of invasive salt cedar and giant cane

Canoes in Big Bend National Park
Working to clarify and improve both how and when that water is released is just one example of how WWF and organizations on both sides of the border are collaborating. It also represents the impressive level of binational cooperation that is coming to define management of this strained but vital resource.
Another collaboration is the ongoing effort to clear the river of the invasive salt cedar and giant cane that have established dense, almost impenetrable stands along the river channel's margins. These nonnative species have helped change the character of the once wide and shallow river, trapping and holding sediment and burying prime riverbank and aquatic habitat.
WWF conservation scientist Mark Briggs is part of a team that wanted to see if removing these plants would reestablish wide and shallow channel conditions. Killing the cane and cedar, according to the theory being tested, would assist the river's ability to move sediment downstream, out of the canyons and into the alluvial reach, thus repairing the waterway's green ribbon of life. Early results are positive, and indicate that ongoing removal of the cedar and cane will in fact improve river conditions. When sufficiently scaled up, the effort will benefit native habitats and help protect riverside towns and infrastructure from floods, which are likely to increase with climate change.
Members of the team—a robust binational partnership that includes Mexico's CONANP (Comisiòn Nacional de Áreas Naturales Protegidas), WWF offices in both the US and Mexico, several universities, the US National Park Service, Profauna (Protección de la Fauna Mexicana), and Rio Grande Scientific Support Services—are also replanting native species along the banks of small tributaries that feed the river to stop silt from filtering into its waters and reduce the amount of water lost to evaporation. These coordinated efforts are being supported by The Coca-Cola Company, the Wildlife Conservation Society, and Alianza WWF-Fundación Gonzalo Rio Arronte. In several parts of the river in Big Bend, the US Fish and Wildlife Service has established experimental populations of the endangered Rio Grande silvery minnow.
The work has taken off in the past decade, and Carlos Alberto Sifuentes-Lugo, regional director of CONANP, says it has become a powerful symbol.
"For us, the river is not a boundary. It is a union," he says with pride. "The river is a junction for us, so one of the main shared efforts is river conservation."
Joe Sirotnak, a National Park Service botanist who has been involved in binational efforts to bring the river back for over a decade, agrees. As he points out, real success didn't occur until groups from both countries joined forces across the river.
"Where it really took off, and where I am starting to see real ecological success," he says, "is only when both sides are working together on the same project, and that project is right here—along the Rio Grande."
Recognizing climate change as the cause of so many shared challenges, the US and Mexico launched a joint task force in March to encourage more collaboration on the issue as well.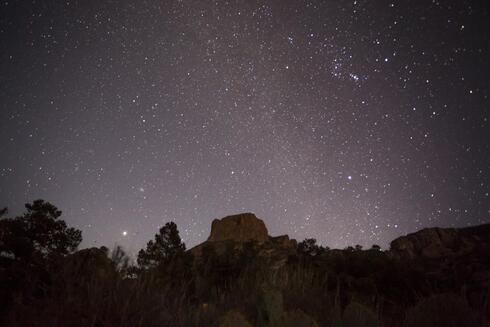 So, along an international border better known for drug smuggling and illegal immigration, what do these advances mean for both countries?
They mean that tight cross-border collaboration has the effect of raindrops on parched land. That we understand that water scarcity and the impacts of climate change don't recognize borders, so our solutions can't either. That when we share new farming techniques with people like Isidoro Márquez, his family and his community—whose livelihoods have been ravaged by drought—they commit to making the changes necessary to adapt. That by working together we can face the challenges climate change brings.
These advances mean that in the nook of the world known as the Chihuahuan Desert and Big Bend, innovative cross-border collaborations are offering hard, clear reasons for hope.
Explore more of this issue's coverage of climate change:
Explore More
About

World Wildlife magazine provides an inspiring, in-depth look at the connections between animals, people and our planet. Published quarterly by WWF, the magazine helps make you a part of our efforts to solve some of the most pressing issues facing the natural world.