In-Depth
Deforestation in Peru
How indigenous communities, government agencies, nonprofits and businesses work together to stop the clearing of forests
Issue: Fall 2015
Author: Julian Smith & Jill Schwartz
Photographer: Nicolas Villaume
To reach the indigenous village of Puerto Luz in the Amazon rain forest of southern Peru, the first step is to get to the city of Puerto Maldonado, capital of the province of Madre de Dios. The next step is a three-hour drive on the Interoceanic Highway to the banks of the latte-colored Tambopata River.
"The sun is much stronger than it was 20 years ago. Now it burns our skin, we get headaches at night, get sick. Everything is smaller—fishes, birds."

Andrés Moqui Village President, Puerto Luz
Then comes a ride in a long, narrow water taxi, followed by a two-hour drive that includes a fording of the Rio Pukiri that leaves the vehicle's footwells wet. In the apocalyptic mining town of Delta 1, motorcycle taxis wait to cover the final 30-minute leg through the jungle. The trail leads over ramshackle boardwalks; near the end, it winds through a virtual motocross course of house-sized mounds of dirt and rocks left behind by illegal gold mines.
In Puerto Luz, homes built of bare boards cluster in the midst of leafy, standing forest. Village president Andrés Moqui sits on a plastic chair and tells how the community's 600 residents, members of the Harakmbut ethnic group, are finding themselves on the front lines of climate change.
The sun is much stronger than it was 20 years ago, he says. "Now it burns our skin, we get headaches at night, get sick." The forest is different, too. Fruits are ripening and rotting faster, and the animals the villagers hunt in the surrounding Amarakaeri Communal Reserve are often full of worms. "Everything is smaller—fishes, birds," says Moqui, who attributes the alterations to climate change. "It affects us greatly."
A Green Stronghold
Peru holds the 10th-most-forested area of any country in the world; over half the country—some 260,000 square miles—is covered in trees. Only Brazil holds a larger area of Amazonian tropical forest. This helps make Peru one of the 10 most biodiverse countries in the world, with over 330,000 people who depend directly on the country's forests for their livelihoods, and countless more who depend on the numerous product and ecosystem services those forests provide.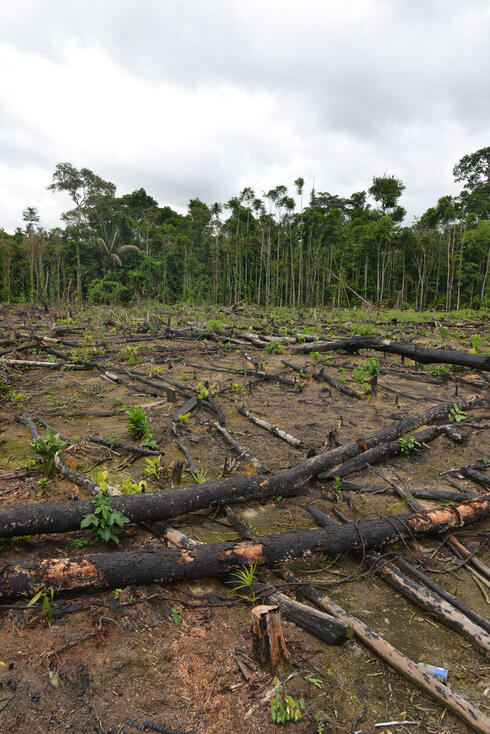 At the same time, the Amazon has just been listed by WWF as a top deforestation front—one of the 11 regions expected to have more deforestation and forest degradation than anywhere else by 2030. In the Peruvian Amazon, the main culprits of deforestation are small-scale agriculture, commercial mining and related road construction; forest degradation is cause primarily by illegal logging. Roughly 1,100 square miles of Peru's forests are cut down every year—around 80% of them illegally. This forest loss hurts much more than the trees and Peru's amazing wildlife; it also accounts for nearly half of the country's greenhouse gas emissions. (Worldwide, deforestation and degradation are the largest source of CO2, after burning fossil fuels.)
The situation could be worse; many countries have higher rates of forest loss. But, ironically, that could change as Peru enters a second decade of relative prosperity and political stability. In Madre de Dios, for example, the Interoceanic Highway—a $2.8 billion, 1,600-mile paved road from the coast of Peru to Brazil—was completed in 2011 and has opened access to once-isolated forest regions. People are streaming down from impoverished Andean provinces, and other areas in Peru, in search of work. Many end up mining gold, which can pay up to five times as much as farm labor but often leaves behind a barren moonscrape in place of thriving forests.
In economies centered on natural resource extraction, such boom times often mean growing environmental threats. But the finances provided by that development can also open up greater conservation opportunities. That's absolutely the case in Peru.
"When it comes to forests and their effect on global climate," says Patricia León-Melgar, who leads both WWF's Peru office and the WWF Network's forests and climate initiative, "the question is how to ride the wave in a sustainable way—how to enjoy the economic benefits without sacrificing social and ecological values." From remote villages to businesses to the highest levels of governments, efforts are underway to do just that.
Home and Hearth
At ground level, indigenous communities throughout the Madre de Dios region and the rest of the Amazon are taking a customized approach to a global initiative called "Reducing Emissions from Deforestation and Forest Degradation," or REDD+. The "+" expands the program's scope to include conservation and sustainable management of forests, as well as an increase in the forests' carbon storage capacity.
Fermín Chimatani Tayori, the Puerto Luz resident who is leading his community's REDD+ effort and serves as president of the Amarakaeri reserve, sits on a porch as the rain points on the corrugated metal roofs of the village. Residents of the village were concerned about some elements of the standard REDD+ approach, he says, even as they agreed with its overall goal. So, in a joint effort with indigenous groups throughout the Amazon, they designed and proposed a new twist on it called Amazon Indigenous REDD+.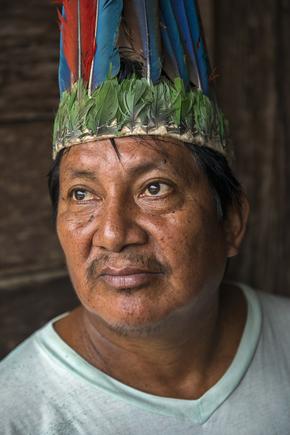 All REDD+ programs require the monitoring and measuring of carbon emissions from changes in the forest, in part so that progress can be compensated financially, but also to learn what conservation strategies are most effective. Indigenous communities in the Amazon take this one step further, as they also want to monitor and measure what is most important to them—things like changes in biodiversity and the spiritual elements of nature. Their approach to doing so is spelled out in a "life plan," which provides conservation planning (as is required by REDD+) and more, such as how to manage tourism and the logging undertaken for subsistence reasons.
Their REDD+ activities also place particular emphasis on securing land rights and tenure. It's a necessary addition: land rights, or the lack thereof, is a pervasive issue in the Peruvian Amazon, where the management and ownership of large swaths of territory are unclear at best. In Peru, indigenous communities have the legal right to manage approximately 27 million acres, which represents almost 16% of the country's forested land. But they are managing another 24 million acres of forest land, too, even though it is technically unclear is they have the right to do so. They have formally asked the Peruvian government for legal authority to manage that land and are awaiting a response.
Most forest land in Peru is owned by the national government, which grants permission—often in the form of concessions—to applicants for temporary harvest of certain tracts of land. But indigenous communities, like the one where Tayori lives, want the land to be recognized as their own, permanently, in acknowledgment of their long-term use and stewardship.
"It's our own proposal to show that we indigenous people are preserving the land," Tayori says as the downpour grows stronger. "Its' not just carbon-related. It included preserving clean water, wildlife, everything that lives in the forest. It also makes it clear to the world that we, this community, own this land."
He explains that his village and other indigenous communities are motivated to do everything they can to keep their trees standing and their forests thriving. The World Bank's Forest Investment Program has dedicated US $50 million to Peru's indigenous communities, and the funding they receive for reducing carbon emissions is used to create and implement those life plans. WWF, a longtime advocate for indigenous rights, is responsible for administering these grants.
Responsibility First
At a lumber mill near Puerto Maldonado, saws the size of kiddie pools fill the air with sawdust and the sour tang of fresh-cut wood. Clawed tractors stack tree trucks cut from the surrounding forests into huge piles.
The mill is owned by the Maderacre Group, which manages nearly 850 square miles of tropical forest, the largest such concession in Peru. Last year, these blades chewed through 40,000 cubic meters of wood from six species of trees. Counterintuitively, this is a good thing.
Maderacre's focus is the responsible use of forest resources, says industrial manager Andrea del Pozo, and the company was the first in Peru to participate in a REDD+ project.
"It used to be that I didn't think responsible forest management would be feasible in the long run. With REDD+, [I believe] that combining healthy forests with a healthy business model could work in the long haul."

Andrea del Pozo Industrial Manager, Maderacre
"When I first saw REDD+ as a concept 10 years ago, I said: 'That is it.' It used to be that I didn't think responsible forest management would be feasible in the long run." With REDD+, he says, he believes that combining healthy forests with a healthy business model can work over the long haul.
Maderacre already had a head start on the environmental aspects of REDD+: the business has been committed to responsible forestry through the Global Forest & Trade Network (GFTN) since 2008. And WWF helped the company earn Forest Stewardship Council (FSC) certification, which is given only to companies that meet global standards for managing their forests responsibly. This was a big step toward meeting the safeguards expected under REDD+. Meeting those standards also requires Maderacre to maintain good relations with the residents of the 600-square-mile buffer zone around the forest concession, del Pozo says, because social responsibility is an important component of responsible forestry.
Maderacre offers its employees full labor rights as well as insurance, room and board, and productivity bonuses. In fact, del Pozo says, Madre de Dios as a whole is known for having the best working conditions in Peru's forest industry. This draws labor from as far as Iquitos, 700 miles north.
The long-range view reflects the company's policy toward forest management, says Abraham Cardozo, who founded Maderacre with his brother in 2002. When they were looking to sell the company in 2011, they didn't simply go with the highest offer. "We weren't just selling Maderacre the business," he says. Instead they went with a buyer who understood the local and global importance of keeping healthy forest ecosystems intact.
This was a particularly significant choice on their part; unfortunately, illegal logs are usually less expensive to buy (and produce) than are legally harvested logs. The global illegal timber trade, which is valued by the United Nations at between $30 billion and $100 billion annually, lowers the market price of timber, creating an uneven playing field for companies that follow the law. In the US, for example, the wood products industry loses as much as $1 billion annually to illegal logging. That pervasive problem is why WWF is working to make clear to consumers, producers, loggers and loyal communities that while these lower prices seem good in the short term, the long-term impact is negative, both for the environment and for the economic life of communities.
In the future, Maderacre hopes to sell more to the international market, which will offer more access to a growing pool of buyers that seek legal and responsible wood.
"Of course the goal is to be profitable," del Pozo says. "But being sustainable makes us profitable."
On the Rise
In the office in Lima, far from the forests and mills of Madre de Dios, Gustavo Suárez de Freitas directs the forest conservation and climate change programs of Peru's Ministry of the Environment. He points to a graph on the wall showing acres of trees cut in Peru per year. "The fact is that deforestation is increasing," he says. And indeed, the columns representing deforestation rates rise steadily from left to right. "Right now we have a lot of regulations that are totally impossible to fulfill."
Part of the reason is that the ministry itself was only created in 2009. Another is the high rate of turnover in government positions at all levels—local, regional and national. Like Tayori, Suárez de Freitas says that the lack of land tenure also is a major stumbling block. "In parts of the country we have areas with no authority and no ownership. And if land is [effectively] free, small-scale agriculture operations pop up almost overnight."
The Language of Forest Loss
Deforestion
Conversion of forest to another land use or the significant long-term reduction of tree canopy cover. This includes conversion of natural forest to tree plantations, agriculture, pasture, water reservoirs and urban areas; it excludes logging areas where the forest is managed to regenerate naturally or with the aid of silvicultral measures.
Forest Degradation
Changes within forests that negatively affect the structure or function of the stand or site over many decades, and thereby lower forest capacity to supply products and/or ecosystem services.
It starts as "lots of small dots," Suárez de Freitas says, even in isolated places like Madre de Dios. "But then, over time, more dots appear and then they connect." Farmers move in, cut down trees, plant crops like coffee or cacao, and then move on when the soil is depleted.
Still, a lot of progress has been made on the forest conservation front. Some of Peru's most biologically and economically important protected areas have been created in the last 15 years, and a new national forest law was approved in 2011. And significant progress has been made toward creating the regulations needed to enforce the law. But there's still more work to be done, and with WWF's support, the national government is working hard on several new initiatives.
One is the National Pact for Legal Wood, signed in December 2014 by five Peruvian government agencies and several indigenous federations, private sector companies and nonprofits, including WWF. Signatories had agreed to create a plan to promote legal timber and eradicate illegal logging in Peru by 2021.
"This type of cooperation across government agencies and with the private sector has not happened before in Peru," says Fabiola Muñoz-Dodero, director of the national forest agency, known as SERFOR. "But the political will is there now and we need to strike while the iron is hot—and before the next change of government in 2016." To help bring the pact to life, WWF has directed money from its innovation fund to support the process, including clearly defining specific commitments and targets for each of the pact's signatories.
Also new is an initiative to create a fund that can be used to secure the country's protected areas in perpetuity. This initiative—led by the Peruvian park service with support from WWF and the Gordon and Betty Moore Foundation—is modeled after the successful ARPA for Life project in neighboring Brazil.
Finally, Suárez de Freitas' ministry is working on a national strategy for forests and climate change. That effort, galvanized in part by Peru's role hosting the last global climate change conference in Lima, will focus primarily on reducing greenhouse gas emissions from deforestation and forest degradation. It also will clarify who has the right to manage what land, especially within indigenous communities like Puerto Luz. To do this, the ministry's plan is to develop maps that designate land ownership, engage regional governments more actively in mapping the land within their jurisdiction, and more quickly review and approve proposals from indigenous communities to manage that land (currently, there are proposals that, if approved, would grant them rights to manage another 12 million acres).
"We agree that we need to reduce by at least 50% the land area without rights by 2020," offers Suárez de Freitas. He then admits, "it is a huge task."
A Family Affair
Back east, just outside Puerto Maldonado, recent downpours have left the Tambopata River swollen and surging in the sunshine. Entire trees sweep past the riverbank where Victor Zambrano Gonzáles describes how he created K'erenda Homet, a 40-acre private nature reserve on the outskirts of the city.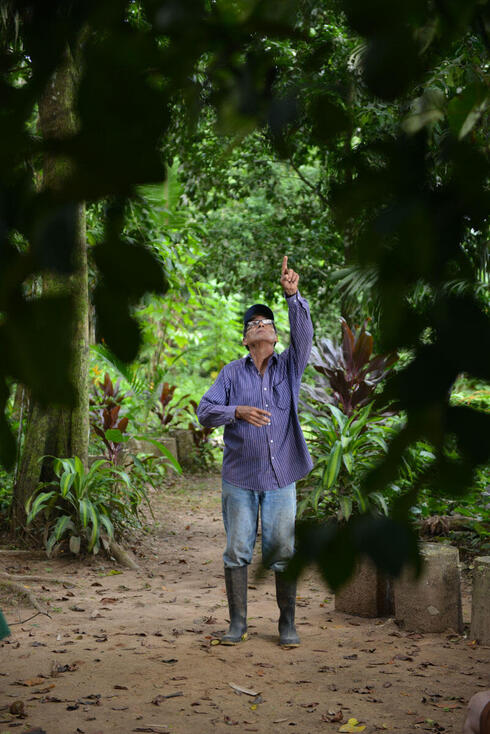 After 24 years with the Peruvian Navy (including a stint in the Special Forces), Zambrano returned to his family's land in 1986 to find it almost unrecognizable. Illegal cattle ranching had turned what was once primary forest into acidic, compacted soil covered with invasive grasses. "What I'd left behind no longer existed," he says.
At a wiry 76 years old, Zambrano still practically vibrates with energy, which makes what he describes next easier to imagine. "I took the land by storm," he says as he strides down a narrow path through dense tropical vegetation as a light shower begins to fall. Applying the mindset he learned in the Peruvian Special Forces to restoring the property, he uproots all the grass and planted legumes to add nitrogen to the soil. Then came pioneer plant species, and eventually trees: Zambrano claims his land has 20,000 of them in all, representing 120 species. The soil slowly recovered and wildlife started to return.
Inside the refuge office, he proudly shows a framed certificate that the minister of the environment presented to him in 2010. It recognizes K'erenda Homet as the first private conservation area in Madre de Dios. Over a dozen other reserves have followed, including three more just along this stretch of the river; today, they draw a steady trickle of visitors—and the income such tourism provides.
Climate change has definitely had an effect over the past decade, Zambrano says: extreme temperature swings; plants fruiting for six months instead of two. "We have to start doing things differently than how we've always been doing them," he adds. He believes the government wants to encourage private conservation areas but doesn't yet have the resources, so they leave it up to people like him.
Zambrano acknowledges that not everyone shares his vigor and determination. That's why adults have to transfer their experience and knowledge to succeeding generations along with the land itself, he says.
In his case, that involves welcoming visitors to the reserve—and naming it after his daughter, who has helped him with the project since she was old enough to walk. When she turned 16, he transferred full ownership of the reserve to her.
"I am optimistic," Zambrano says. "One hundred percent optimistic. I say proudly: 'I am a conservationist, an environmentalist, but with my feet firmly planted on the ground.'"
Explore more of this issue's coverage of climate change:
Explore More
About

World Wildlife magazine provides an inspiring, in-depth look at the connections between animals, people and our planet. Published quarterly by WWF, the magazine helps make you a part of our efforts to solve some of the most pressing issues facing the natural world.