A role-playing game teaches participants about river basin management
If you've ever gotten together with friends to play Risk or Settlers of Catan, you know the appeal of a strategy board game. Such games turn decision-making into a fun social activity, letting you vie for imaginary kingdoms and other serious-sounding prizes as you enjoy a few drinks together. Last year, WWF decided to tap into that appeal for a conservation purpose: teaching people about river basin management. The result? A role-play game called Get the Grade.
How Get the Grade works
The game uses role-play to help participants understand the factors that influence a basin's overall health, or "grade," and how report card grades can lead to better decisions about river basin management. Here's how:
Each player takes on the role of a character type representing one of six identified priorities for the basin, and is tasked with representing those water users during the game.
The game then explores various scenarios, requiring players to make decisions, form partner- ships, and respond to crises based on their characters and priorities.
At the end of the game, the group combines the scores for all six priorities to get the river basin's overall grade. The higher the total score, the better the grade.
The big idea is that players begin by looking out only for their own interests, but become increasingly collaborative as they see how interconnected their interests and decisions are.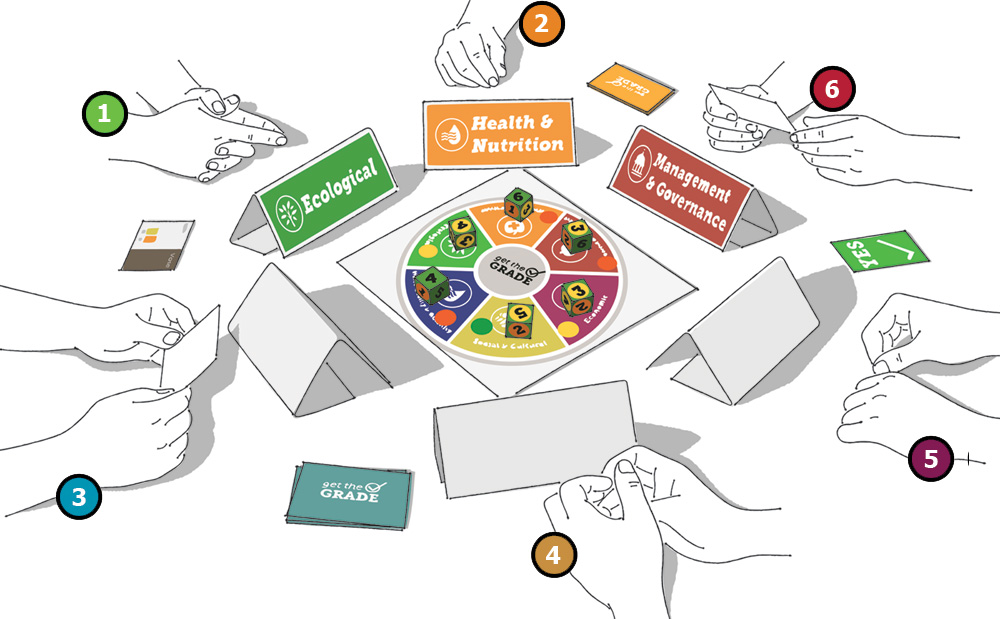 © Arthur Mount/WWF-US
PARK SCIENTIST
Ecological Stability
Studying how freshwater ecosystems support unique biodiversity throughout the basin
INTERNATIONAL ACTIVIST
Health and Nutrition
Seeking to ensure under-served populations have food security, access to clean water, and other necessities
RESEARCHER
Water Quality and Quantity
Exploring linkages between water quality and human health issues
INDIGENOUS ELDER
Social or Cultural Issues
Trying to protect cultural customs while adapting to development
FLY FISHERMAN
Economic Development
Exploring business opportunities based on healthy native fish population
LOCAL ELECTED OFFICIAL
Management and Governance
Seeking economic and social development opportunities for the region
THE REPORT CARD
In 2015, WWF and the University of Maryland Center for Environmental Science (UMCES) partnered around creating river basin "report cards." Created by local stakeholders, these assessments of river basin health help inform all levels of decision-making about freshwater resources.
HOW IT'S BEING USED
After developing Get the Grade with UMCES and the Engagement Lab at Emerson College, WWF tested it at three global environmental conferences in the fall of 2016. All three test runs were successful, and the game has now gone global: The Global Environment Fund has begun using the game to demonstrate the importance of natural resources management to its own staff, government officials, and civil society stakeholders.
Explore More
About

World Wildlife magazine provides an inspiring, in-depth look at the connections between animals, people and our planet. Published quarterly by WWF, the magazine helps make you a part of our efforts to solve some of the most pressing issues facing the natural world.