Cape Cod's stranded sea turtles get a second chance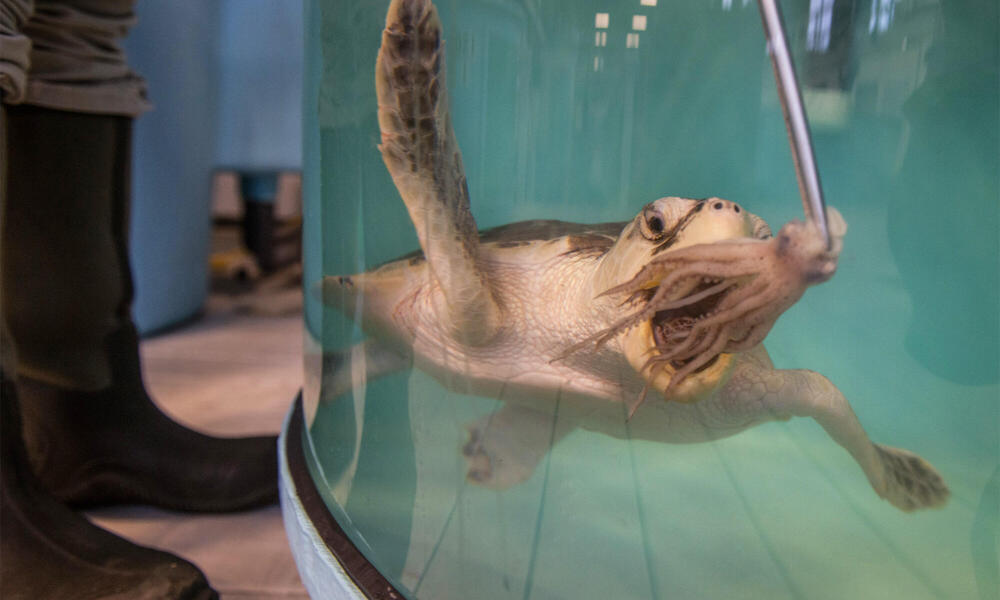 Issue: Fall 2018
Author: Esther Horvath
Every year from October to January, Cape Cod is the site of the world's largest recurring annual sea turtle stranding. Many juvenile turtles, unable to navigate out of the hook-shaped coast before winter, get stuck there and develop a type of hypothermia in the 50°F water. Some 82% of the sea turtles marooned in this area—known as the Deadly Bucket—are critically endangered Kemp's ridley turtles.
But thanks to rescue efforts by the Mass Audubon Wellfleet Bay Wildlife Sanctuary, stranding has become a beginning rather than an end for the turtles. The Mass Audubon team takes the turtles it rescues to the New England Aquarium's Marine Animal Rescue Team, which carefully rehabilitates the animals. Many of them recover enough to be released into the wild again.
It's not uncommon for rescued turtles to lose their appetite. That was the case with Kemp's ridley #77 at the New England Aquarium. To encourage it to eat one day, a rescue team volunteer dangled in front of the turtle its favorite food: squid. I snapped the photo just as #77 opened wide.
Kemp's ridley #77 was featured on the Instagram account "@EverydayExtinction," where photographers and scientists call attention to species currently at risk, the human activities that threaten them, and the things we can do to protect them. I was proud to contribute my work to the cause.
Explore More
About

World Wildlife magazine provides an inspiring, in-depth look at the connections between animals, people and our planet. Published quarterly by WWF, the magazine helps make you a part of our efforts to solve some of the most pressing issues facing the natural world.