In-Depth
Safe Zone
For people as well as elephants and gorillas, a haven in the heart of Africa
Issue: Fall 2020
Author: Andy Isaacson
Photographer: Andy Isaacson
You can hear the bai before you arrive: an orchestra of low rumbles and trumpets reverberating through the dense trees. The clearing, known as Dzanga Bai, is crowded. Forest elephants, smaller in stature than their cousins roaming Africa's savannas, wander in and out. An adult female strides in with two young offspring in tow. A lone, tusky bull greets a family he knows. Young males thwack their trunks together in mock battle.
Bais are a unique feature of Africa's Congo Basin, and no other bai attracts such large numbers of forest elephants. They come for the mud, which they suck out of holes in the ground with their trunks before depositing the mineral-rich elixir in their mouths. That's one of the secrets of the bai—these minerals are otherwise hard to find. The congregation serves a social purpose, too, offering a chance to reconnect with relatives. At the margins, buffalo, spiral-horned bongo antelope, and forest pigs munch on grasses.
Some 500 yards long and half as wide, Dzanga Bai lies at the geographic center of the continent, in the southwestern corner of the Central African Republic (CAR), within a protected area called Dzanga-Sangha.
In 2012, the United Nations Educational, Scientific and Cultural Organization named Dzanga-Sangha and the surrounding area—called Sangha Trinational—a World Heritage site, noting its role in "the continuation of ecological and evolutionary processes on a huge scale."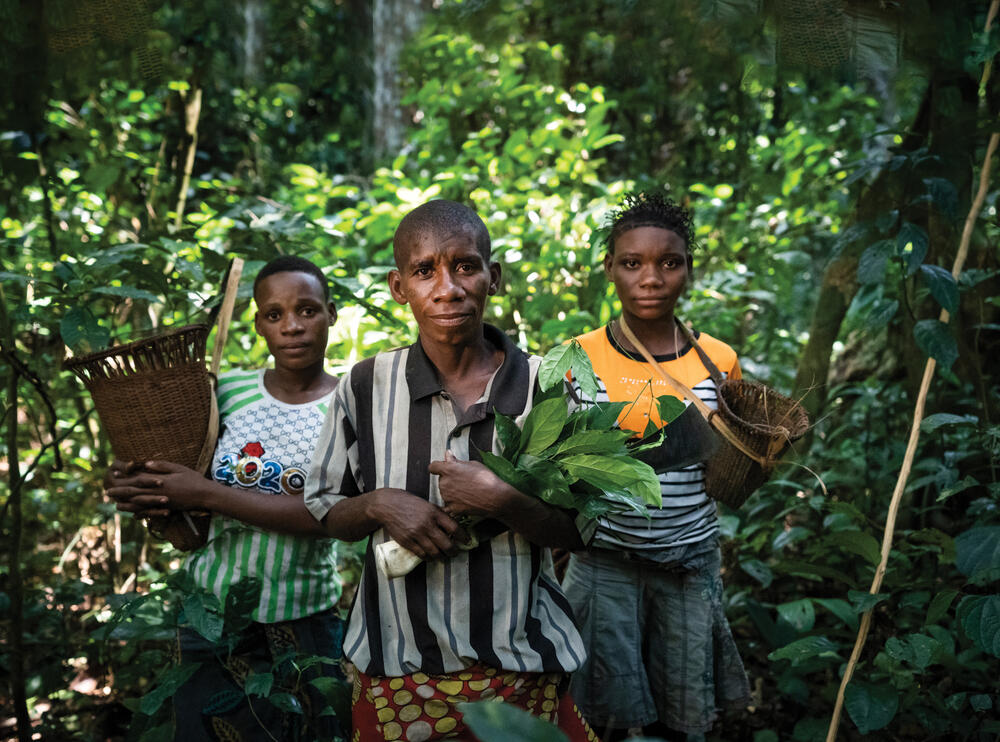 WWF's Luis Arranz took on the job of leading Dzanga-Sangha three years ago, in a unique partnership between the organization and the government of CAR. After nearly four decades on the continent and stints running national parks in Equatorial Guinea, Chad, and the Democratic Republic of the Congo, the 63-year-old Spaniard says he has come to regard Dzanga-Sangha as Africa's "best forest park." On his first visit to Dzanga Bai, he recalls counting 170 forest elephants. "I saw more elephants here in one hour than during my entire 15 years in Equatorial Guinea," he says.
Equally distinct, says Arranz, are the local Ba'Aka people and their unrivaled knowledge of the region's flora and fauna—traditional wisdom that is being lost in too many places in Africa. "They know absolutely everything," Arranz says. And he, like the other directors who preceded him, is determined to learn what they have to teach.
For more than 30 years, WWF has worked in Dzanga-Sangha, partnering closely with the government of CAR. Driving conservation here is the ethos that nature and people thrive together. Today, thanks to an approach based on long-term community engagement, Dzanga-Sangha stands as a model of enduring conservation in a region fraught with conflict.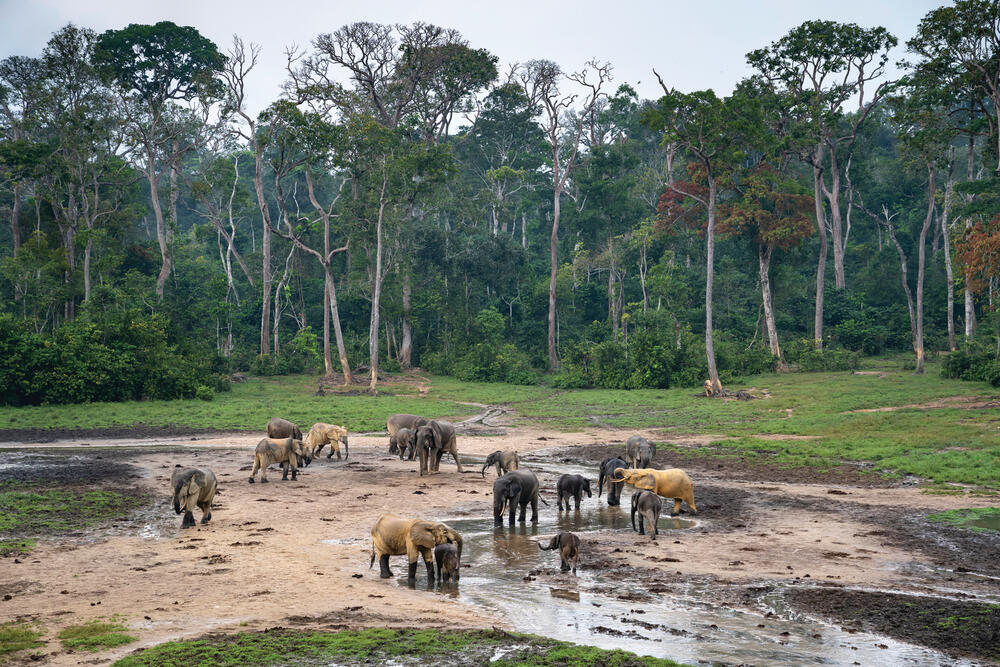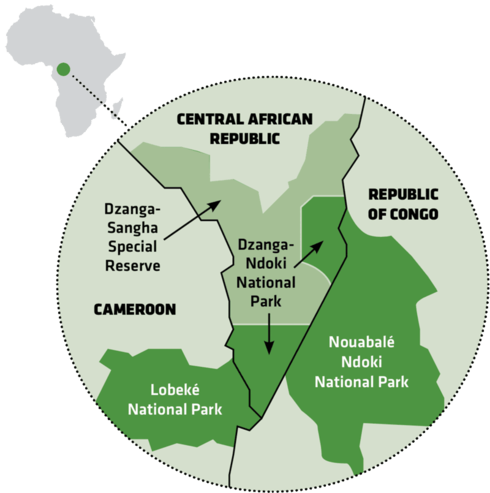 The Congo Basin makes up one of the most important wilderness areas left on Earth. It is the world's second-largest tropical forest after the Amazon and is twice the size of Alaska. Spanning six countries—from Equatorial Guinea on the Atlantic coast to the Democratic Republic of the Congo, at the border with Uganda—it encompasses 1.3 million square miles. One-third of its roughly 10,000 species of tropical plants are found nowhere else. It harbors not just iconic and endangered wildlife but also nearly 150 distinct ethnic groups, whose lives and well-being are linked intimately with the forest.
In recent decades, conflict, poverty, and government neglect have exacted a heavy toll on the region. Rather than wholesale destruction, the Congo faces death by a thousand cuts: Activities like logging and wildlife poaching remove the diversity of trees and animals that are integral to the overall health and maintenance of the forest. Through their dung, for example, gorillas and elephants play a significant role in dispersing the seeds of tropical fruit trees.
In the CAR, the population of elephants roaming its northern savanna—as high as 35,000 in the late '70s—has been reduced by poachers to nearly zero. Only small numbers of African buffalo, giant eland, roan antelope, and highly endangered Kordofan giraffes remain.
A coup d'état in 2013 and ensuing civil conflict have left much of the country destabilized and in the throes of a humanitarian crisis. Most of its territory remains unpoliced and controlled by armed groups; a quarter of the population is displaced. Outside the capital of Bangui, health and education facilities are scarce or nonexistent. Of the 189 countries on the UN's 2019 Human Development Index, CAR ranked 188th.
Dzanga-Sangha is one of the only stable regions of the country.
Doli Lodge sits on the wooded banks of the Sangha River, close to the Dzanga-Sangha park headquarters. In 2019, its four two-bedroom bungalows and terraced restaurant were upgraded with solar-heated showers and imported furnishings. Perched on stilts made of sapele mahogany confiscated from illegal logging, the buildings look out over the Sangha, a tributary of the Congo River. The waterway is blissfully quiet, save for the chatter of young men steering pirogues laden with jerrycans filled with palm tree sap fermented into wine.
Lucy Tamlyn, United States ambassador to CAR, visited Doli Lodge shortly after assuming her post in 2019. She had asked to be brought to Dzanga-Sangha, having heard there was a place in the country that had, at its peak, welcomed more than 1,000 tourists a year. "I was just blown away," she recalls. "I said, that's not the CAR people have been describing to me."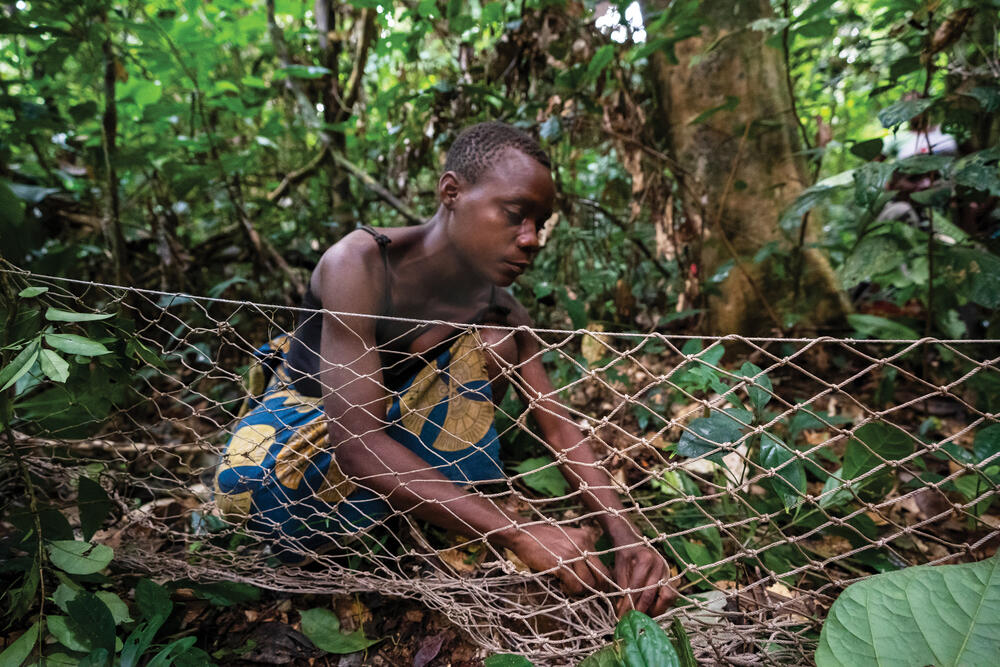 "Places like Dzanga-Sangha," the ambassador adds, "act as poles of stability, particularly in countries like CAR, which has been unstable for years, and where many areas are essentially ungoverned." She notes that the creation of sustainable, well-managed areas like Dzanga-Sangha and a few other parks establish stable, peaceful zones where economic opportunity grows. "That exerts a strong influence on neighboring areas," she adds, "and that's particularly important in CAR."
And while creating a "pole of stability" might not have been top of mind when WWF helped establish the protected area in 1990, they did nonetheless institute a unique model of collaborative comanagement.
At the heart of the protected area is the Dzanga-Ndoki National Park, which is dedicated entirely to the protection of nature, including the elephants, gorillas, and other species that thrive there. That core is surrounded by areas designated for rural development, sustainable forestry, and other uses—especially traditional hunting and the collection of forest products by the local community, including the Indigenous Ba'Aka.
And from the very beginning, WWF set out not only to protect natural resources but also to improve the lives of local people. Dzanga-Sangha currently employs more than 250 people, almost a third from the local Ba'Aka and Sangha-Sangha Indigenous populations, and has paid its staff continuously since 1989, even during times of political upheaval. In fact, 40% of park entry fees directly support local development initiatives, and the park's team of 114 ecoguards (11 of whom are Ba'Aka) are drawn from the local community, meaning their salaries radiate outward to the families—often extended—they support.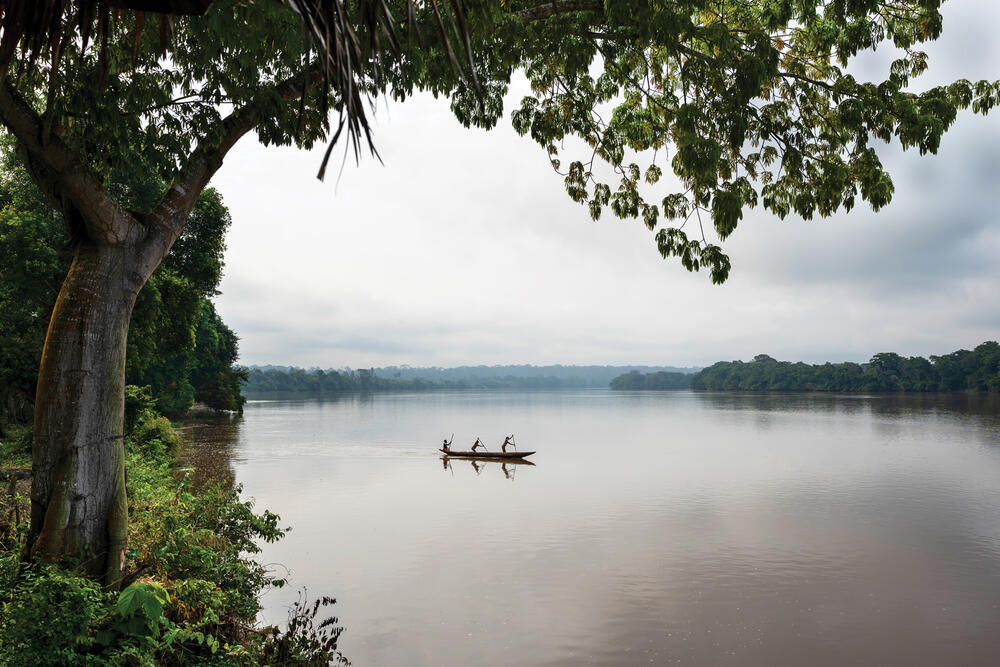 Full-spectrum conservation
WWF also supports local NGOs, including the Ndima-Kali Association, whose activities involve educating Ba'Aka about their rights, working with Ba'Aka elders to teach their youth about medicinal plants and other aspects of traditional forest culture, and reaching out to the larger community to tell their story.
The independent Maison de l'Enfant et de la Femme Pygmées, a Ba'Aka organization that runs Dzanga-Sangha's WWF-funded Human Rights Center, helps further balance out this equation. The group's lawyer, community representative, and village moderators help address conflicts, represent Ba'Aka and other community members in legal proceedings, educate park guards on citizens' rights, and secure birth certificates for Ba'Aka children—necessary legal recognition for a people historically without legal rights (see sidebar).
That committed, hard-fought integration of community and park also extends to WWF's investment in public benefits like health care. The organization finances the local hospital in Bayanga as well as a mobile physician who administers basic medicines and treatments in Ba'Aka villages surrounding the park.
It's all part of a concerted, multipronged approach to serving conservation priorities by addressing the needs of the people whose lives are most closely embedded with the health of the ecosystem.
That mobile health unit (essentially a truck filled with medicines, driven by a doctor funded by WWF) is a lifeline in many ways. Visiting each of Dzanga-Sangha's 24 Ba'Aka communities twice a month, the doctor provides everything from antibiotics, to antiparasitic and malarial treatments, to education about diseases like Ebola and tuberculosis, to a sympathetic ear. And while most Ba'Aka—somewhat recently transitioned from a nomadic lifestyle to farming—remain unconvinced of the benefits of modern medicine, the mobile health service helps bridge that gap and offers a safe, trusted place to keep individuals and the community strong.
It's all part of a concerted, multipronged approach to serving conservation priorities by addressing the needs of the people whose lives are most closely embedded with the health of the ecosystem. "We can't protect the park without making lives better for the people," says Allard Blom, WWF's managing director for the Congo Basin. "We never could."
That feeling of mutual opportunity goes two ways. As Idriss Amit, CAR's minister of water and forests, says, WWF's unwavering commitment throughout decades of political uncertainty has earned an uncommon degree of goodwill. "Without the partnership of WWF," he says, "Dzanga-Sangha wouldn't prosper."
And so despite the ever-present threats of deforestation and poaching, Dzanga-Sangha's park staff, community advocates, doctors, rangers, educators, and researchers—and its famous elephants and gorillas—are doing well.
The larger Congo Basin is still faring better than the planet's other major tropical forests, too. In southeastern Asia, for example, oil palm plantations and commercial logging have reduced the rich lowland forests of Malaysia and Indonesia to scattered patches. The Amazon, as is widely known, is burning.
Sadly, all of this increases the stakes for protecting the Congo. "There's no way to reach the goals we've set under the Paris Agreement without conserving a significant proportion of this intact forest in the Congo Basin," says Kerry Cesareo, senior vice president for forests at WWF-US. And we must remain prepared for the threats—whether increased forestry, mining, or poachers targeting the forest's elephants, gorillas, and other wildlife—that remain.
To offset that risk, Arranz hopes for a return to the 1,000 or so tourists Dzanga-Sangha used to see annually, back before civil violence gripped the country. In 2018, numbers were up to 415; but in 2019 there was a dip to 293, which Arranz attributes to construction on the lodge. He says bookings at the lodge had far surpassed 2019 numbers as of March, and he'd estimated the park would see 1,000 visitors again this year. Then the COVID-19 pandemic struck. Now, he acknowledges, "nobody knows."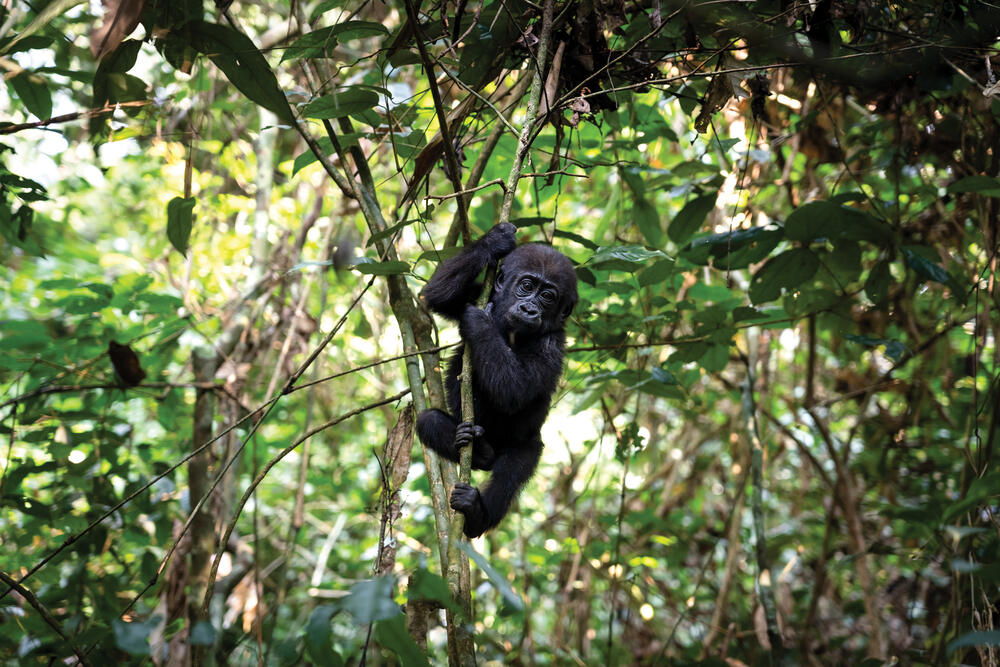 Still, tourism at Dzanga-Sangha holds out rich opportunity. The park offers ample wildlife to see, of course, but also the unique chance to spend a rustic night in the forest with a Ba'Aka family, learning their traditional ways. And the park runs one of the world's few programs for viewing habituated groups of western lowland gorillas, which are tracked year-round by Ba'Aka guides.
In 2018, a similar program in Rwanda drew 1.7 million visitors who paid $1,500 an hour to view the gorillas. In Dzanga-Sangha, the experience costs only $330 an hour. "This place has more to offer than any place in Rwanda," says Blom, who spearheaded Dzanga-Sangha's gorilla habituation program nearly 30 years ago and directs WWF-US work in the basin to this day. "It could be one of the top tourist attractions in the world."
All of it—shared opportunities and challenges, engaged community leadership, thriving elephant and gorilla populations, and an almost prehistoric-feeling forest—warrant that estimation. Dzanga-Sangha is a truly magical place.
As Ambassador Tamlyn says, "Dzanga-Sangha provides employment for Indigenous and local peoples in a broader setting where few such economic opportunities exist. It provides employment; it funnels revenues back to the local community. That's why it's a success. Because that model of community dialogue and discussion—of finding out what the communities that protect the forest really want, and embedding that in forest and wildlife protection efforts—is almost unique here in the Central African Republic."
Like the sounds of the elephants in their well-protected bai, it's a powerful and beautiful orchestra, in tune.
Justice for All
Founded with help from WWF, the Centre des Droits de l'Homme (or Human Rights Center) is run by the independent human rights organization Maison de l'Enfant et de la Femme Pygmées. The center, with financial support from WWF, provides multiple community services under a single banner. They work to ensure the Ba'Aka have equal rights, provide education to help them secure increasing respect and stature in the community, and provide a safe, clear, and reliable system for raising grievances and addressing conflict at every level. While most cases have been resolved within the community, the center has also supported prosecution in a criminal case related to a Dzanga-Sangha employee—a step that engendered significant community trust.
THREE PILLARS OF THE HUMAN RIGHTS CENTER'S WORK
Securing and Defending Rights
Ensuring that all members of the larger Dzanga-Sangha community have access to equal rights and opportunities is a significant part of the center's work. The staff encourages and helps new parents to complete and submit birth certificates, then delivers them to municipal authorities and pays the necessary fees. Birth certificates legitimize people in the eyes of the law and guarantee the right to basic government services and the right to vote.
Education
Education and training are central to the center's mission. Trainings are for community members, with a focus on clarifying individual rights and encouraging advocacy, and park staff (including ecoguards), with a focus on embedding human rights best practices into all park activities.
Addressing Conflict
Conflicts can be raised, reviewed, and elevated through the Human Rights Center as well. Typically, issues are first raised to a local village monitor, though sometimes they are brought directly to the center itself. Most disputes are domestic or interpersonal in nature and often involve payments—or lack thereof—for services such as hunting or physical work. These conflicts are generally resolved via conversations between the village monitor and the aggrieved parties. However, when a situation involves violence or other legal matters, the case is immediately referred to the center, where the program director (a lawyer) can advocate for legal action and shepherd the complaint through CAR's legal system.
Explore More
About

World Wildlife magazine provides an inspiring, in-depth look at the connections between animals, people and our planet. Published quarterly by WWF, the magazine helps make you a part of our efforts to solve some of the most pressing issues facing the natural world.