In-Depth
Restoring the jaguar corridor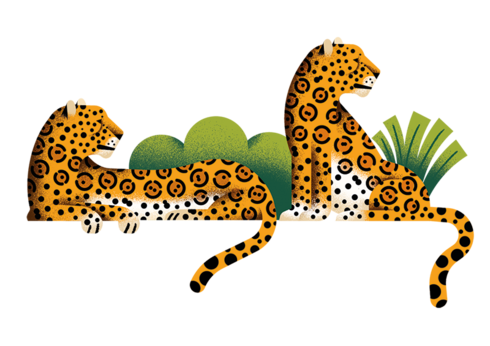 Focusing on 15 landscapes where jaguars live, WWF is working to achieve a continental network of connected jaguar populations while addressing growing threats—efforts that will ensure these big cats, their habitats, and the ecosystem services they provide are protected for the long term.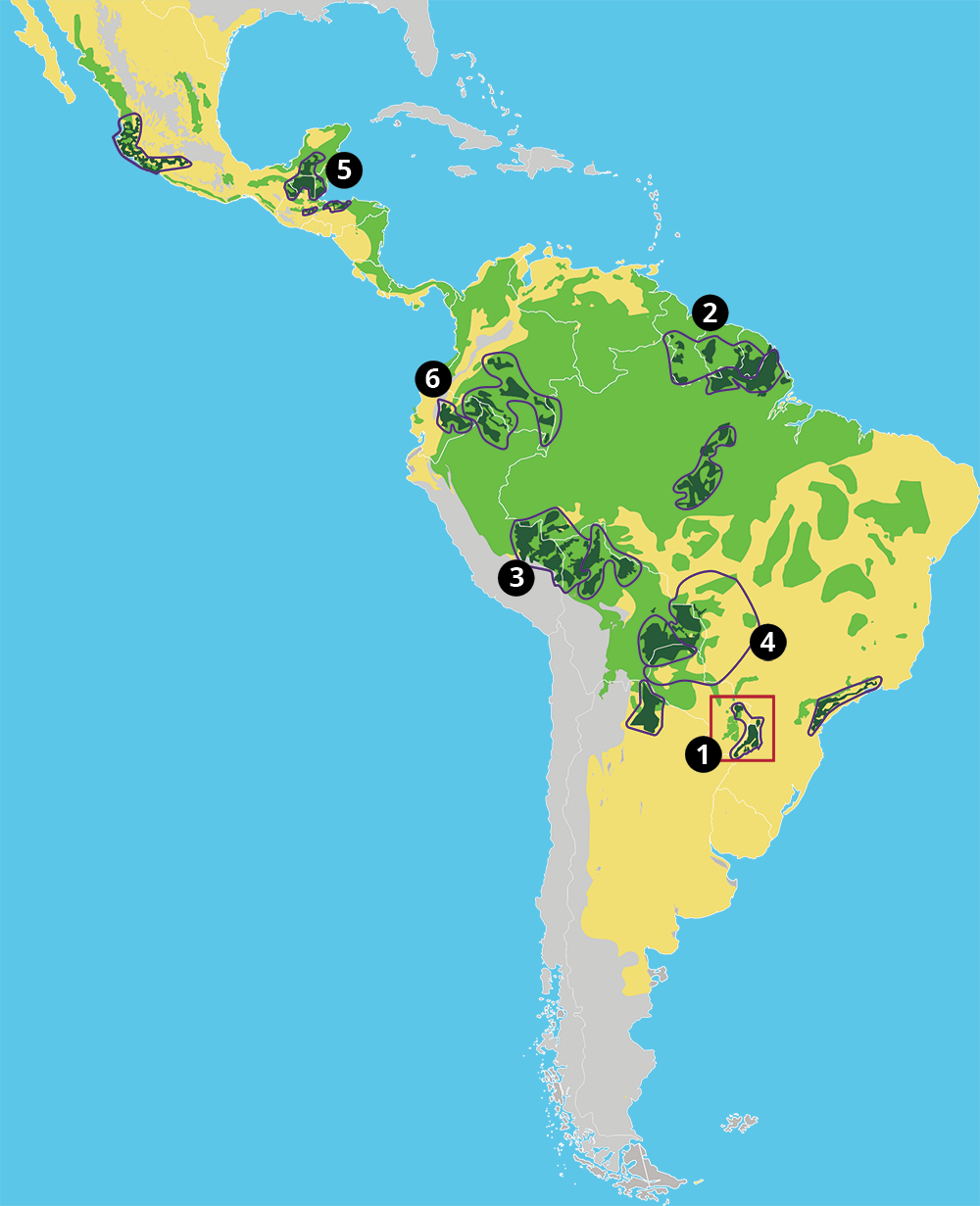 Atlantic Ocean
Pacific Ocean
Mexico
Brazil
Peru
Argentina
KEY
Current jaguar distribution
Historical jaguar distribution
Historical Distribution of Jaguar, Panthera.org; World Terrestrial Ecoregions, WWF 2012; World Database of Protected Areas (WDPA) 2018.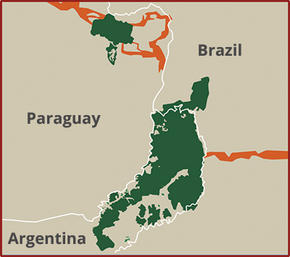 MISIONES - UPPER PARANÁ
Due to widespread deforestation, the Atlantic Forest's jaguars now exist in a few isolated subpopulations. WWF is striving to boost jaguar numbers by reducing conflicts between jaguars and local people while conserving native habitats and preventing poaching.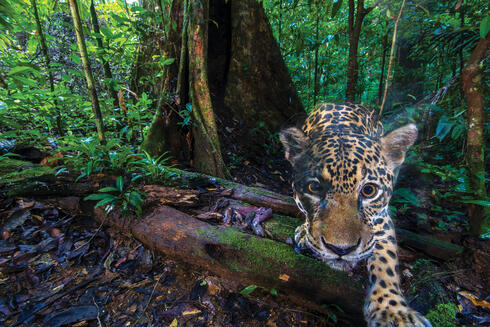 SOUTHERN GUIANAS
This lushly forested landscape is home to thousands of jaguars. While it's experienced relatively low rates of deforestation, gold mining and expanding agriculture have driven a recent rise in the loss and fragmentation of jaguar habitats. In Suriname and French Guiana, jaguars are also threatened by the illegal trade in jaguar parts, especially in mining and logging areas.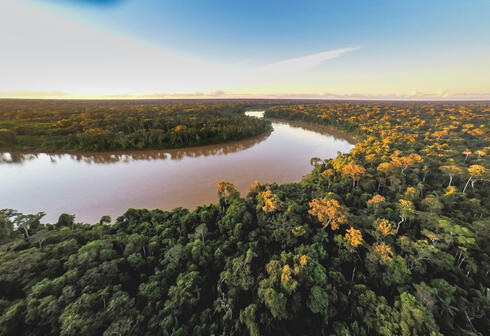 SOUTHWEST AMAZON
The Amazon basin is the largest contiguous block of jaguar habitat. In the Southwest Amazon, which includes several protected areas and Indigenous reserves, nearly one-third of forests are owned or managed by local communities—many of which support more sustainable logging activities and Brazil nut production. Jaguar populations are generally healthy, with higher densities than in other landscapes.
PANTANAL
Encompassing the world's biggest tropical wetland, the Pantanal holds the world's second-largest concentration of jaguars. As new infrastructure, climate change, and human-wildlife conflict put increasing pressure on this population, WWF is partnering with ranchers, governments, and the private sector to support jaguar-friendly development and stop retaliatory killings.
SELVA MAYA
Hand in Hand
In the Maya Forest, which spans parts of Mexico's Yucatan Peninsula, northern Guatemala, and Belize, widespread deforestation and agricultural development are rapidly narrowing important corridors between jaguar habitats, squeezing the species into shrinking tracts of forest while escalating other threats.
"Jaguars live in countries dominated by humans," says WWF-Mexico conservation director María José Villanueva. "In Latin America, we cannot conceive of biodiversity conservation without working with local communities."
In Mexico, WWF is developing partnerships with local governments and communities to integrate those communities into forest monitoring activities that benefit jaguars. Community members patrol their territories to identify and track new deforestation, gathering valuable information about changes to the forest that can guide jaguar conservation strategies.
Since many families in the region "live under tremendous economic pressure," says Villanueva, offering economic benefits and finding ways to boost local economies are also important for getting communities involved.
With an eye toward strengthening local livelihoods, WWF recently mapped out which communities collect honey or extract gum, excel at artisanal crafts, or undertake other activities that can coexist with jaguar conservation. With more reliable livelihoods, Villanueva explains, local people are less likely to participate in income-generating activities that cause further deforestation in jaguar habitat.
The organization is also considering compensating communities for preserving the forest, a model that's been successful in central Mexico's Monarch Butterfly Biosphere Reserve. There, WWF and partners created a fund that allocates payments to local communities that have not cut down trees in the reserve. If deforestation is identified, the funds go to reforestation rather than to the community. "We've managed to bring illegal logging in the reserve to almost zero in the last 20 years," says Villanueva.
And while conservation in the Maya Forest is still "a work in progress," she adds, "protecting the forest and saving jaguars go hand in hand."
NAPO-PUTUMAYO-META-CAQUETÁ
Thriving Populations
In the tri-border region of Colombia, Ecuador, and Peru known as the Napo-Putumayo Corridor, an estimated 2,000 jaguars live within 335 square miles of the Amazon rain forest—numbers signaling not only a thriving jaguar population but also a healthy ecosystem.
The region, which includes Ecuador's Cuyabeno Wildlife Reserve, Peru's Güeppi-Sekime National Park, and Colombia's Predio Putumayo Indigenous Reserve, stands as a model for how protected and Indigenous lands can play an essential role in saving threatened wildlife.
WWF-Colombia has a long-standing partnership with Indigenous communities in the Predio Putumayo reserve, and for the past three years has been helping to strengthen local governance and supporting efforts to monitor and secure their territories in the face of growing threats.
In 2018, WWF and communities in the corridor began a jaguar count, installing 129 camera traps that yielded more than 64,700 photographs over a two-year period. Monitoring work is continuing, employing technologies like GPS and online mapping tools, as well as camera traps, to document changing forest dynamics and identify threats.
Deforestation in particular has recently been expanding at an alarming rate. In both 2018 and 2019, Colombia lost over 370,650 acres of rain forest, mainly due to land grabbing, cattle ranching, and coca production.
"That is why we are trying to work with Indigenous communities to map their territories, clarify the forest limits, and reach agreements with them over management of the territory," says Joaquin Carrizosa, coordinator of the Northern Amazon Program for WWF-Colombia. Only by meeting Indigenous people's needs can these landscapes—and the wildlife in them—thrive.
Explore More
About

World Wildlife magazine provides an inspiring, in-depth look at the connections between animals, people and our planet. Published quarterly by WWF, the magazine helps make you a part of our efforts to solve some of the most pressing issues facing the natural world.