In-Depth
Eyes on the water in Belize
In Placencia Village, a loose coalition of people is finding new ways to make a living from nature while protecting their long-held way of life
Issue: Summer 2016
Author: Emiliano Rodríguez Mega
Photographer: Antonio Busiello
A sudden splash breaks the warm silence of the lagoon. As soon as the net touches the surface, Emelly Miralda starts pulling it in at a fast but steady pace. A glittering mass of sardines emerges from the water, some of them tangled in the mesh, others flopping violently.
She loosens the net and a downpour of silver fish falls inside the small boat. A barracuda the size of her leg already lies lifeless on the floor.
Her husband thrusts a long stick into the lagoon to keep the boat still. Three of their four children, chins and cheeks cupped in their hands, watch closely as their mother frees the few remaining fish from the net. A 10-month-old baby sleeps in a cradle. "Only a female can do this," she brags with a grin.
Miralda hopes to teach her kids how to fish one day—it's a skill and a way of life she fears will become more difficult as illegal fishing, climate change, and unchecked tourism continue to hurt fish and coral populations. As she talks, Miralda sets aside a few sardines to use later as bait.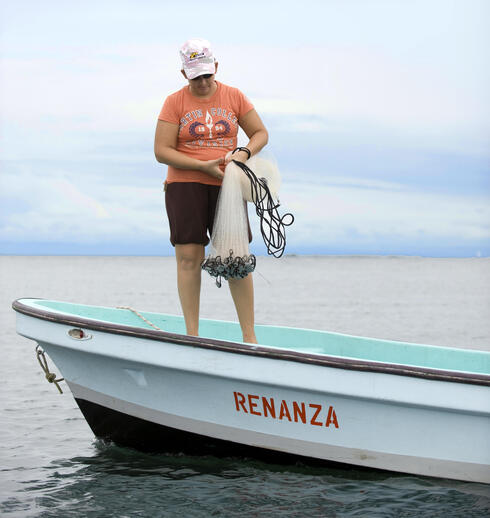 Once a sleepy fishing community, Placencia Village has now become one of Belize's most important tourist destinations. A scrappy mix of dive shops, hotels, and restaurants—including an Italian gelateria that has done good business for almost 15 years—abounds along the colorful main road, which terminates at a lively dock.
Miralda works in tourism as well (among her many jobs, she's a tour guide and dive master) but like many Placencians, she sees unchecked tourism development as a danger. "There's a lot changing," she says, pointing south toward the horizon. "Especially with what they're doing over there."
She's referring to two small, linked islands, located about three miles off the shores of Placencia, called Harvest Caye. From a distance, it's not too different from other small islands (or cayes) in the waters off the peninsula, but up close a distinct picture emerges. New channels carved into the island divide and fragment the stands of mangrove forest, while a squad of excavators pull rocks out of the sea to build a seawall, and a handful of unfinished cabañas are rising in order to greet the tourists who will soon be coming in numbers Placencia has never seen.
In the past couple of years, the crew of locals, long-term expats, and recent transplants who live in Placencia and around the lagoon have witnessed the project firsthand: The muddy island construction site will eventually host a cruise port with shops, beach, marina, and a floating deepwater pier, as well as a mainland landing site for inland tours to explore nearby jungle and Mayan sites.
"We need to ensure there is a balanced management plan that creates meaningful incentives for all stakeholders—including the fishers and tour guides in Placencia—to protect the very assets that make a destination special for travelers."

Jim Sano WWF Vice President, Travel, Tourism and Conservation
While tourism can quickly generate economic benefits for local communities and governments, it can also pose significant threats to wild habitats if not properly managed. Since tourism boomed in Belize in the 1990s, mangroves have been cleared for new developments, erosion has bled choking sediments into the waters, and whole areas of lagoon and seafloor have been filled in to create usable land. Norwegian Cruise Line, the American company leading the project on Harvest Caye, has assured both government and local stakeholders that they plan to focus on sustainable design.
"The focus of conservation travel is connecting the dots between conservation, sustainable livelihoods, and the private sector," says Jim Sano, who leads WWF's Travel, Tourism, and Conservation program. "We need to ensure there is a balanced management plan that creates meaningful incentives for all stakeholders—including the fishers and tour guides in Placencia—to protect the very assets that make a destination special for travelers."
But describing Miralda just as a fisherwoman (or even as a fisherwoman/dive master/tourist guide) falls somewhat short of her full story. To protect her way of life, she also volunteers with the Southern Environmental Association (SEA), an environmental nonprofit based in a small office that sits above a bank. SEA coordinates the protection and management of multiple areas within southern Belize's coastal barrier reef ecosystems, including Placencia Lagoon and two of the coral cayes offshore. The group conducts scientific research, manages protected areas, and involves the community directly by training them to monitor the health of the ecosystems within and surrounding the lagoon.
Every month volunteers assess the quality of the water and make sure the seagrass is flourishing. "I do my volunteering to give something back," Miralda says.
A dense mat of seagrass coats the seafloor below the family's small boat, but these underwater green fields are suffering rapid global decline—24% of seagrass species are now classified as threatened or near threatened. Alongside mangroves, seagrass functions like a filter for the ocean, buffering reefs from sediments while supplying essential nutrients. It even plays a key role in combating climate change as it is able to store large amounts of carbon.
If the seagrass disappeared, Placencia would most likely experience the grim consequences as a domino effect. Many commercial fish species in Placencia, like snappers and groupers, use mangroves and seagrass beds as nursery areas before moving out to coral reefs when they mature. Other animals also depend on them, including one of the lagoon's most iconic species, the manatee.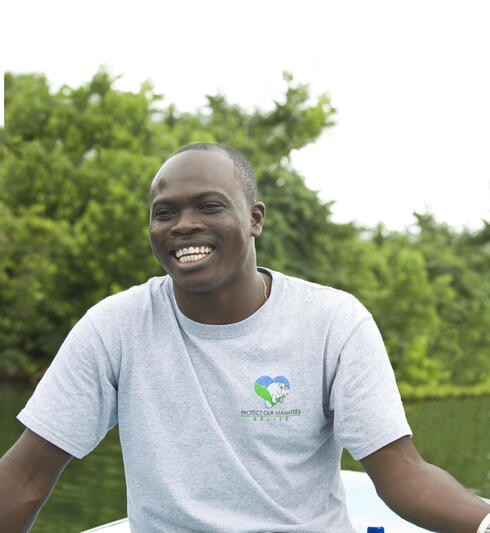 The love of manatees came late to Nicole Auil Gomez. The very first thing that prompted her to study and protect them, she says, was learning of the dire need to understand them better.
In college in the early 1990s, she learned that, along with Chetumal Bay in Mexico, the coast of Belize was one of the most important areas for the manatee's Antillean subspecies. "But no-body seemed to be doing any work on them," she says. "It was a gap, and for me it was like, 'Man, are you kidding? Belize has the most Antillean manatees in the world and we do nothing?'"
So, with a grant from WWF's Russell E. Train Education for Nature program, Gomez completed a master's degree in wildlife management from Texas A&M University, focusing on manatee abundance and trends in Belize. She then returned to her native country ready to save them. Gomez led SEA from early 2013 to January 2016, and now serves as country program director for the Wildlife Conservation Society in Belize. But manatees remain close to her heart.
While sailing the lagoon under a rumpled gray-blue sky, she climbs up the boat's bow, scans the calm water, and stays silent. She's searching for manatees, and she knows exactly what signs to watch for. "We're looking for a boil in the water: a smooth and shiny circle that pops up," she says. "We should also look out for a mud trail, which means an animal is swimming away pretty fast, or a trail of leaves, shoots, and roots, which means someone's just had a feast."
As we go deeper into the mangroves, the engine of the motor boat shuts down. A school of fish hide in the tangle of roots that appear underneath, and dragonflies begin to swarm all around.
Finding manatees can be hard if they don't want to be seen. Especially in Placencia Lagoon, where the water is dark and manatee numbers have fluctuated over the years. Illegal hunting for their meat is still practiced in southern Belize, and watercraft collisions are greatly reducing the population. There is also another manatee-related worry on many people's minds: shrimp farms.
Of the 13 functional shrimp farms that are members of the Belize Shrimp Growers Association, seven are scattered on the creeks flowing into the Placencia Lagoon. According to a 2008 report commissioned by WWF, when the first set of shrimp farmers established operations in the 1980s, they hoped their wastewater—rich in nutrients like nitrates and phosphates—would promote the healthy growth of seagrass and other plant life. But they had miscalculated: By 2007 only 7% of the original underwater pastures remained.
Local manatee populations, once attracted by the seagrass beds, began to leave the area—and those that stayed began to get sick. Some individuals had so many parasites blocking their respiratory system they could barely breathe.
And manatees were not the only ones feeling the impacts.
Around that same time, algal blooms fueled by excessive nutrients were being reported in creeks with shrimp farm effluent outlets. "Our water went green in the upper lagoon," Miralda recalls. "You can't even catch a fish [now]—they're not there anymore."
Another change: In other places where shrimp farm effluent has been released in the past, some mangroves are developing faster and growing taller than usual—a growth that may not be a good thing. Greater height means less stability, which means increased erosion and more vulnerability to damaging winds and storms.
But that negative trend has been changing. In the past seven years, with help from WWF, shrimp farms around Belize have been improving water management and adopting sustainable practices so that their products could earn certification as responsibly farmed seafood. Those practices are showing results, including a more rigorous and nature-based approach to filtration of wastewater and the careful monitoring of nutrients that affect water chemistry downstream.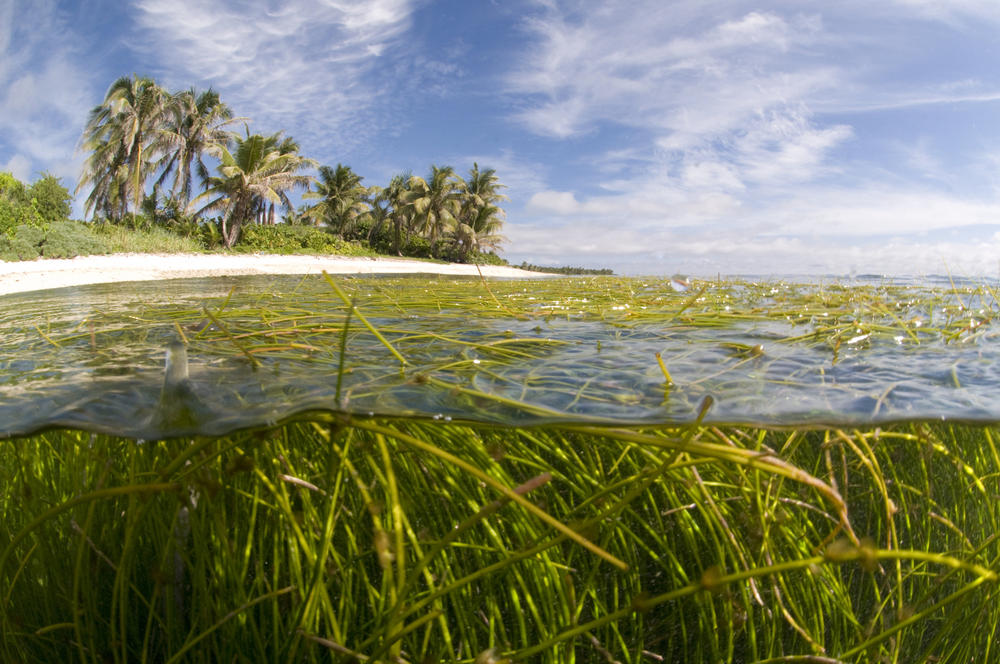 © Antonio Busiello/WWF-US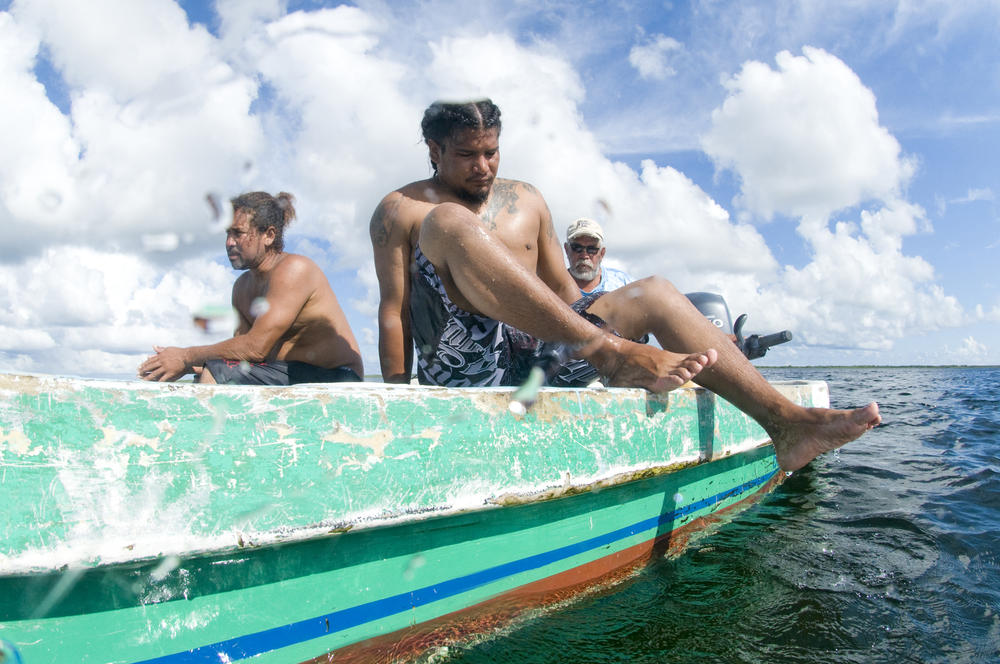 © Antonio Busiello/WWF-US
Since 2010, nutrient levels in the lagoon have decreased enough to meet legal standards, seagrass pastures have begun winning back lost territory, and manatee sightings have become more frequent. Today, 90% of Belize's aquaculture shrimp production is certified as sustainable by the Aquaculture Stewardship Council—the highest percentage of any country in the world. As this turnaround continues, conditions in the lagoon for fish populations—and for fishers like Miralda—should continue to improve. The process is slow, but under way.
It's good news that shrimp farm operations have become part of the solution; still, the lagoon has a long way to go. Poorly managed dredging—such as was done when the nearby port of Big Creek was expanded in 2015—keeps eroding and adding sediment to the watershed. And much of the natural vegetation on the mainland side of the lagoon has been converted into a landscape dominated by citrus and banana plantations that can discharge agrochemicals into the water. (So far, WWF has worked together with banana producers to cut down pesticide use by 19%.)
All of these pressures must be reduced if a true lagoon recovery is to occur. So in addition to the work of SEA, local volunteers and village councils, and a cadre of local developers committed to minimizing their impact on natural ecosystems, the government must also be involved.
Among the goals for government action, says Gomez, would be the declaration of Placencia Lagoon as a protected area—a measure that SEA and other civil groups have been trying to push forward for almost 20 years. Now Gomez is finally confident that the management plan for the area will become a reality. "These things take a lot of time," she says, "but thanks to WWF's support, the management plan is done." WWF funded the rapid ecological assessment of the lagoon, a community engagement process, and the writing of the actual management plan.
An official declaration would no doubt represent a big step forward and would help to guide the types of development and industry permitted within the lagoon. But it would most likely fall short of solving illegal fishing, one of Placencia's—and Belize's—most challenging problems.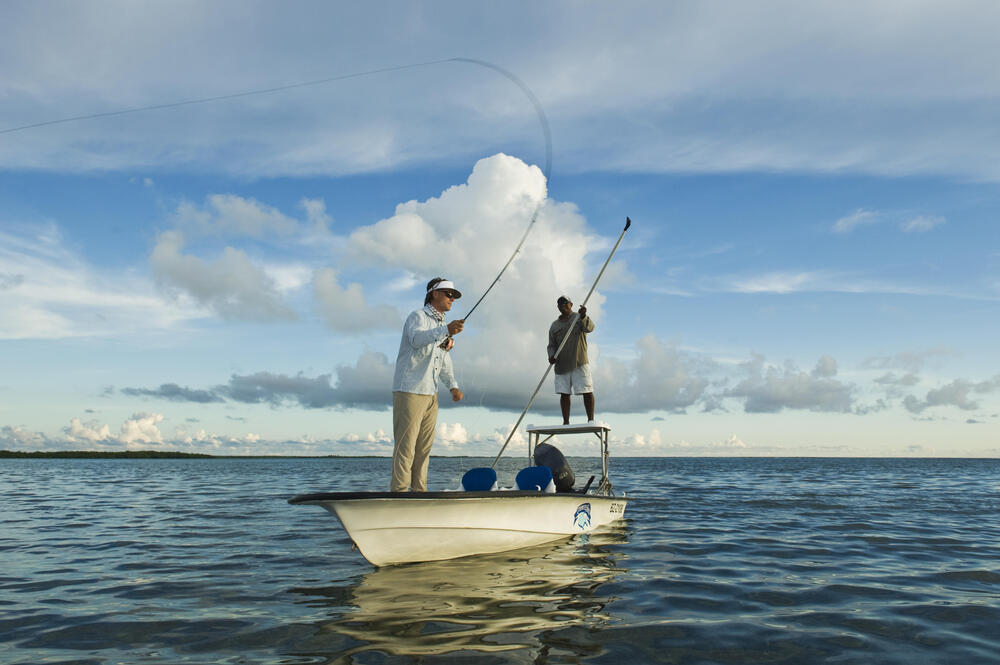 Fishing has been the backbone of Placencia for as long as anyone there can remember. The fishers' cooperative once had sales so high they were even able to bring electricity to the entire community in the 1970s. It's been reported that for years fishers did not even have to fish for conch—they would just roll up their trousers and wade out from the shore to collect them. The same report notes that locals saw so many lobsters that they didn't think they could ever run out.
Things are different now. Uncontrolled extraction and the demands of a growing tourism industry have resulted in production plummeting since the last century. Villamar Godfrey, an 81-year-old fisherman and Miralda's uncle, has seen the fish get scarcer. "We used to catch hundreds of groupers, but now most are getting depleted because there are a lot of people [fishing them out]." That's bad business for fishers, but also for tourism. Without big schools to fish or see while snorkeling, he says, tourists will stop coming to Placencia.
Rules regarding size limits, minimum weights, and fishing seasons have been created to combat overfishing, but illegal practices remain a complex issue. And while the government supports the regulations, too often it's up to local groups like SEA to make sure law enforcement is applied. Gomez says, "We have to do it, or it won't be done."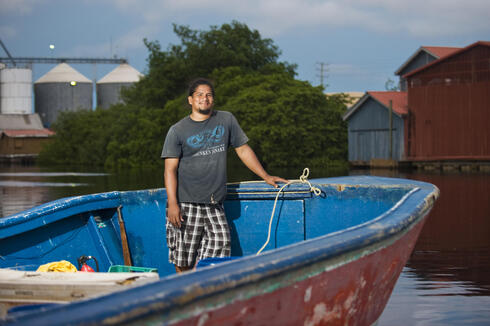 One of the challenges is the high number of fishers that come to Placencia. A stream of locals claim that illegal fishing vessels from northern Belize, Guatemala, and Honduras are competing with native Placencians, creating conflicts and emptying the reef. But it's not as simple as good fishers versus bad fishers. "It's poverty," Gomez says.
Economic hardship is readily apparent. While Placencia is thriving, it has a scrappy, in-progress feel. And everyone seems to have multiple jobs to make ends meet. Many local fishers have, like Emelly Miralda, switched gears to tourism—especially when fish are less abundant or when the fishing season is closed. Others, like her cousins (and Villamar's sons) Lewis and Lowell Godfrey, are taking control of their future with a less ordinary alternative: seaweed farming.
"We're not sure [seaweed farming] is the best [option], but it is an alternative, and we need to try something different," says their brother Dale Godfrey, an environmental activist.
So along with other fishers who think alike, Lewis and Lowell established a cooperative to help them make a living out of seaweed. Today, they sell the dried, filamentous red algae they grow in underwater farms located near the reef to both foreign and local consumers who use the product for everything from soaps and facial masks to soups and beverages. One of those buyers is Magda Morales, owner of a small restaurant that sits adjacent to Placencia Village's dock and beach.
Morales has a brisk manner and a loud voice that contrast with her warm smile. She has run the place for over 10 years. "I'm not gonna make myself rich, but I can't complain," she laughs. The specialty of the house? Seaweed shakes, which tourists buy the most.
The best thing about the seaweed, she says, is that "it doesn't need pesticides or fertilizers. All it needs is a healthy reef."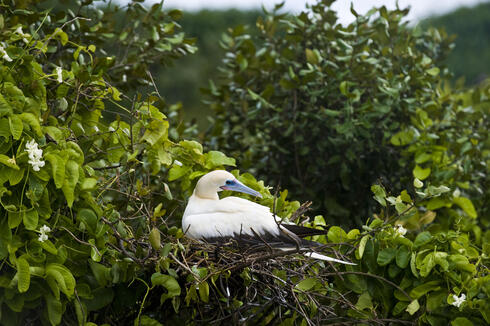 Laughing Bird Caye is a tiny island. There's not much to see on the ground, but under the water it's clear why it was declared a national park. The place simply oozes life. A seemingly infinite school of tiny silver fish travel from beach to coral fields, where green, yellow, and red "stoplight" parrotfish swim and spiny lobsters hide within a forest of staghorn and elkhorn corals. As marine biologist Lisa Carne describes it, that abundance is hard-earned.
In 2001, one of the most devastating hurricanes that Belize has known, Hurricane Iris, hit Placencia directly and tore up the tiny island. "Everybody [heard] that Laughing Bird Caye was dead," Carne says.
At the time, she was working in northern Belize, where she kept finding fragments of coral—broken-off, but still alive. And since she knew that corals live in high-energy, shallow areas where waves and storms regularly break pieces off, she also knew that they were adapted to survive such physical disturbance (think of taking cuttings from plants to grow new ones).
"When a broken-off piece tumbles around and gets secured in the reef," she explains, "it can live and grow into a new individual." That's the case with the elkhorn and staghorn corals, which are among the fastest growing reef-building corals.
So Carne decided to replenish Laughing Bird Caye—not by creating an artificial reef, but by putting back the same kinds of corals that used to be there and helping them regrow. To make it happen, she founded the nonprofit Fragments of Hope in 2013.
As Carne dives in the reef, she points at two corals that she and locals transplanted years ago. They're both elkhorns, and yet despite belonging to the same species they look clearly different, one of them with thicker branches than the other. Fostering different individuals like these is one way to make the coral population genetically diverse, work that WWF has strengthened by funding lab analyses of coral genetics at the project site. A diverse coral community is more likely to weather intense storms and changing ocean temperatures. Eventually, it will also be able to sexually reproduce on its own, an achievement that Fragments of Hope documented for the first time in 2014.
The ultimate goal is not only to have a diverse coral community, Carne explains, but a diverse reef ecosystem. "It's not just a matter of putting back a few species," she says. "We're actually increasing the biodiversity of the entire area by providing a habitat that other species need."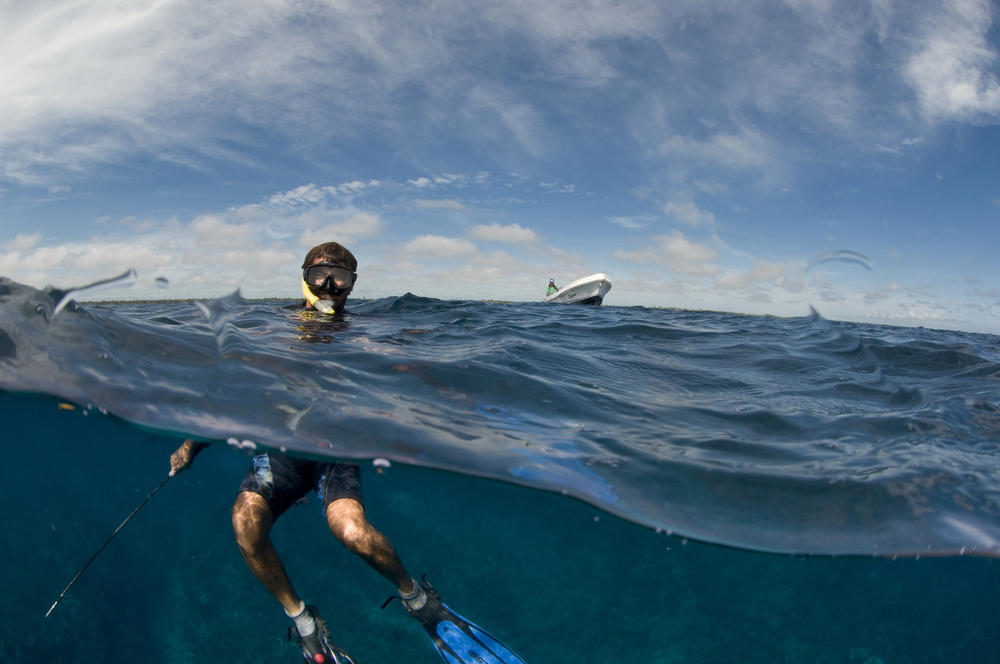 © Antonio Busiello/WWF-US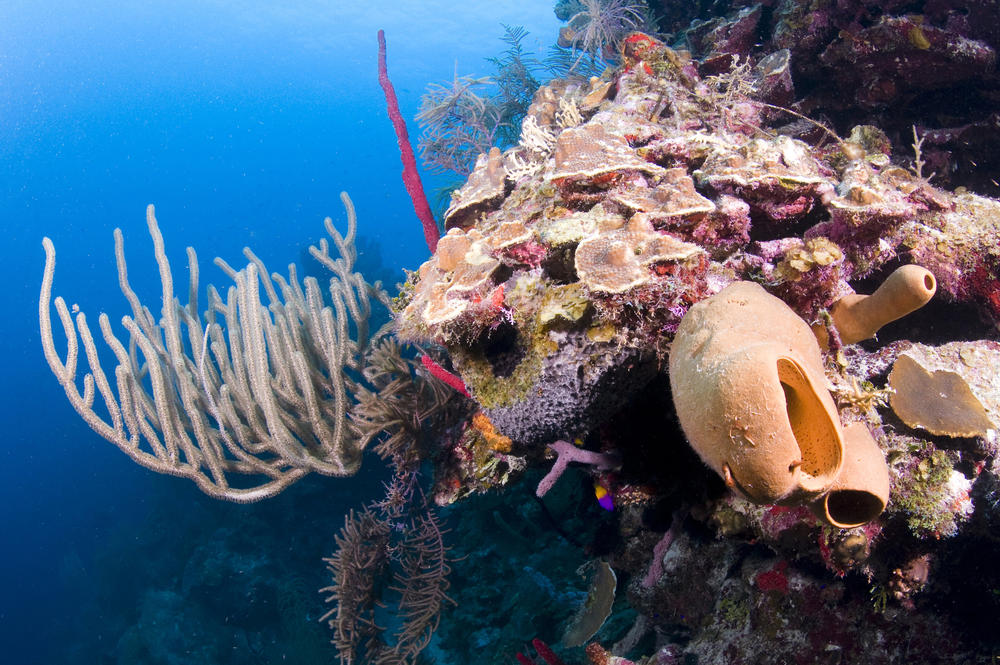 © Antonio Busiello/WWF-US
People need that habitat to thrive almost as much as the fish do. Healthy coral reefs, mangrove systems, and seagrass beds form the backbone of a complex ecosystem that is closely linked to Placencians' lives. Of course, the Placencia Peninsula and its surrounding waters make up only one of Belize's regions, each of which has its own unique ecological and economic characteristics. Getting to know those regions and coming to understand exactly how closely natural resources and human livelihoods are connected are key components of research being done through the Natural Capital Project, a partnership between WWF, The Nature Conservancy, the University of Minnesota, and Stanford University.
With funding from numerous other partners, the Natural Capital team has conducted extensive mapping exercises, community consultations, and data modeling in order to define which ecosystems are healthiest and which are most in danger. Produced for the Belize government in partnership with the Belize Coastal Zone Management Authority and Institute (CZMAI), the work drew on the skills of experts in ecology, coastal engineering, fisheries science, and other disciplines. And according to Nadia Bood, a marine scientist at WWF's field office in Belize, the team has been able to quantify "what kinds of services those [natural] areas offer to our livelihoods, to the national economy, and to society."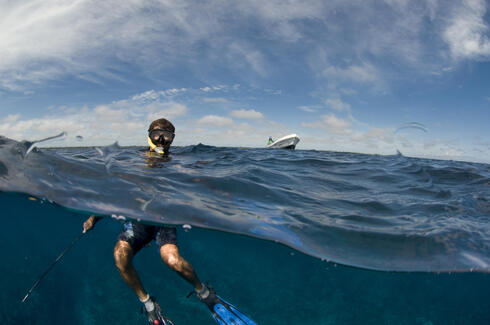 Having that kind of knowledge allowed the team to model what would happen by 2025 if the country chose from among different scenarios for managing its coastal resources and the natural buffers that protect its coast. For example, the study found that a full-on development scenario (think unchecked industrial fishing, tourism, agriculture, and oil and gas exploration) would destroy Belize's coastal resources, while on the other hand a full-on conservation scenario (think setting aside huge swaths of protected areas in perpetuity) would not allow people to make a viable living from natural resources.
"What emerged through our modeling was this sort of middle-of-the-road, more informed management future that blended the two extremes together," says geographer Gregg Verutes, a Natural Capital staff member based at Stanford. It offers a more viable long-term scenario, he explains, that "blends conservation goals with an understanding of people's need for coastal development." (Think mangrove-friendly landscaping, community-supported fishing regulations, and multiple-use areas where wildlife is protected along with local community rights.) This third option quickly gained ground.
The Natural Capital team worked with government officials from CZMAI to analyze these different scenarios, and an integrated coastal management plan was developed. After nearly 10 years of research, advocacy, and revision, Belize's government officially adopted the plan on February 22, 2016, and intends to reduce the area of habitat at risk by 20%, while expanding economic opportunities for residents of Belize's coast.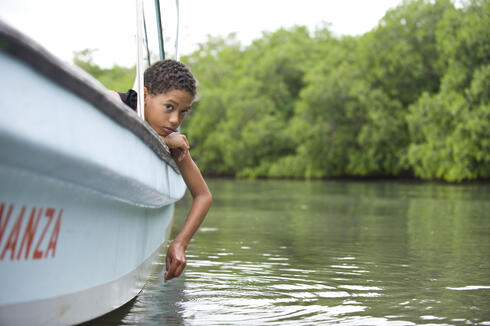 Back in the lagoon, Emelly Miralda pulls the rope again, but the net comes out of the water empty. "Every day is a fishing day, but not every day we catch fish," she says with a smile.
When asked how long she's been fishing, she points at her 7-year-old daughter and says she was about that age when she went on her first fishing trip, "and I never stopped since then."
That lifelong connection to the water is why she fishes as often as possible, she explains, and guides tourists to see the reef. It's also why she volunteers with SEA. "Once everything is gone," she says, "trying to put it back is kind of impossible. So why not preserve it while it's here?"

Help protect the Belize barrier reef World Heritage site from harmful industrial activities.
Explore More
About

World Wildlife magazine provides an inspiring, in-depth look at the connections between animals, people and our planet. Published quarterly by WWF, the magazine helps make you a part of our efforts to solve some of the most pressing issues facing the natural world.