The long-eared jerboa stands—and hops—in a class of its own
How to describe the long-eared jerboa? The tiny, furtive rodent—native to the deserts of northwest China and southern Mongolia—has a mouse-like body, rabbity ears, a snout like a pig's, and back legs that look like a miniature model of a kangaroo's. But despite resembling a hodgepodge of other species, the long-eared jerboa stands—and hops—in a class of its own.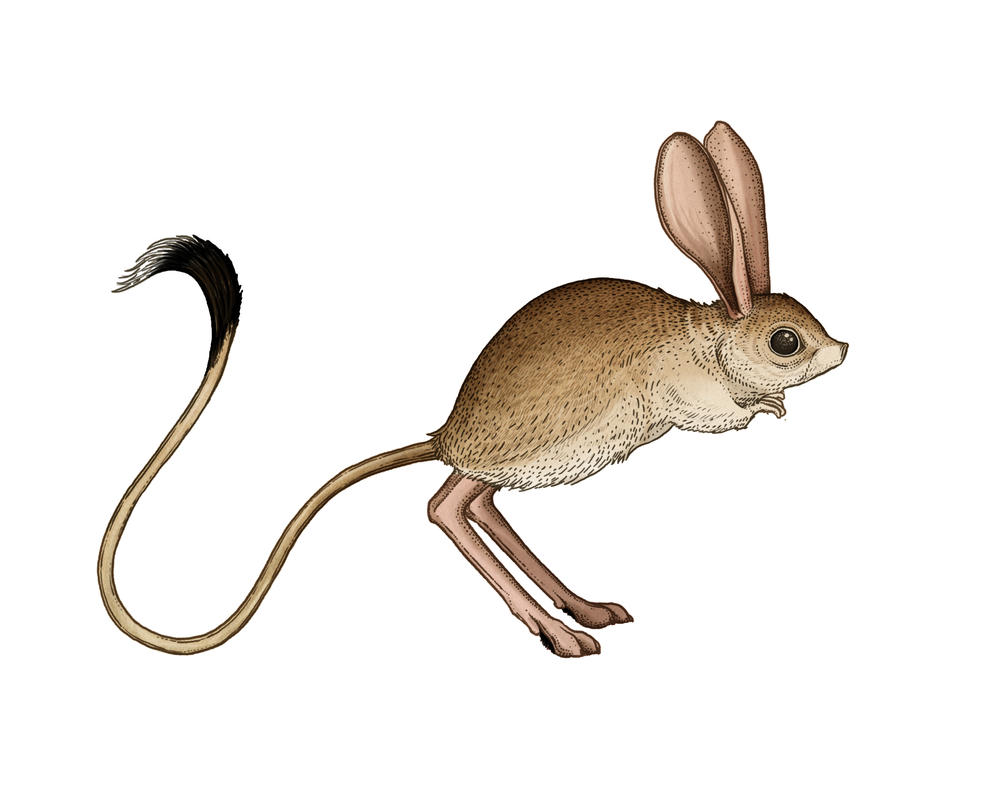 1
Fur
Sandy-colored, allowing the jerboa to blend in with its desert surroundings
2
Ears
A third longer than its head; handy for hearing stealthy predators
3
Front Legs
Comically short, but perfectly suited for holding insects close to its mouth
4
Back Feet
Connected to powerful legs and extremely elongated; act as springs when the jerboa hops
5
Soles
Covered in tufts of stiff hair, which give the animal's feet a firmer grip on slippery sand
6
Tail
Serves as a prop when the jerboa stands upright.

JUMPING AND DODGING
The long-eared jerboa relies on its incredible jumping abilities to dodge birds of prey and other predators when it's out foraging. Jerboas can also rapidly hop sideways to fake out and confuse their predators.
LONG-EARED JERBOA
Euchoreutes naso
Range Southern Mongolia to northwest China
Size Body and head: 2.75"–3.5"; tail: 6"–6.4"
Diet Consists almost entirely of insects
Threats Human disturbance from livestock grazing and presence of domestic cats; drought
Habitat Many jerboa species live in desert areas near oases or valleys. They forage for food in open areas with sparse vegetation—often to avoid competing with gerbils, which live in many of the same areas but prefer heavier vegetation.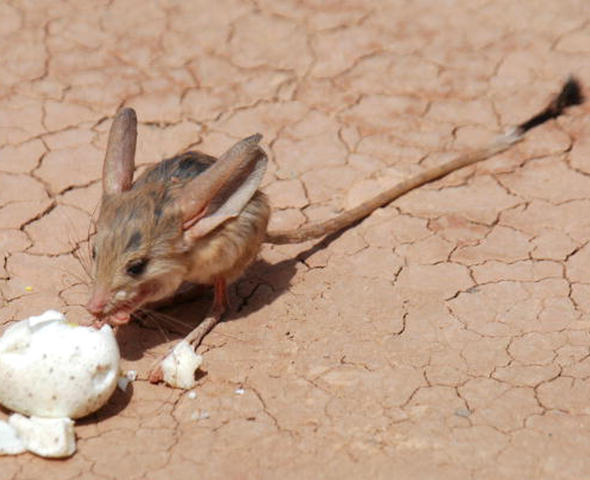 Species The long-eared jerboa is one of 33 jerboa species that are found from North Africa and the Arabian Peninsula to Asia.
Vertical reach Scientists haven't determined exactly how high this particular jerboa species can jump, but some jerboas can leap up to six feet.
Explore More
About

World Wildlife magazine provides an inspiring, in-depth look at the connections between animals, people and our planet. Published quarterly by WWF, the magazine helps make you a part of our efforts to solve some of the most pressing issues facing the natural world.