Seabirds offer a soaring experience in Scotland's Shiant Isles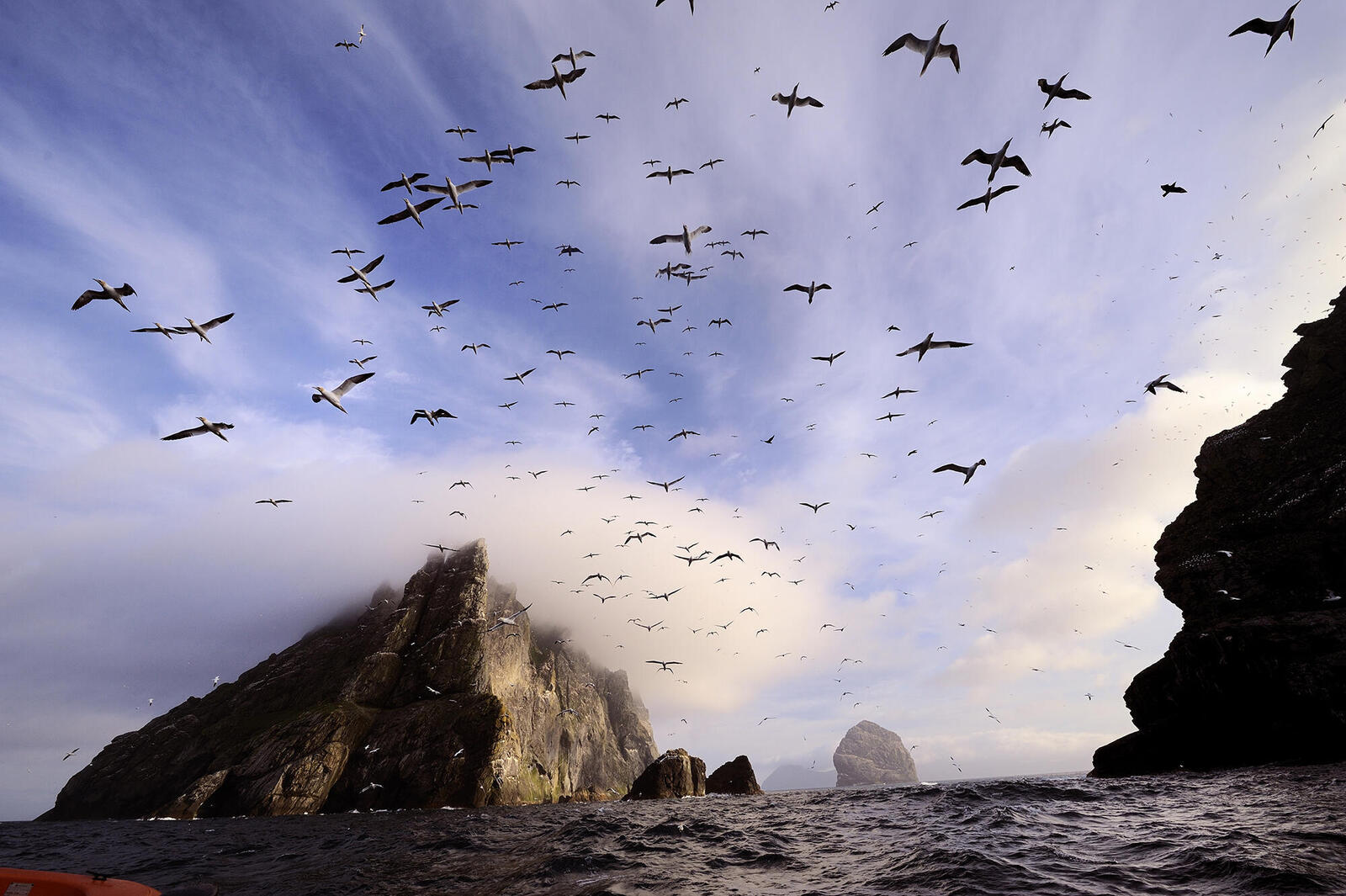 Issue: Summer 2019
Author: Claire Hood
The basalt rocks were white with guano, and the birds' cries filled the air even though we were floating a good distance from the island. In front of us, soaring and nesting on the shores, were hundreds of thousands of guillemots, cormorants, shags, and puffins. The sheer numbers were overwhelming.
Six days into my trip to the Scottish Highlands, we'd boarded a boat to travel to the Shiant Isles, an archipelago in the Hebrides off the northwest coast of Scotland. With a name that comes from the Scottish Gaelic for "enchanted isles," these uninhabited islands are home to huge seabird colonies. After an hour-long boat ride, we neared the squat, rocky silhouettes rising from the sea and caught our first sight of the birds.
Seabirds spend most of their lives at sea, away from humans. Not much is known about these elusive creatures, but we do know their numbers are declining globally due to climate change, invasive species, and ocean pollution.
Our guide, Jonathan, informed us that we would take a small raft ashore and watch the birds from a safe distance. I got into the raft and we motored to the beach, awkwardly climbing the slick rocks to find an observation point. For the next 15 minutes, I stood, mouth agape, as thousands of birds soared over my head and perched on the giant rocks in front of me.
While we stood there, I received a "good luck charm" in the form of bird poop on my shoulder. I realized I didn't need a token to remember this experience, though. It would stay with me forever.
Travel with WWF to see Scotland's wild highlands and islands.
Explore More
About

World Wildlife magazine provides an inspiring, in-depth look at the connections between animals, people and our planet. Published quarterly by WWF, the magazine helps make you a part of our efforts to solve some of the most pressing issues facing the natural world.