A photographer hikes to 11,000 feet in search of the tigers of Bhutan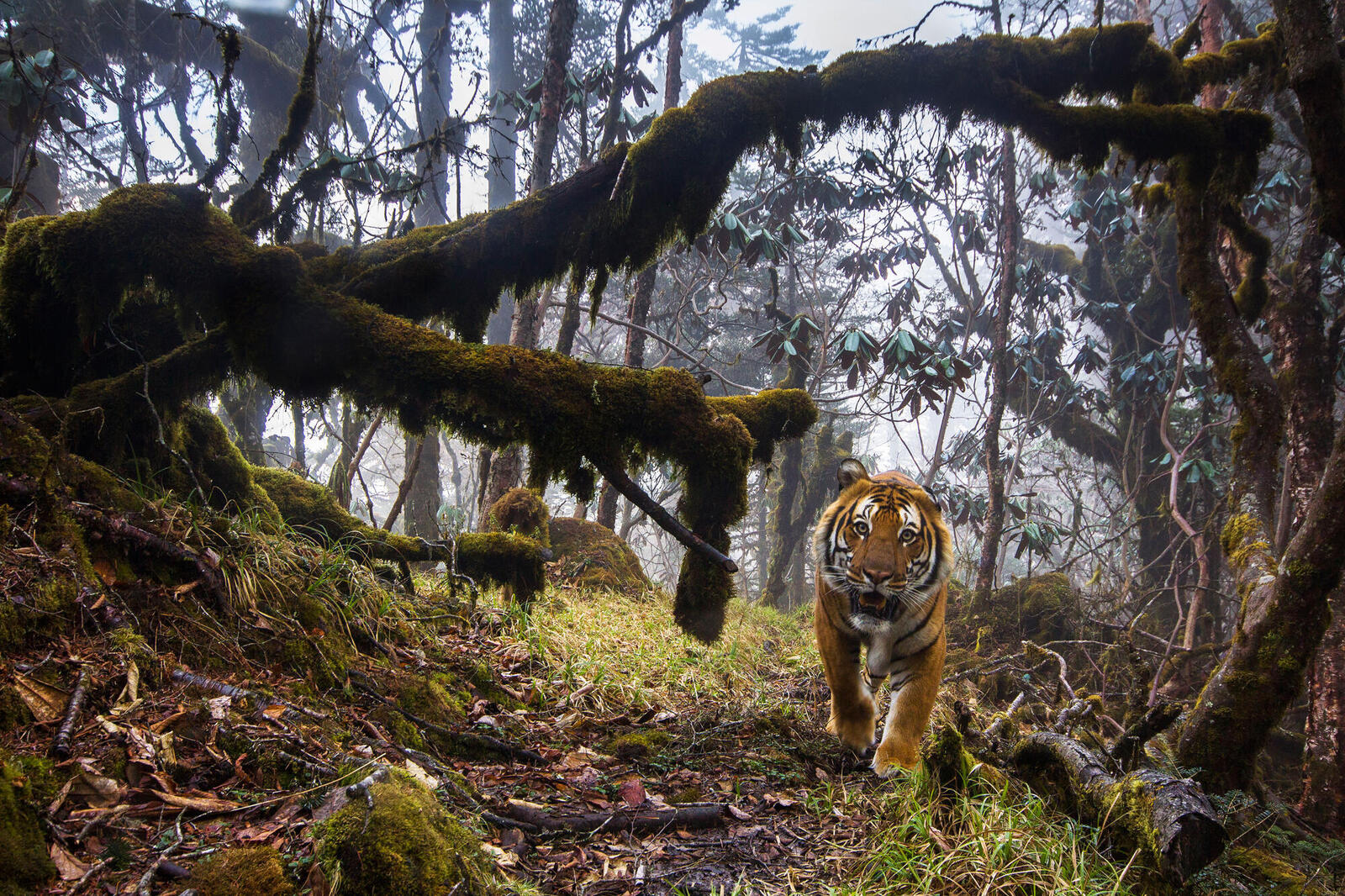 Issue: Winter 2017
Photographer: Emmanuel Rondeau
In March, French photographer Emmanuel Rondeau ventured into the dense mountain forests of Bhutan. Along with two foresters and a ranger, he climbed thousands of feet through snow and mud, searching the slopes for tiger paw prints and scratch marks, and staking camera traps in promising spots. Rondeau's mission was to photograph Bhutan's endangered Bengal tigers, which roam these high-altitude forests but are hardly ever seen.

A week later, they checked each camera: nothing. Twenty days in, they found just one image of a deer. Then, after nearly a month, Rondeau found the species he was looking for: One camera had captured a massive tiger stalking toward it through a break in the trees, its jaw hanging slightly open and its eyes gazing straight at the lens.

Rondeau's image was the first high-resolution camera trap image of a wild tiger taken in Bhutan above 11,000 feet. It was also taken in one of the many wildlife corridors connecting Bhutan's various parks, protected areas, and wildlife reserves. Those corridors allow Bhutan's wild tigers—estimated to number just over 100—to roam quietly from forest to forest, along with a host of other wildlife.

There is no dedicated group of rangers to protect Bhutan's wildlife corridors. But there soon will be, through Bhutan for Life, a sweeping new initiative aiming to permanently finance the conservation of Bhutan's natural resources. A $43.1 million fund created to launch the initiative will soon be finalized, marking a major boost for Bhutan's people and wildlife—tigers included.
Explore More
About

World Wildlife magazine provides an inspiring, in-depth look at the connections between animals, people and our planet. Published quarterly by WWF, the magazine helps make you a part of our efforts to solve some of the most pressing issues facing the natural world.