Living and thinking globally
Outgoing WWF Board Chair Neville Isdell on his world view and affinity for nature

Issue: Winter 2018
Author: Jesse Marcus
A thick mist obscures the horizon, lit by the rays of a rising sun. As the mist gradually parts, the majestic cliffs of Table Mountain welcome 10-year-old Neville Isdell to Cape Town, South Africa. The year is 1954, and the wide-eyed boy stands with his father on the deck of the Bloemfontein Castle, the ocean liner that bore them here from Northern Ireland. Together, they lean against the railing and watch a rosy-hued "tablecloth" of clouds settle over the flat-topped mountain. It is the beginning of a love affair with Africa that will last a lifetime.
Over the course of his career, Neville Isdell rose through the ranks of The Coca-Cola Company to become one of its most successful CEOs. He stepped down as chairman in 2009. This year, he completes his tenure as chair of the WWF-US Board, after several decades spent championing large-scale conservation in Africa and around the world.
Isdell and his wife, Pamela, have lived and worked in 11 countries on five continents. But it was his 26 years in Africa—from his arrival in Cape Town to the start of his career at Coca-Cola—that most profoundly shaped his approach to business and philanthropy.
In 1954, Isdell's father retired from the Royal Ulster Constabulary to head the fingerprinting department in what was then the British colony of Northern Rhodesia (now the independent nation of Zambia). Upon arriving in Cape Town, the Isdell family traveled by train to Zambia's capital city of Lusaka, and for three days young Neville watched Africa pass by.
He had already developed an affinity for the natural world. That affinity deepened during his early years in Zambia, as he took advantage of his newfound freedom to explore and learn and appreciate. He marveled at thunderstorms, searched for frogs and spiders, and once played with lion cubs at his feet. As time went on, he began to understand a more complex and uncomfortable reality—of whites-only cafes and restaurants, and entire communities trapped in abject poverty. Isdell's love for Africa matured, marrying his fondness for the continent with an acknowledgment of its flaws and the desire to make it better.
His sense of obligation to Africa solidified when he met Pamela Gill. Pamela had also moved to Africa as a child and, like Isdell, had quickly fallen in love with the continent. When they married, Isdell found a partner not only in life, but also in conservation. Today, Pamela supports numerous efforts to protect nature around the world. Her greatest passion is the preservation of African penguins, a small and vulnerable species found only on the southern coast of Africa.
After high school, Isdell headed to South Africa to attend the University of Cape Town, where he received a degree in Social Science and qualified to become a social worker. During that time he gained practical experience working with local communities. Repulsed by the inequality he encountered there, he ran for student council on an anti-apartheid agenda—and won.
Isdell ultimately decided to pursue a career in business instead of social work, but he carried his burgeoning sense of civic responsibility with him into the private sector, starting with his first job at a Coca-Cola bottling plant in Kitwe, the second-largest city in Zambia.
His boss at the company, a man named Maurice Gersh, was both owner of the plant and mayor of the city, and that dual role left a lasting impression on Isdell. As Coca-Cola bottler and mayor, Gersh worked hard to make the company an integral part of the community. In subsequent years, that relationship between companies and the people they serve became a touchstone of Isdell's business philosophy. He had grown up on a continent where many people lacked clean water, shelter, or food. Increasingly he asked himself how a business could thrive in the long term when its customers and employees were struggling to meet basic needs.
"I saw that companies could be and should be concerned about the world that they live in," says Isdell. "If you're going to solve any major problem—whether it's social injustice or environmental degradation—you need all three parts of the triangle: civil society, government, and business."
After several years of progressive promotions in Zambia and South Africa, Isdell left Africa and quickly worked his way up the corporate ladder. He began as Coca-Cola's regional manager in Australia before transferring to the Philippines, where he took the company's operations there from being outsold two-to-one by Pepsi to outselling their chief competitor by an equal margin. Next, he became head of Coca-Cola in Central Europe, and then transferred to the global headquarters in Atlanta to become group president for 79 countries from Eastern and Northern Europe to the Soviet Union, Africa, and the Middle East. In the 1990s, he helped navigate the company from the fall of the Berlin Wall to market leadership in all former Communist countries, earning him the moniker "Coke's Indiana Jones" from the Wall Street Journal. He ultimately retired to Barbados at the age of 58.
In all that time, Isdell never forgot Maurice Gersh. Deep down, he still harbored the desire to show what a leader like Gersh could accomplish—for business, communities, and nature—if he had the resources and influence of a modern-day executive at his disposal. He got his chance in 2004, when The Coca-Cola Company invited him to return as Chairman and CEO.
Recognizing the pressure of the work, he and Pamela initially agreed to turn it down; but in the end, he couldn't walk away from what he called "the ultimate challenge."
Within two years, Coca-Cola was back on Fortune's list of "World's Most Admired Companies." Within three years, it climbed to the #12 spot.
But the challenge Isdell accepted was about more than getting Coca-Cola back into the black. Soon leaders at Coca-Cola and WWF were discussing a potential partnership—one that would focus on reducing the company's environmental footprint and protecting global freshwater resources.
At first, some people at Coca-Cola were resistant to the idea of working with a nonprofit. But for Isdell, this was an opportunity to make changes that would benefit the world and ensure the long-term viability of their business. One day, he stood up in the middle of a meeting, took a swig from his Coke, pointed to the bottle, and posed a fundamental question to the skeptical analysts who were questioning his focus on water: "Don't you think we should be concerned about our main ingredient?"
His focus on water was never questioned again. In 2007, the partnership between Coca-Cola and WWF was born.
"I saw that companies could be and should be concerned about the world that they live in. If you're going to solve any major problem—whether it's social injustice or environmental degradation—you need all three parts of the triangle: civil society, government, and business."

Neville Isdell WWF Board Member
Over the past 11 years, that partnership has helped to conserve critical freshwater ecosystems in over 50 countries on six continents. Notable examples include China's Yangtze River Basin (source for more than 40% of the country's GDP) and the Central American waterways that drain into the Mesoamerican Reef (the second-largest barrier reef in the world).
In China, WWF worked with Coca-Cola to address water challenges by expanding protected wetlands throughout the entire river basin and creating wetland restoration sites that have returned 9.2 billion liters of water to freshwater ecosystems. They also introduced sustainable tea-farming practices to the basin and provided essential support and training to local citizens, inspiring a new generation of water leaders.
In Central America, the partnership began in Guatemala and expanded to include Honduras, Belize, and Mexico. Initial efforts focused on helping the region's bottling plants improve basic water efficiency, and today those bottling plants are making their own investments in source water protection and community resilience. The greatest threats in the area are forest fires (which clear the way for runoff, often with negative consequences for water quality), a lack of integrated basin governance, and unsustainable sugar production. WWF and Coca-Cola addressed these challenges by supporting fire control and prevention efforts, working with communities to create integrated water management plans, and helping regional sugar suppliers adopt sustainable practices.
Isdell's personal investment in nature goes far beyond the WWF/Coca-Cola partnership. Throughout their lives, he and Pamela have looked for ways to give back to Africa—particularly Zambia, the place where they first met and the place that, a half-century later, still draws them back. Thanks to their philanthropy, WWF is working closely with local conservationists in Zambia to restore critical areas—a boon for wildlife and people alike.
WWF's focus is a wildlife recovery program in the Silowana Complex, a landscape that includes Sioma Ngwezi National Park (the third-largest national park in Zambia) and its buffer zone. The park and broader complex are part of Zambia's commitment to the Kavango Zambezi Transfrontier Conservation Area (KAZA), which spans five African nations and constitutes the largest transboundary conservation area in the world. The park is a geographically vital landscape for elephants and other wildlife.
One of the first steps in the effort to restore Silowana was the creation of a 60,000-acre enclosed protected area inside Sioma Ngwezi, along with a cadre of park rangers and community scouts to patrol it. Thanks to significant funding for recruitment, training, and equipment, the park administration and local communities have maintained a 24-hour scout presence since January 2017, leading to an unprecedented number of arrests and confiscations of weapons, vehicles, and illegal animal products. They have also begun to repopulate the area with a variety of wildlife, including impala, sable, and buffalo. Common antelope species were chosen because they are relatively easy to capture or purchase and are efficient breeders. As a result, they can quickly establish themselves in a new area, even in the face of high predation and poaching.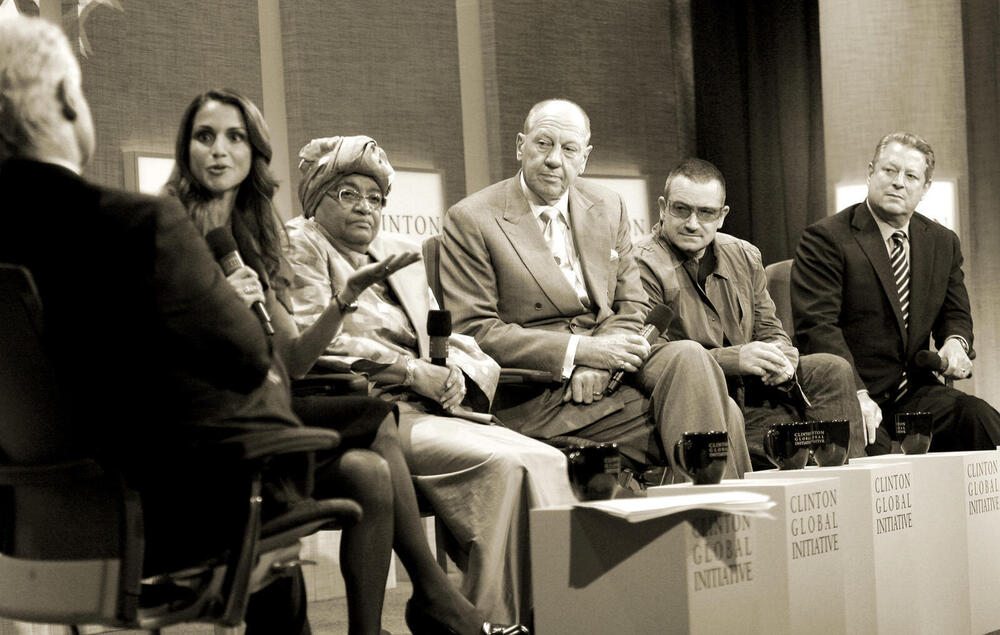 For Isdell, winning hearts and minds has never been about trying to cajole, shame, or browbeat people with intellectual arguments. Instead, he says, we should focus on "finding commonalities in our life experiences and using them to build bridges."
That's why he supported the founding of the Isdell Center for Global Leadership at Pace Academy in Atlanta. Pace Academy was doing a fine job of producing highly educated Americans, he says, but he felt they could do more to ensure that graduates were "prepared, confident citizens of the world."
That meant giving youth the opportunity to get outside the cocoon of their own experience. With the creation of the Isdell Center, the academy's lower, middle, and high school students can now engage with peers and experts from around the world, and even study and work abroad.
If exposure to people and places beyond Ireland helped make Isdell the champion for conservation that he is today, then maybe the next generation of leaders can benefit from the same.
Of course, that doesn't mean Isdell is ready to pass the torch just yet, even if he is stepping down from his position as chair of WWF's Board.
Indeed, Pamela Isdell is keenly aware of her husband's penchant for short-lived retirements, and he admits that he's still active in many ways. In 2016, he founded a museum dedicated to the Irish expatriate experience—something extremely close to his heart. Even today, more than 60 years after he left his first homeland, he's actively focused on what's next. As he says with a wry smile, "You never know what the future holds."
Explore more of this issue's coverage of Elephants:
Explore More
About

World Wildlife magazine provides an inspiring, in-depth look at the connections between animals, people and our planet. Published quarterly by WWF, the magazine helps make you a part of our efforts to solve some of the most pressing issues facing the natural world.