In-Depth
Living with Elephants in Thailand
Making space for people and elephants in Kui Buri National Park
Issue: Winter 2018
Author: Marta Kasztelan
Photographer: Thomas Cristofoletti
Forty-two-year-old Phanasit Phiboonwattanakorn—known to all as "O"— has a theory about the elephants encroaching on his rubber plantation from neighboring Kui Buri National Park, which extends into the mountains where Thailand's Prachuap Khiri Khan province borders Myanmar. "The elephants only destroy the trees on one side of the plantation," he says, pointing to the land behind him. O's farm, which he inherited from his mother in 2011, is divided into two plots of lanky rubber trees growing in neat rows, their crowns dovetailing to create roofed tunnels. Slivers of afternoon light pierce the canopy.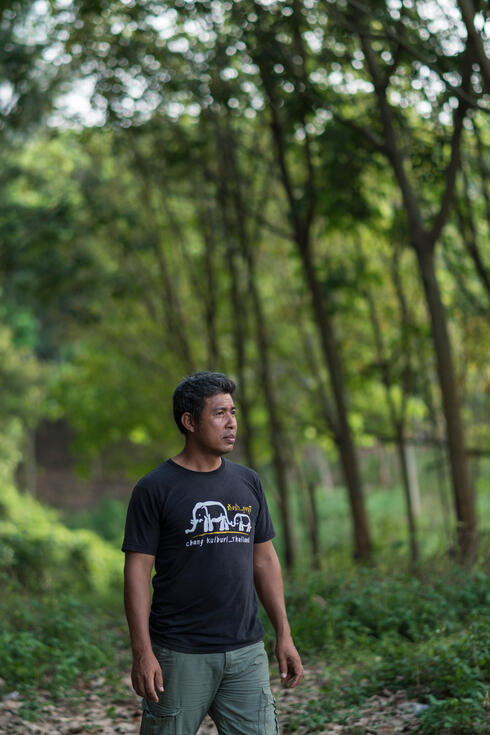 "They never touch the other plot because that's the one my mother planted. I think it is because my mother's spirit helps protect it." O's mother purchased the land five years earlier, from a farmer who was angry about the elephants on his land.
"He wanted to sell the land," O explains, "as he didn't want to live close to the elephants, and my mom bought the land to be close to them. She had always shared a special bond with elephants. Sometimes she talked to them even though she wasn't sure if they understood what she was saying."
On a breezy February afternoon, walking among his rubber trees, which are wedged between a pineapple plantation and the park, O notices a gaping hole in the leafy ceiling at the far end of the property. Upon closer inspection he sees that two trees have been knocked over, their roots protruding toward the sky.
"These trees were knocked down by an elephant," O says stoically. But his belief about his mother's spirit protecting her old plantation holds: The second plot bears no signs of intrusion.
Because Kui Buri is surrounded by farms everywhere but on its mountainous western border, elephant forays into farmland are a regular occurrence. Sometimes, even deep trenches and electric fences can't stop the hungry herbivores from going after crops.
Assessing the damage to his trees, O says he suspects a lone elephant, probably a male, tackled them to eat their leaves after being chased away from the adjacent pineapple plantation. But while it takes up to eight years to grow a rubber tree and he just lost two overnight to an elephant, he is not angry. He says he will be able to cover his losses.
"I'm not mad at the elephant. I am sad because I lost my trees, [but] now I'll make up for it with the profit from tourism work. I'll take tourists to see elephants," he says. "It's a kind of exchange."
In addition to producing rubber, O now works as a driver, escorting wildlife-hungry tourists around the park's hills and winding red roads. With guidebooks and online reviews touting near-guaranteed elephant sightings, visitors by the thousands have poured into Kui Buri, keeping O and his colleagues busy. In just one month in 2017, for example, almost 4,500 wildlife enthusiasts came through the park.
Turning wild elephants into an asset for locals is at the heart of protection efforts for the park. Since 2006, park authorities—with support from WWF—have provided tourism-related training to some 100 households, like O's, that have incurred financial losses from elephants.
Today, 90 tour guides and 50 drivers from in and around Ruom Thai, the village nestled in the park's hilly arms, work at the park on a part-time basis. Some families, including O's, have also begun offering homestays to tourists thirsty for an authentic Thai experience. And while most families still depend on farming as their main source of income, the stints at the park help balance checkbooks when global rubber or pineapple prices dip.
Other tourism-related initiatives that generate revenue for Ruom Thai inhabitants include tours of the village itself and a paper club—a workshop run by twin sisters, Toon and Taa, who sell high-quality paper made from dung left behind by elephants encroaching on their pineapple and banana plantations. The club is a cooperative, and some dozen people profit from it. But all of these innovations are relatively new.
Ten years ago, there were around 150 elephants at Kui Buri. Today there are approximately 237. But this place hasn't always been a safe haven for elephants. Prior to the park's creation, villagers and elephants were at odds, with many conflicts turning tragic, even deadly. In the late 1970s, settlers migrated from all corners of Thailand to the area, establishing the village of Ruom Thai and cultivating pineapple where elephants had once roamed unimpeded. With fields of the juicy fruit encroaching on what had been their territory, the animals began raiding farmlands, destroying crops, and leaving villagers furious.
The killing of two elephants in 1997—one poisoned, one shot dead and burned—marked the peak of the conflict, attracting countrywide attention, including from King Bhumibol Adulyadej—the unquestionable patron of Thailand's conservation movement.
"In Asia, elephants are increasingly trapped in pockets of isolated forest, and in ever-closer proximity to people. What inspires us about the work in Kui Buri National Park is the ways in which all players— farmers and tour operators, the park service, WWF, and tourists— understand the importance of creating solutions together."

Sheila and Francois Brutsch WWF
Upon the park's establishment in 1999, King Bhumibol issued a special royal address calling for people to protect the elephants and their habitat: "Elephants should be in the forest," he said; it is humans who "must ensure there is enough food for them" where they live, safeguard them, and keep them from invading plantations where conflicts arise.
Park Superintendent Kanchanapan Khamhaeng, whose office is adorned with pictures of elephants and the monarch, says that the king's speech has informed the park's policies since its inception. "We implement the king's wisdom about wildlife habitat improvement so that the elephants do not come out of the park."
Doing that means making sure the park provides grasslands where elephants can roam and feed, says WWF habitat restoration expert Thanphitcha Jaikaew, who refers to elephants as brothers. Because Kui Buri spreads across a hilly, forested terrain and the plains enveloping it were turned into plantations, maintaining the few open green areas inside the park is of paramount importance.
At Kui Buri, Jaikaew says, "I am responsible for the WWF-assigned grassland area. Consequently, I regularly monitor the plains to see if the grass is in a good condition, checking if it's green. When I notice it is beginning to look messy or it is wilting, I coordinate the upkeep, which includes weed removal, with the grounds manager."
Additionally, Jaikaew explains, she makes sure that the water inside the park's numerous artificial ponds is always clean and the salt licks—a key source of minerals for elephants and other four-legged park inhabitants—are properly maintained.
On a morning designated for pond cleaning, the wiry 34-year-old is scooping out full bucketloads of water alongside park rangers and villagers from Ruom Thai, despite her slight build. "This is an activity that requires collaboration, because we couldn't do it on our own," Jaikaew says, as a dozen people seamlessly push the water out of the concrete basin. On other occasions, rangers, villagers, and WWF staffers join forces to help with grassland management, chopping down weeds with swinging machetes.
Khamhaeng, the superintendent, believes that such community participation, and maintaining good relations with those living and farming on the park's perimeter, are indispensable elements of successful elephant conservation—and that both help change villagers' attitudes toward the park. In fact, he says, community engagement coupled with regular forest patrols accounts for the near eradication of elephant deaths and poaching in the park.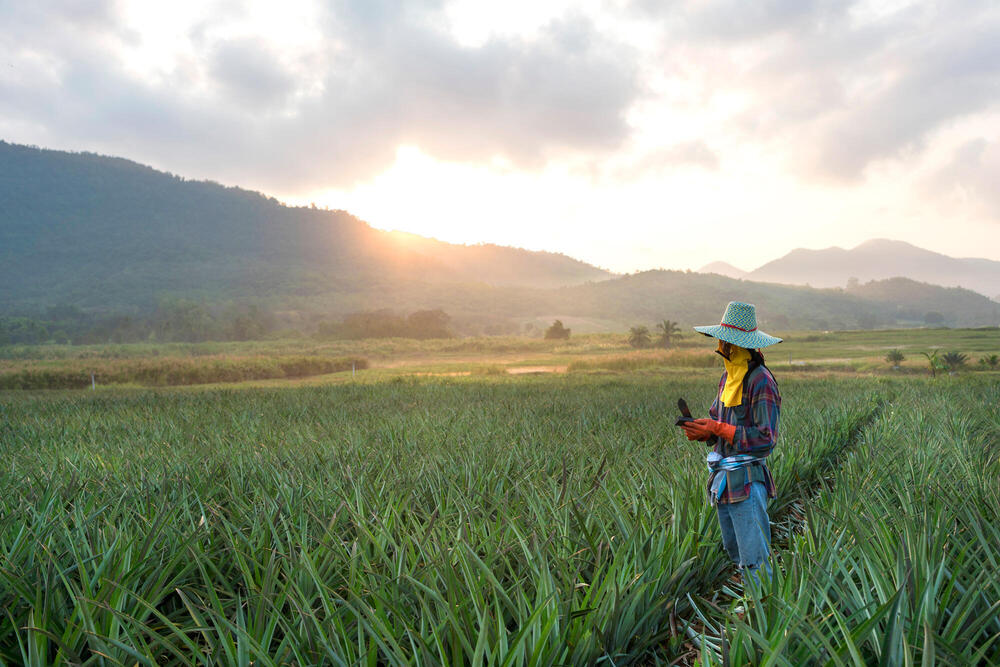 Unlike their African cousins, who are constantly under threat of being killed for their valuable tusks, wild Asian elephants are most threatened by loss of habitat and the conflict that is intrinsically linked to it.
That holds true in Kui Buri, says Superintendent Khamhaeng: "Now the biggest issue is human-elephant conflict, not poaching."
Still, in January a 20-year-old elephant was found shot dead inside the park. Though the circumstances are not entirely clear, Khamhaeng says the animal was most likely killed by a poacher. Such incidents galvanize his conviction about the necessity of regular arms and combat training for the park's 116 rangers. "It is crucial," he says. "Once we stop patrolling and doing what we are doing right now, the poaching will come back."
Nineteen-year-old Thamanoon Parnprasart is attending one such four-day training. Together with some 50 other rangers in military camouflage, the shy youth with a hint of a mustache is running up and down a field with his rifle, simulating an ambush. He is the youngest in age and has the least experience, having joined the ranger force only five months earlier. But even after training that leaves him "very tired," his commitment to conservation seems unshaken.
"I will continue working in this national park as long as I can," he says. "I like being a ranger even though the salary is very low. All the rangers here are like my family."
The list of Parnprasart's responsibilities is long and varied. Among his duties are regular forest patrols to collect data from camera traps. The information is sent back to the Department of National Parks and eventually logged in a SMART patrolling system—software that allows wildlife conservationists to store and analyze data that facilitates better planning of protection efforts.
Parnprasart is also on the park's emergency response team, and that means he works in the evenings and sometimes at night—when elephants are most active and likely to venture outside park boundaries into human territory. As the sun begins to fade and the sky turns from pink to dark gray, the youth patrols the border area together with his colleagues in order to prevent elephant encroachment.
And he can be called on at any time to help villagers chase elephants away from their plantations. His team leader is usually notified of the emergency via phone or text message. When this happens, a three-person team armed with slingshots and cherry bomb fireworks speeds to the rescue of the distressed farmer. They even have an "elephant cannon," a metal tube that contains the cherry bombs but amps up the noise to jarring levels. Scaring the elephants with ear-piercing explosions seems to be the preferred and most successful solution, says Parnprasart, although sometimes signaling with torchlights suffices too.
After ascertaining that the impromptu visitor is no longer around, he says, "We need to assess the damage to the plantation, see if [the farmers] need financial compensation, or if there is anything we can help with."
The emergency response team is an important component of community engagement, says Khamhaeng. "It makes the community understand that we are trying to help them."
The park is also deep at work, with WWF, on a new, tech-focused early warning system. Thanks to a partnership with Thai telecommunication conglomerate True, photographs from camera traps around the park's boundaries will soon be sent directly to rangers' mobile phones. With photographs tracking the elephants' movements right at their fingertips, rangers can preempt excursions.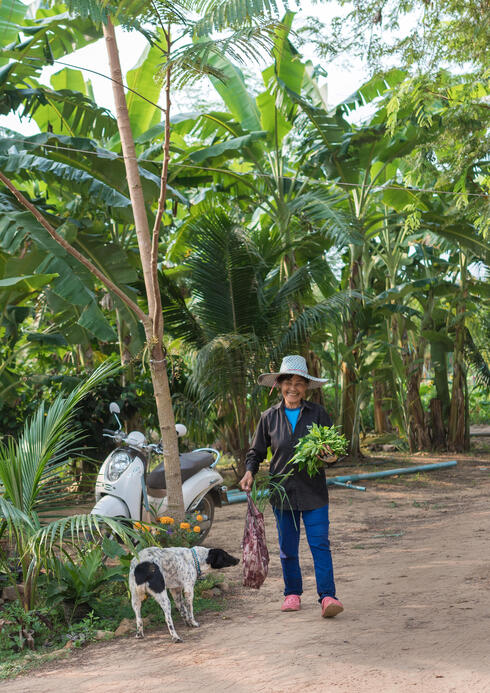 Just 200 yards or so from O's farm, homestay owner Namfon Eiamsaard has her own theory about managing human-elephant conflict—one that echoes the beliefs of O's mother (Eiamsaard's former neighbor and a friend of Eiamsaard's mother, Tongmuan), who sang to the elephants when she heard them nearing her land.
"Even though we have so many techniques to scare them, human presence is the best way to keep the elephants away," says the 35-year-old, whose striking farm—abundant with colorful flowers and a variety of crops—is squeezed between the park and a stream frequented by a plethora of wildlife.
She says that because "there are always people around here, elephants are causing less damage to my plantation as compared to those of other people where nobody is watching out [for them]."
Most plantations in the area, including Eiamsaard's, have watch huts on their grounds so that during harvest season farmers can look out for elephants at night and, when needed, call for the emergency response team or chase away the animal themselves. Other deterrents include bright strobe lights installed on farmland, since their dance is visible from afar and implies movement, indicating human presence.
"If they know there's someone here, the elephants won't come," she says. "I think we can all live together." Side by side.
Other projects in Asia
Discover a few ways WWF and our partners are fighting for elephants in Asia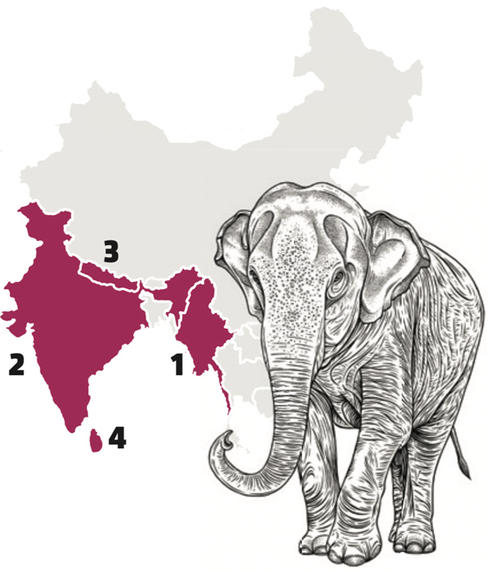 MYANMAR
Elephants in Myanmar are being slaughtered for skin and other body parts. To fight back, WWF and partners have helped train 220 rangers to monitor and protect elephants in key poaching hotspots.
INDIA
Wildlife often move between India's Kaziranga National Park and the Karbi Anglong hills using corridors that are bisected by a national highway. WWF monitors wildlife use of these corridors to inform government mitigation measures that boost safe wildlife crossings.
NEPAL
Elephants frequently raid farms in Nepal, which leads to crop and property loss for communities. USAID's Hariyo Ban program, implemented by WWF Nepal and partners, helped the government of Nepal establish a system that compensates families for damages. The programs also installed more than 68 miles of fencing to protect crops.
SRI LANKA
The Centre for Conservation and Research and the Sri Lanka Wildlife Department are using GPS tracking to understand elephant movements, assess potential impacts of management actions, and provide information to guide development and conservation activities.
Explore more of this issue's coverage of Elephants:
Explore More
About

World Wildlife magazine provides an inspiring, in-depth look at the connections between animals, people and our planet. Published quarterly by WWF, the magazine helps make you a part of our efforts to solve some of the most pressing issues facing the natural world.