The status of African elephants
Loxodonta africana
In 1930, as many as 10 million wild elephants roamed huge swaths of the African continent. But decades of poaching and conflict have since decimated African elephant populations. In 2016, experts estimated that Africa's elephant population had dropped by 111,000 elephants in the span of a decade. Today, there are just 415,000 elephants across Africa. While elephant poaching is trending downward, with significant declines in East Africa, poaching continues to steer the species dangerously nearer to extinction.
African elephant
Loxodonta africana
There are two sub-species: savanna— or bush—elephants (shown here) and forest elephants, which are half the size of their savanna relatives and suffering even greater population loss.
HABITATS
Dense forest
Open and closed savanna grassland
Arid desert
KEY THREATS
Poaching for ivory
Habitat loss and fragmentation due to human population expansion and land conversion
Human-elephant conflict
Five years ago, researchers in Africa undertook a mammoth task: counting the continent's elephants.
The Great Elephant Census spanned 18 countries and 295,000 miles, making it the largest, most comprehensive survey of African elephants ever. But the results, released in 2016, were sobering: Just 352,271 savanna elephants were found across their current range—a 30% drop in seven years.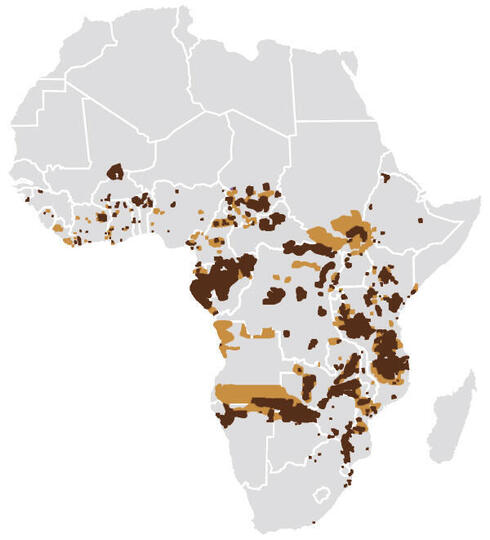 IUCN STATUS
LEAST CONCERN
NEAR THREATENED
VULNERABLE
ENDANGERED
CRITICALLY ENDANGERED
EXTINCT IN THE WILD
IUCN RANGE MAP
DISPERSAL
In 2016, the IUCN reported that Africa's elephant population had seen its worst decline in 25 years, mostly as the result of intensified poaching for ivory. In East Africa, elephant populations have nearly halved in a decade. Botswana is currently home to more elephants than any other African country, and southern Africa remains a stronghold for 293,000, or 70%, of the estimated remaining African elephants.

Explore more of this issue's coverage of Elephants:
Explore More
About

World Wildlife magazine provides an inspiring, in-depth look at the connections between animals, people and our planet. Published quarterly by WWF, the magazine helps make you a part of our efforts to solve some of the most pressing issues facing the natural world.