The status of Asian elephants
Elephas maximus
More than 100,000 Asian elephants may have existed at the beginning of the 20th century, roaming from the Persian Gulf to India and China. But their numbers have plummeted by at least 50% in the past three generations. A large portion of the world's human population now lives in or near Asian elephant habitat, which has dwindled to just 15% of its historic range. Habitat loss and fragmentation and pressures from poaching and the live elephant trade pose an ever-growing threat to these nomads.
Asian elephant
Elephas maximus
HABITATS
Grassland
Forest
Scrubland
KEY THREATS
Habitat loss, degradation, and fragmentation
Human-elephant conflict
Poaching
Trafficking of live animals
Elephants are in demand, particularly for work within the forestry and tourism industries. In Myanmar, for instance, elephants are often seized from the wild and smuggled across the border into Thailand and other countries.
Across Asia, the pace of human development has devastated elephant populations at an alarming rate.
Asian elephants are even more endangered than their African cousins. That's because the biggest threat to their survival isn't poaching but habitat loss. As urbanization, industrial development, and agricultural expansion increase in countries like India and Indonesia, Asian elephants' habitats are shrinking rapidly, leading to increasingly isolated populations and a rising number of deadly human-elephant conflicts.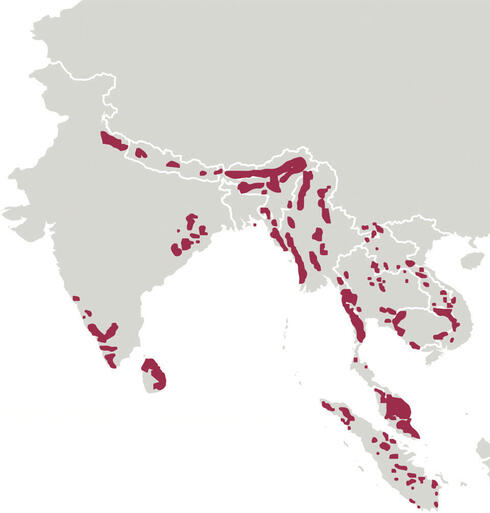 IUCN STATUS
LEAST CONCERN
NEAR THREATENED
VULNERABLE
ENDANGERED
CRITICALLY ENDANGERED
EXTINCT IN THE WILD
IUCN RANGE MAP
DISPERSAL
Less than 50,000 live in the wild. More than 50% are in India, where their range is largest. Populations live in just a few pockets of land in Sri Lanka. In Sumatra, elephants have lost 70% of their native habitat.

Explore more of this issue's coverage of Elephants:
Explore More
About

World Wildlife magazine provides an inspiring, in-depth look at the connections between animals, people and our planet. Published quarterly by WWF, the magazine helps make you a part of our efforts to solve some of the most pressing issues facing the natural world.