In-Depth
Ancient Survivors
Ensuring a future for one of the world's oldest mammals
Issue: Winter 2021
Author: SANDY ONG
Photographer: LAUREN TAMAKI
On a cold but bright August morning in 2016, Bas Huijbregts found himself somewhere he never expected to be: in a helicopter surveying a small number of black rhinos that were browsing in Namibia's Etosha National Park. As the chopper drew closer to the ground, Huijbregts focused on the task at hand: to mark each of the large mammals with a bright paintball splash.
Every year, during the dry season, park management and Namibia's government undertake a weeks-long operation to count all the park's rhinos. Given the immensity of the area, the count is done by air, and the animals are marked with paint to keep track of those that have already been counted.
Huijbregts, then the newly appointed manager (and now the director) of African species conservation at WWF, was passing through the park when he received an impromptu invitation to join in the count. Over an evening braai of barbequed sausages and potatoes, chief warden Pierre Du Preez asked Huijbregts if he knew how to play paintball.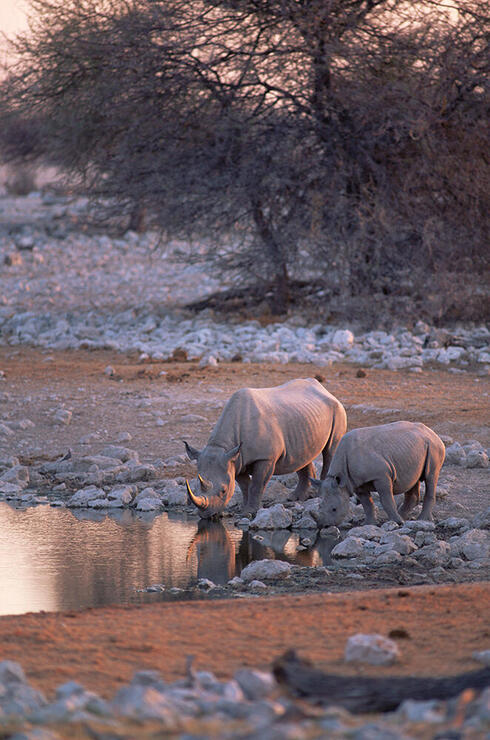 "My answer was no!" recalls Huijbregts with a laugh. "I was so nervous. But it was the most amazing experience I've had with rhinos. It was sort of a boy's dream, a cowboy thing to do."
Huijbregts's experience was all the more remarkable given that just 20 years earlier encountering a black rhino was incredibly rare—fewer than 2,500 individuals remained in eastern and southern Africa. Due to intense poaching, 96% of the population was wiped out between 1970 and 1990.
Today, black rhino numbers have more than doubled, thanks to concerted conservation efforts by the government, local nonprofits, and the communities who manage the land. Today, Namibia is home to the largest black rhino population, with Etosha being "the biggest stronghold in the country," says Huijbregts. "They are a huge success story for the world."
In recent years, two other rhino species have seen a similar rise in population numbers. White rhinos are now thriving in parts of southern Africa, and greater one-horned rhinos have rebounded in Nepal and India.
But Africa's black rhinos and the two other species in Asia, Sumatran and Javan rhinos, are still critically endangered. Today, an estimated 27,000 rhinos remain in the wild—a far cry from the 500,000 or so that existed at the turn of the last century—and all five species face ongoing threats.
Their decimation is linked to demand for their horn, which is prized by high-paying customers in Viet Nam and China for medicinal properties that are unsubstantiated.
"The ongoing illegal wildlife trade is an acute threat," says Huijbregts.
That's why WWF, together with governments, communities, and other partners, is working hard to safeguard the remaining rhinos, expand their populations, and protect their habitats.
Following the start of the current wildlife crime surge in Namibia about seven years ago, WWF created a program to bring together key civil society and donor partners in support of the government's efforts to halt poaching and wildlife trafficking.
Namibia's whole-of-government approach "works across the entire law enforcement chain, ranging from community participation and pride to park rangers patrolling in the field, and on through investigations, forensics, prosecution, and policy change," says Greg Stuart-Hill, a senior conservation planner at WWF-Namibia who works closely with Huijbregts.
"[Their approach is] not only very good at protecting rhinos but also at dismantling wildlife crime syndicates, which threaten economic development and the rule of law, as well as wild species," says Huijbregts.
One of Namibia's biggest successes has been the government's ability to intercept poachers before animals are harmed and to secure meaningful sentences for higher-level criminals. "That happens almost nowhere else in the world," says Huijbregts. "It is saving many rhino lives, and it's the result of significant efforts in this whole-of-government approach." In 2020, 46 preemptive arrests made during seven incidents represented 28% of all rhino trafficking cases in the country.
Key to this proactive intervention is the strong sense of pride and responsibility felt by local communities, who allow rhinos to roam through their lands without barriers or fences. Though the population of rhinos on these communal lands is smaller than that found in some national parks, it is significant—especially when you consider the African continent as a whole. "It is incredible that Africa's largest free-roaming rhino population lives on communal lands in Namibia," says Huijbregts. "These are not formally protected areas; local communities protect the wildlife on their lands, and they are doing an amazing job for rhinos."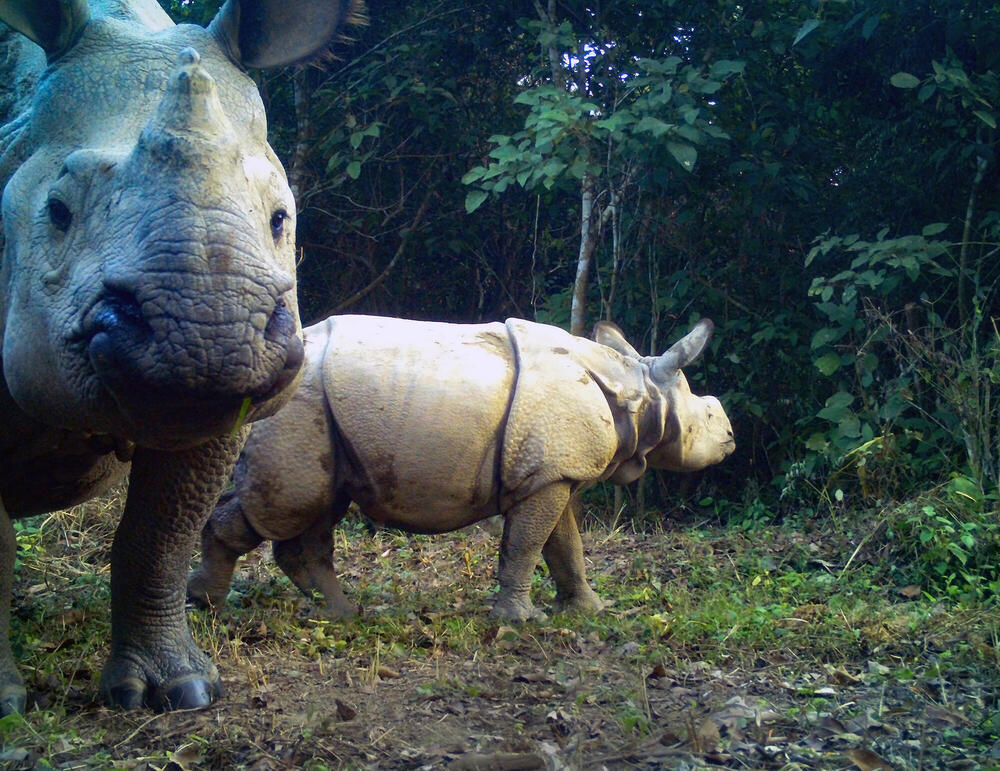 Communities as custodians
Etosha and other national parks hold a portion of Namibia's black rhinos but comprise only a fraction—roughly 17%—of the country's total land area. The rest of the rhinos reside on private and communal lands, including communal conservancies.
Conservancies are in charge of their lands and all the wildlife living on them. They provide animals a safe haven, and in exchange receive revenue from activities such as wildlife-related tourism. The first four communal conservancies were established in 1998, and today 86 exist throughout Namibia; WWF has played an instrumental role in establishing them all.
The conservancies operate within a national framework, the Community-Based Natural Resource Management Program—a partnership among government, local communities, WWF, and other stakeholders such as the Namibian nonprofit group Integrated Rural Development and Nature Conservation. The central tenet of the program is the recognition that wildlife and other natural resources are of value to communities and that this value can be unlocked when communities themselves manage and use those resources—which also results in conservation gains.
Many conservancies have guest lodges on their lands, and some offer unique experiences such as walking rhino safaris. "It's a really exhilarating thing to do," says Robin Naidoo, WWF's lead wildlife scientist, who participated in one such safari in 2007. He describes coming upon a mother rhino and her young calf at the edge of a bone-dry riverbed as "a very different experience than when you're in a jeep."
Most important, initiatives such as ecotourism activities help local people reap tangible benefits from sharing their lands with rhinos, says Naidoo. "When local communities are favorably disposed to having rhinos on their lands," he says, "they act as a first line of defense against poaching. They are the most important actors in supporting government efforts to protect rhinos and other wildlife on their lands."
Some communities, such as those in the Torra Conservancy, conduct regular patrols to count rhinos and watch for suspicious activity. WWF, alongside other partners, has helped support these efforts by providing requested skills training, camping gear, and monitoring equipment to local custodians, who are called Rhino Rangers.
The results speak for themselves: Poaching in communal conservancies fell by over 80% between 2011 and 2017 and had dropped to zero before the pandemic hit. "People feel a level of pride and custodianship over these rhinos, and that's why there have been relatively low levels of poaching in many of these communal areas," says Naidoo.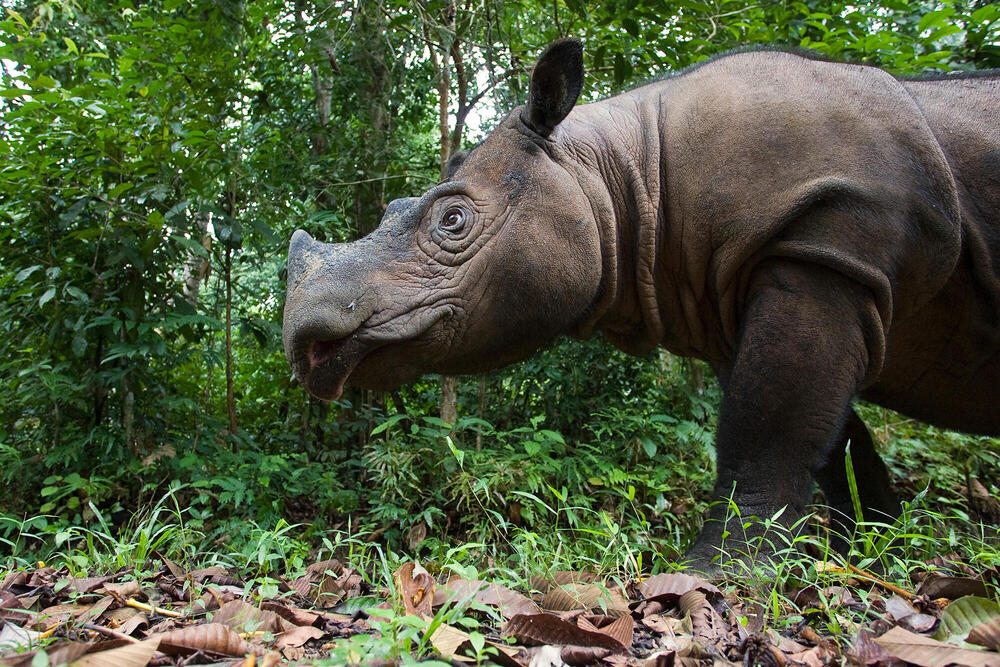 Poaching, however, isn't the only threat rhinos face.
Black rhinos are highly territorial and largely solitary, so they require vast areas to roam. The population density of black rhinos, for example, can be as low as one animal per 40 square miles in Namibia's arid deserts.
"Rhinos breed better when they are at lower densities," says Barney Long, the senior director of conservation strategies at Re:wild, a WWF partner. "That's because there are more resources per individual rhino. There's less competition between males. Females can be more focused on breeding rather than finding food. And they're less disturbed, because they're not having to constantly move away from others."
To give the animals more space to roam and breed, WWF has been involved in capturing wild rhinos and moving them to other parts of their historic range in order to establish or increase viable breeding populations and to improve the odds of their surviving an acute threat like a natural disaster.
The Namibian government, together with WWF and other partners, has been translocating black rhinos for three decades. And since its inception in 2003, the Black Rhino Range Expansion Project (BRREP) in South Africa has seen 270 animals successfully released to establish 13 new populations within the country, and even internationally, with releases in Liwonde National Park in Malawi in 2019. At least 13 calves were born in 2020 across BRREP project sites in South Africa and Malawi. Two are second generation, meaning their grandmothers were among those moved to create new populations.
Translocation has helped expand and increase populations not only of Africa's rhinos but also of Asia's. Nepal's Chitwan National Park, for example, is a stronghold for greater one-horned rhinos. In fact, the current population of rhinos in Nepal is the highest recorded since the establishment of this park. According to the country's 2021 National Rhino Count, more than 694 of Nepal's 752 rhinos reside there (another 2,900 or more are found in neighboring India). In 1986, the government decided to shift some animals to three other national parks; WWF has assisted in these efforts since the beginning.
Moving rhinos is a massive operation, says Nilanga Jayasinghe, manager of Asian species conservation and the lead on greater one-horned rhino work for WWF-US. When she participated in a translocation in 2015, there were at least 250 people involved, as well as 30 captive elephants used for tracking rhinos.
She vividly remembers the operation, which adhered to International Union for Conservation of Nature translocation and reintroduction guidelines: The team spent hours on elephant-back in the midday heat scouring the dense, tall grass. When they found a rhino, about 10 elephants encircled it while a technician scrambled up a nearby tree to dart it with tranquilizer. After that, the team moved in quickly, fitting the rhino with a GPS radio collar and drawing blood and other samples before using a wooden sleigh to load it onto a waiting truck. Once in a traveling crate, the animal was given an antidote to awaken it before being driven overnight to another site.
"It was a very intense operation," says Jayasinghe, who witnessed a female and a male being captured, translocated, and released.
India also conducts similar relocations, and the two countries collaborate closely to manage their rhinos.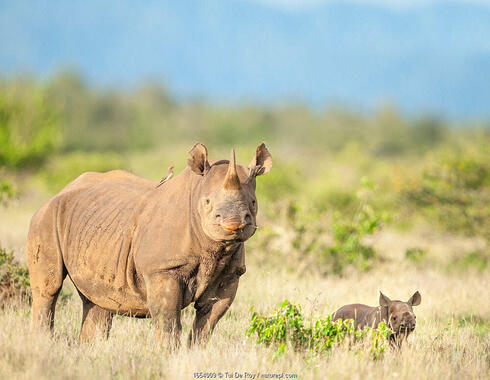 Habitat loss is also a big problem. Lands favored by rhinos—grasslands, open savannas, bushlands, and deserts for the two African species; lowland forests and grasslands for the three Asian ones—are increasingly encroached on by people, particularly for agriculture. Plus, rhinos and other wild species may face competition for these resources from domestic cattle and other livestock.
Just as concerning are changes to their habitat. For example, greater one-horned rhinos, which are confined to a handful of protected areas in India and Nepal, face two persistent threats: First, the natural progression of grassland to forest in these areas reduces space for rhinos, and if all their grasslands convert to forest, the animals have nowhere to go. Second, many areas are also being overrun by invasive species, which can outcompete native plants and eliminate vital rhino habitat and food sources.
"Active management is needed to make sure these landscapes are healthy for the rhino populations," says Jayasinghe.
For instance, rhinos need year-round access to water bodies. "Because of their physical makeup, rhinos overheat very easily, so they need to wallow in water holes and in rivers quite often during the day," says Jayasinghe. "This means you have to make sure water sources don't dry out during the summer and that they are without algae, bacteria, or anything else that might affect rhino health," she says.
Rhinos also need tall grass and prefer open grasslands, says Shiv Raj Bhatta, conservation program director at WWF-Nepal, who has been involved in wildlife conservation in Nepal for more than 30 years. He recalls how in the early 2000s, rhinos began moving out of the eastern edge of the Chitwan National Park because a newly constructed dike had diverted the river away from the area. "This caused the water table to go down, and ultimately the rhinos couldn't find good grassland habitat anymore," says Bhatta.
Of course, rhino conservation wouldn't be possible without the help of those who live in the buffer zones surrounding the national parks, says Bhatta. "Over the years, WWF has supported local communities in their aspiration to be rightful custodians and primary stakeholders in biodiversity-related local development. Now they have homestays where people host tourists for income. They conduct patrols to monitor and address illegal activity and build awareness of ways to better coexist with the wildlife that share their land."
Thirty-year-old Kewal Chaudhary—the president of a Community Based Anti-Poaching Unit in Lamichaur, a buffer zone located in the western part of Chitwan National Park—has been involved in these activities for nearly a decade. Sometimes, he and up to 15 other community members patrol the community forests, walking for hours through the short, sparse undergrowth and middle-sized trees, even patrolling overnight, looking for poachers or signs of suspicious activity.
Other times, Chaudhary and his team attend to cases of human-wildlife conflict. Rhinos like to graze in community forests, where people often go to gather firewood or harvest grass. The animals are also fond of visiting sugarcane and wheat fields in the village for tasty treats, which inadvertently damages the crops and leads to conflict.
Calls usually come in the dead of night, and when they do, "our rapid response team goes to the spot and calms people down," says Chaudhary. They also help those affected fill in the forms needed to claim compensation from the authorities for losses—to crops or property, for example—caused by rhinos or other wildlife.
"People used to get very aggressive, but now many understand that if we save the animals, they will save us too," he says. "They will [help us earn] money through tourism. Without the rhinos, animals, and forests, it's not possible."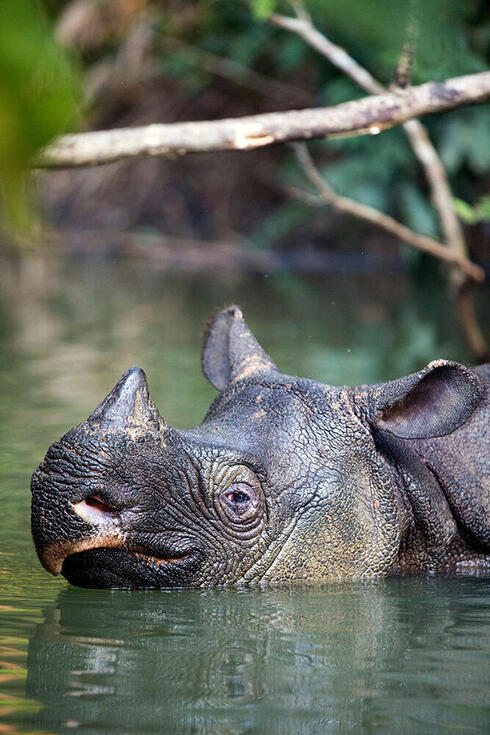 While overall rhino numbers are a small fraction of what they were earlier in the 20th century, concerted conservation strategies have begun to bring populations back from the brink. Greater one-horned rhinos, for example, were recently downlisted by the IUCN from the status of Endangered to Vulnerable—an important marker of increasing, if still shaky, species health.
"When rhinos are protected and have the food they need, and if we let rhinos be rhinos, their populations can grow," says CeCe Sieffert, chief conservation director at the International Rhino Foundation, another WWF partner.
Huijbregts agrees. "Even in the context of the current poaching crisis and human population growth, we are still expanding rhino populations. So, there is serious cause for hope."
The successes in Namibia and Nepal confirm Sieffert's and Huijbregts' take: Given the right balance of habitat and population management strategies, the removal of barriers to community management of their own natural resources, antipoaching efforts, legislation, and joint stakeholder efforts, rhinos are a resilient species and a rebound can be achieved. But both confirm that the heart of conservation lies with communities. Listen and learn from them, involve them in management efforts, and rhinos will have a chance to thrive.
Because as Chaudhary often tells his fellow community members, "The world is not only for humans, it is the animals' home too."
WWF is grateful for the many donors who help secure, protect, and restore rhino populations around the world, including generous support from Mary Love, Kenneth Adams & Margie Morton, two anonymous donors, Dr. Scholl Foundation, and The Remington Foundation, Inc.
RHINO-SAVING SOLUTIONS
Discover a few ways WWF and partners are working to conserve rhinos
CREATING SPACES SAFE FROM FLOODS
Monsoon floods are a perennial reality in many parts of Asia, and neither people nor rhinos have been spared. WWF has been working to build earthen mounds as flood refuges for rhinos and other wildlife in India since the 1990s. And in 2018, after heavy monsoon rains struck Nepal's Chitwan National Park, washing 11
GREATER ONE-HORNED RHINOS
across the border into India, WWF-Nepal began testing a pilot structure, a six-foot-high mound made of compacted soil, to provide Chitwan's wildlife a refuge in times of heavy flooding.
© LAUREN TAMAKI/WWF
CONSERVATION BREEDING
Fewer than 80 SUMATRAN RHINOS exist, and they are scattered in small, nonviable populations, their fragmentation the result of forest conversion for agriculture and human settlement. The separation makes breeding difficult, so to give the species a chance at survival, the international conservation community came together to establish a groundbreaking partnership called the Sumatran Rhino Rescue Alliance. They capture rhinos from the wild in support of the Indonesian government's national Sumatran rhino breeding program. The program, established with the Sumatran Rhino Sanctuary in Way Kambas National Park in 1995, will return future offspring to the wild.
NIGHT VISION
Patrolling protected areas at night can be challenging, and the safety of wildlife and local community members must go hand in hand. Most poachers operate under cover of darkness, and flashlights allow rangers to see only so far. In 2016, WWF partnered with thermal imaging company FLIR Systems to equip Kenyan rangers with special thermal night vision technology. The equipment—monoculars and long-range cameras—allows rangers to spot suspicious activity from up to a mile away. The pilot use of FLIR technology in two of Kenya's reserves proved so successful (over 250 poachers were apprehended, and no BLACK RHINOS were killed) that the technology is now being used in nine other conservation areas.
HABITAT MANAGEMENT
To help rhinos thrive, conservation teams pay special attention to the animals' environment, ensuring it contains their preferred foods and habitats. In Nepal, for instance, teams make sure seeds from nearby wooded areas don't propagate and take over favored grasslands. They also keep an eye on pesky invasive plants to prevent them from outcompeting native plant species that rhinos like to graze on. In Indonesia's Ujung Kulon National Park, where Javan rhinos are found, one dominant invasive species is now the arenga palm, whose shade can block out the sunlight needed by the rhinos' preferred food plants. Local community members are hired to cut down the palms at regular intervals.
PLACING SAFEGUARDS
All the world's remaining 74 JAVAN RHINOS live in Ujung Kulon National Park—a coastal park located close to the still highly active Krakatau volcano in Indonesia. With the threat of an eruption or an ensuing tsunami wiping out the entire population of Javan rhinos, efforts are under way to relocate some individuals. (The search is on to establish a second, safer site). In the meantime, park officials continue to conduct regular antipoaching patrols and ensure the habitat is well maintained.
Explore More
About

World Wildlife magazine provides an inspiring, in-depth look at the connections between animals, people and our planet. Published quarterly by WWF, the magazine helps make you a part of our efforts to solve some of the most pressing issues facing the natural world.