Conservation in the Classroom
With many schools closed and kids at home, we are all adjusting to an ever-evolving situation. If you are a parent, caregiver, or teacher looking for content that can help children explore nature from their own homes, we want to help with Conservation in the Classroom.
Bring conservation and science to life by giving children the opportunity to hear from WWF experts. Through free 45-minute virtual events livestreamed on our website, children can listen as WWF experts share stories of their experience working to protect species and habitats around the world. As you watch live, you can submit questions for the expert, participate in polls and quizzes, and interact with the expert by showing how much you learned! These experiences are open to parents with children, teachers with students, and anyone interested in bringing conservation experts into your classroom or living room.
Upcoming Sessions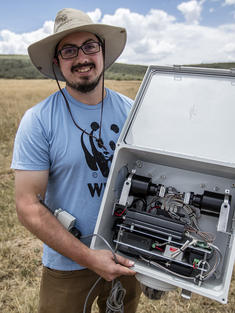 As a kid, Eric Becker was a self-proclaimed 'nerd' who had two main interests: gadgets and animals. So naturally, as an adult, he followed a path that led him to combine those two passions. Eric is now a Wildlife Conservation Engineer with WWF and works to advance technologies that help protect some the world's most beloved species. Join Eric as he shares some of his favorite projects (including one recent project involving rhinos) and offers advice to young, fellow 'nerds' to inspire them to consider similar science career paths.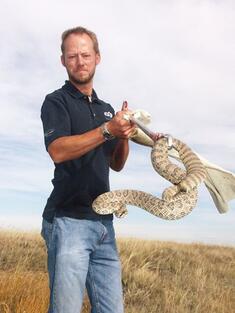 Livestream: Tuesday, December 8th at 2pm ESTAdventures as a Wildlife Biologist

Dennis Jorgensen, Program Manager, WWF-US Northern Great Plains
Dennis has years of experience working as a biologist in the Northern Great Plains of the United States. From small and scaly to huge and fuzzy—Dennis will share stories of the many fascinating creatures he has encountered in the prairies and the lessons they've taught him. Join live to ask Dennis all of your questions and learn what it is like to be a wildlife biologist.

Register
Use the registration link for the Conservation in the Classroom session you want to participate in to receive reminders about the event, as well as updates on forthcoming sessions. By registering, you certify that you are a teacher, educator, parent, and/or guardian who is at least 18 years old. If you are a student, no need to register, just tune in here the day of the event.

Prepare Your Learners
Wild Classroom has a collection of related activities and other resources that can be explored either before the session or after.

See Additional Leaning Activites section below for related content.

Watch & Learn
Tune in here at the scheduled time and date for the session. Follow the directions provided to enter the live Q&A.
Subscribe
Additional Learning Activities
Previous Sessions
Tracking snow leopards in Nepal

Samundra Subba | Research Officer, WWF Nepal

Snow leopards are a top predator in their rugged and harsh ecosystem, high in the Himalayan mountains. Their hunting activity helps keep their ecosystem balanced, so the health of their species also indicates the health of their environment. However, the elusive and solitary nature of snow leopards make it hard to spot them and even more challenging to study. Join Samundra from WWF Nepal as he talks about a satellite/GPS collaring project that revealed new information on the movement and behavior of these big cats. Learn how this technology works and why the information collected will help protect snow leopards and their habitats.

Quiz game: After watching the livestream, play our Kahoot! challenge. Test your students' comprehension in this fun, online trivia game containing questions related to Samundra's presentation. Visit Kahoot! and enter game pin 0461307.

Climate Change: How Our Planet is Changing and What We Can Do to Help

Changes in our environment are happening all around us, and one of the key reasons behind them is that the planet is getting warmer. It's causing stronger storms, droughts, and wildfires. It's driving less obvious but significant changes like sea level rise, all of which are affecting both people and the wildlife around us. This can be frightening, but we can do something about it. Join Mariana as she explains how climate change affects much more than temperature, how we contribute to climate change, and how we can work together to tackle it.

Assessment: Complete this climate change worksheet at the end of this event.
Awesome Antarctica

Chris Johnson | Senior Manager, WWF Antarctic Program

Join a virtual expedition with WWF to Antarctica and learn more about the spectacular and remote marine life living in the largest wilderness on Earth. Chris Johnson is a marine scientist at WWF and leads the Antarctic conservation program based in Australia. Go behind the scenes with Chris, hear how he got started, and learn about his work with whales in Antarctic.

Freshwater: Every drop counts!

Enrique Prunes | Senior Program Officer, WWF-US Freshwater

Water is critical for all life. Accessible freshwater accounts for less than 1% of the total water on Earth, yet is home to 10% of the world's species. Rivers, lakes, and wetlands are among the most diverse and productive ecosystems on the planet, but unfortunately they are also among the most threatened. Join Enrique as he explains what makes freshwater so vital to life on this planet and why it is at risk, along with what you can do to help conserve this important resource.