Conservation in the Classroom
With many schools closed and kids at home, we are all adjusting to an ever-evolving situation. If you are a parent, caregiver, or teacher looking for content that can help children explore nature from their own homes, we want to help with Conservation in the Classroom.
Bring conservation and science to life by giving children the opportunity to hear from WWF experts. Through free 45-minute virtual events livestreamed on our website, children can listen as WWF experts share stories of their experience working to protect species and habitats around the world. As you watch live, you can submit questions for the expert, participate in polls and quizzes, and interact with the expert by showing how much you learned! These experiences are open to parents with children, teachers with students, and anyone interested in bringing conservation experts into your classroom or living room.
Upcoming Sessions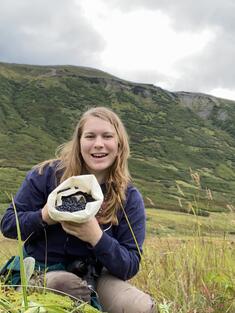 Growing up in Alaska, Eve Downing was surrounded by one of the most beautiful and fragile ecosystems in the world. She became aware at an early age of the importance of protecting nature and spreading the message to those around her. This Earth Day, join us as Eve shares stories of life in Alaska and insight on how young people can advocate for the environment within their own communities.
Suggested grade level: 4th – 8th
Quiz game: After watching the livestream, play our Kahoot! challenge. Test your students' comprehension in this fun, online trivia game containing questions related to Eve's presentation. Visit Kahoot! and enter the game pin to be released on April 22.

Register
Use the registration link to select which Conservation in the Classroom session you want to participate in and indicate how you would like to participate—as a class or family on-camera, or as a viewer tuning in live off-camera. Camera spots are limited and will be offered on a first-come, first-served basis; those interested in being on camera will be contacted by Wild Classroom with more information. By registering, you certify that you are a teacher, educator, parent, and/or guardian who is at least 18 years old and that you agree to receive Conservation in the Classroom event reminders. If you are a student, no need to register, just tune in here the day of the event.

Prepare Your Learners
Wild Classroom has a collection of related activities and other resources that can be explored either before the session or after.

See Additional Leaning Activites section below for related content.

Watch & Learn
Tune in here at the scheduled time and date for the session. Follow the directions provided to enter the live Q&A.
Subscribe
Additional Learning Activities
Previous Sessions
The Gorillas of Dzangha-Sangha

Dr. Allard Blom | Managing Director for the Congo Basin, WWF-US

Gorillas are some of our closest relatives in the animal kingdom. WWF has been working with Indigenous peoples in the Central African Republic to protect these gentle giants in a beautiful place called Dzangha-Sangha for three decades. Allard will share stories from his travels through African rain forests with local people who work each and every day to make sure gorillas live long and wild lives.

Quiz game: After watching the livestream, play our Kahoot! challenge. Test your students' comprehension in this fun, online trivia game containing questions related to Allard's presentation. Visit Kahoot! and enter the game pin: 03431847.
Energy & Climate Change: Renewable is Doable

Right in time for Earth Hour on March 27th, show your commitment to reducing the impacts of climate change by learning about renewable energy from Daniel Riley, director on the climate team at WWF-US. Daniel will unpack what exactly renewable energy is and why it benefits our planet. We'll also learn what we can do at home to protect nature by reducing our carbon footprint.

How Nature Helps People

When ecosystems are healthy, they can provide us with countless benefits including clean air, water, and protection from storms. So by helping to protect nature, you create a win-win that also helps protect ourselves. At WWF, Jeff works on innovative science projects that use nature to reduce some of the risks facing communities around the world. Join Jeff as he shares some of these projects and demonstrates this mutualistic relationship between nature and people.
The "Snowbirds" of the Sea: The Humpback Whale's Great Migration

Mike Osmond, Senior Program Officer, WWF-US Oceans Program

Every winter, many northerners pack their bags and head to warmer states to trade in shoveling snow for balmy beaches. In honor of World Whale Day on February 21st, join Mike as he introduces you to one very large "snowbird" – the humpback whale. Learn all about these migrating mammals as Mike shares his experience working to protect them and explains why whales spend a lot of time in Hawaii, even though there is nothing for them to eat.

From Mangroves to Coral Reefs: A Look at the Ocean from Above and Below

Nadia Bood | WWF Marine Scientist and Climate Change Officer

In honor of Women in Science Day on February 11th, join us as we chat with Nadia Bood, Marine Scientist and Climate Change Officer with WWF in Belize. Nadia will inspire your students as she shares how she became interested in protecting the coral reefs and mangroves of her home country of Belize, and how fellow young ocean enthusiasts could follow a similar career path.