Conservation in the Classroom
Bring conservation and science to life by giving children the opportunity to hear from WWF experts. Through free 45-minute virtual events livestreamed on our website, children can listen as WWF experts share stories of their experience working to protect species and habitats around the world. As you watch live, you can submit questions for the expert, participate in polls and quizzes, and interact with the expert by showing how much you learned! These experiences are open to parents with children, teachers with students, and anyone interested in bringing conservation experts into your classroom or living room.
Upcoming Sessions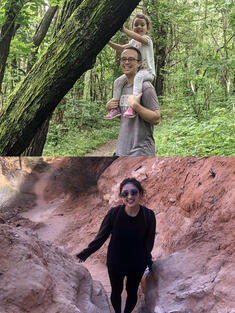 Livestream: Thursday, September 30th at 1pm EDTLeftover Lunch: How Saving Food Saves the Planet

Alex Nichols-Vinueza and Julia Borland from WWF's Food Waste team
Each year, up to forty percent of all food produced for people globally is lost or wasted. A significant contributor to this statistic is food waste from school cafeterias. Start your students on the right foot this school year by introducing responsible food habits for them to put into practice every day. Kids will learn the connection between how they treat food and the health of our planet, in hopes that they will think twice before sending their leftover lunch to the garbage.
Prepare for the session by downloading the free supplemental material pack for pre– and post–activities including bell-ringers, worksheets, Kahoot games and Wild Classroom activities.
Suggested grade level: 4th – 8th
---
Species all over the world are being affected by changes in weather and climate including heatwaves, drought, and flooding. Join Nikhil to learn what's causing these changes; how animals like one-horned rhinos, African penguins, and tigers are impacted; and what WWF and partners are doing to protect these species. During this livestream, students will be able to ask their questions and learn what it takes to help wildlife in a changing climate.
Suggested grade level: 4th – 8th

Register
Use the registration link to select which Conservation in the Classroom session you want to participate in and indicate how you would like to participate—as a class or family on-camera, or as a viewer tuning in live off-camera. Camera spots are limited and will be offered on a first-come, first-served basis; those interested in being on camera will be contacted by Wild Classroom with more information. By registering, you certify that you are a teacher, educator, parent, and/or guardian who is at least 18 years old and that you agree to receive Conservation in the Classroom event reminders. If you are a student, no need to register, just tune in here the day of the event.

Prepare Your Learners
Download the free supplemental material pack associated with each event, located alongside the event's details, for resources such as relevant Wild Classroom activity plans, warm-up questions, WWF videos and web articles, and quizzes to enhance the experience for your audience.



Watch & Learn
Tune in here at the scheduled time and date for the session. Follow the directions provided to enter the live Q&A.
Subscribe
Previous Sessions
Protecting Coral Reefs

Dominic Andradi-Brown | Senior Marine Scientist, WWF-US

Coral reefs are both the most biodiverse but also the most threatened ecosystems in the oceans. To mark World Oceans Day, WWF marine scientist Dominic Andradi-Brown will discuss the importance of coral reefs, the impact humans are having on their health, and how WWF is working with communities to support reef protection.
The Nose Knows: How Dogs Help Sniff for Conservation

Robin Sawyer | Senior Program Officer, Wildlife Conservation

Did you know that a dog's nose is estimated to be somewhere between 10,000 to 100,000 times better than a human's? The 300 million scent receptors in dogs' noses are able to detect different smells. As part of the WWF wildlife conservation team, Robin Sawyer is putting these noses to the test to find illegal wildlife products in air and sea ports. Learn about wildlife crime as Robin explains what kinds of products these dogs are looking for, how they're trained to spot them, and how these dogs are helping to protect species like pangolins and elephants.

Wild Mexico

Maria Jose Villanueva | Conservation Director, WWF Mexico

Mexico is the 4th most biodiverse country in the world. Learn about our neighbor country—its whales, sea turtles, monarch butterflies, jaguars, and wolves, and the communities that protect them. We'll take you on a journey from the aquarium of the world (Gulf of California) to the heart of the Mayan Rainforest, home of the jaguar king.
Being A Young Environmental Advocate

Eve Downing | Arctic Youth Ambassador

Growing up in Alaska, Eve Downing was surrounded by one of the most beautiful and fragile ecosystems in the world. She became aware at an early age of the importance of protecting nature and spreading the message to those around her. This Earth Day, join us as Eve shares stories of life in Alaska and insight on how young people can advocate for the environment within their own communities.

The Gorillas of Dzangha-Sangha

Dr. Allard Blom | Managing Director for the Congo Basin, WWF-US

Gorillas are some of our closest relatives in the animal kingdom. WWF has been working with Indigenous peoples in the Central African Republic to protect these gentle giants in a beautiful place called Dzangha-Sangha for three decades. Allard will share stories from his travels through African rain forests with local people who work each and every day to make sure gorillas live long and wild lives.