Our Planet is a global event that reminds us we're all on one team. The series from Netflix—created in collaboration with Silverback Productions and WWF—features jaw-dropping nature stories, grounded in the best science, and highlighting the most pressing challenges facing nature today. The series won two Emmy awards for Outstanding Documentary Series and Outstanding Narrator in 2019.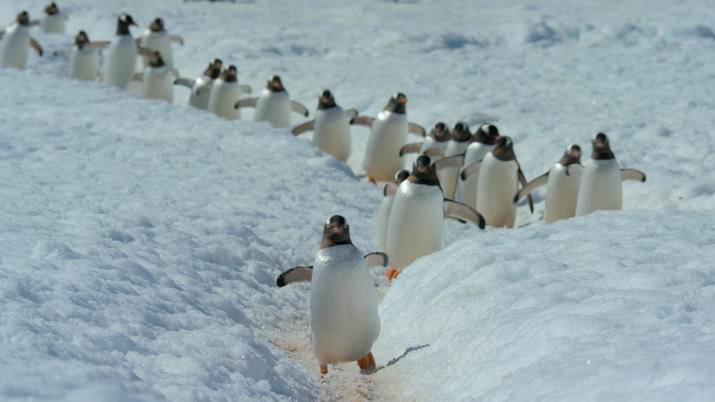 ©Jamie McPherson/Silverback/Netflix
The eight-part original documentary series is now streaming globally on Netflix.
In response to teachers' requests for documentaries while school children are at home during COVID-19, Netflix has also released the series on YouTube.
Voiced by Sir David Attenborough, the series showcases the world's incredible species and most at-risk habitats in ways they have never been seen before—from ice caps and deep ocean to deserts and remote forests.
More than just a showcase of the planet's wonders, Our Planet aims to inspire people around the world to understand the natural world as never before. WWF worked with Netflix and Silverback Films to ensure Our Planet is supported by the latest ground-breaking science and highlights the Earth's most pressing challenges.
This is the moment
It's never been more urgent and important to recognize the fragility of our world. We're losing nature at an unprecedented rate. Sixty percent of vertebrate species have disappeared in the last 50 years, according to WWF's recent Living Planet Report. The health of our forests, oceans and fresh water are all at risk.
Nature isn't something we can choose to care about. It's vital to our very existence and our future. Our homes, our health, the food we eat, the air we breathe, the water we drink—our lives and all the things we care about—simply can't exist in a world without nature.
Today, we can see the impact of our actions on our planet. We also have the opportunity to change course and solve these problems. WWF exists to protect nature and to build a better future for wildlife and people. Our Planet helps bring WWF's urgent mission to people around the world.
We can begin a better future for our planet. But we can't do it alone.
You can make a difference for our planet.
Today we have become the greatest threat to the health of our planet. We're the first generation to know what we're doing, and the last who have a chance to put things right.
There are small changes we can make right now in our everyday lives. When we all come together to make these changes, they can make a big difference.
Sign the pledge for our planet.
Take Action
FAQs
When does Our Planet air in the US?

Our Planet is available to stream on Netflix globally. WWF also brought you the stories behind the series, taking you deeper into the issues raised in the series and what you can do to help, throughout on Facebook, Twitter, and Instagram. The series is also available on Netflix's YouTube channel, in response to teachers' requests for access to documentaries while school children are at home during COVID-19.

Who narrates Our Planet in the US?

Our Planet is voiced by Sir David Attenborough—world-renowned naturalist.

How was Our Planet filmed?

Highly ambitious, Our Planet has been created in collaboration with Silverback Films, whose director Alastair Fothergill was the creator of the critically acclaimed original Planet Earth and Blue Planet series.

Four years in the making, the groundbreaking Our Planet project was filmed in 50 countries all over the world, taking in every continent. More than 600 members of the crew came on board to help capture all of the incredible footage using the latest in 4k camera technology required to make Our Planet a reality.

How long did Our Planet take to create?

In total, it took more than three and a half thousand days to film Our Planet.

How many episodes of Our Planet are there?

The Our Planet series is comprised of eight episodes showcasing the planet's most precious species and fragile habitats, revealing amazing wildlife spectacles and places on Earth in ways they've never been seen before.