Our climate is changing at an alarming rate and we're already feeling the impacts. Storms are increasing in number and intensity, wildfires rage well beyond their historic season, and our rising oceans are becoming warmer and more acidic.
Climate change is a global danger that we can only curb with global action—and the Paris Agreement gives us the pathway to do just that.
What is the Paris Agreement?
The Paris Agreement is the first truly global deal to fight the climate crisis. In 2015, 196 countries signed on to a single, sweeping plan that aims to keep global warming to well below 2°C (3.6°F)—or even 1.5°C (2.7°F).

The unprecedented agreement builds on decades of gradual work by the international community to combat climate change and adapt to its impacts.
Is the United States part of the Paris Agreement?
The United States signed on to the Paris Agreement in 2015 and laid out ambitious plans to cut emissions, but later announced its intent to withdraw from the agreement in 2017 after a new administration took office. Every single other country is still firmly committed to the agreement.
Fortunately, more than 3,600 leaders from America's cities, states, tribes, businesses, colleges, and universities stood up to say they will continue to support climate action to meet the commitments of the Paris Agreement as part of the We Are Still In movement.

With support from WWF and over two dozen other organizations, We Are Still In has been embraced by the United Nations and applauded by everyday Americans eager to show the world that US leadership on climate change extends well beyond the executive branch of the federal government.
This new vanguard of leaders is inspiring similar coalitions in places like Japan, Mexico, and Argentina. We'll need to see the creation of more coalitions just like these around the world to help speed up action on climate change.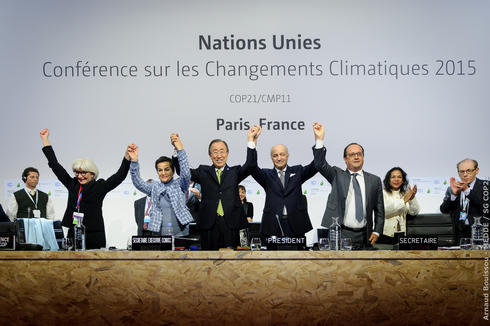 How does the agreement work?
At the core of the Paris Agreement is the need to strengthen the international response to climate change by keeping global average temperatures from rising 2°C (3.6°F)—compared to pre-industrial revolution temperatures—by the end of the century. Ideally, we'd limit that rise even further, to 1.5°C (2.7°F).
The agreement doesn't specifically tell countries how to do this, but rather provides a roadmap for cutting emissions of heat-trapping greenhouse gases and increasing those cuts over time. Each country develops its own specific emissions pledge and includes information about how it intends to achieve it.
The agreement also recognizes that national governments alone cannot solve the climate crisis. Instead, it opens the door for other important leaders—like those in the private sector and local government—to work with national governments to cut emissions and adapt to the impacts of climate change.
A few key components will help us reach that goal:
Countries must aim to reach peak emissions of greenhouse gases as soon as possible and must then quickly and drastically reduce them.
Wealthier countries must provide financial resources to developing countries so that they, too, can continue to develop their economies in a cleaner manner.
Commitments must strengthen over time, with countries reporting regularly on their emissions and efforts to fight and adapt to the impacts of climate change.
Every five years (or fewer), countries will assess their overall progress and adjust commitments as needed.
The private sector and local government leaders will help catalyze new action working with national governments to set stronger climate goals.
Though there are no international legal implications for breaking the agreement, the sheer number of nations involved—and the dire consequences we face if we don't act now—help ensure a sense of accountability.
What's the next step for the Paris Agreement?
In December 2018, leaders from around the world will meet to finalize the rules of how the Paris Agreement will operate going forward. To increase action as fast as possible, it's critical that world leaders have a common understanding about how their contributions to the fight against climate change will be counted, whether other countries are doing their part, and what level of funding they will receive or need to provide to other countries to take even more action.
Moments of Climate Action A brief history of key international efforts to curb climate change
June 1992

United Nations Framework Convention on Climate Change (UNFCCC) adopted. The UNFCCC unites 196 countries to curb heat-trapping greenhouse gas emissions.

December 1997

Kyoto Protocol adopted. It's the world's first agreement to reduce emissions of heat-trapping greenhouse gases and enters into force in 2005.
September 2014

People's Climate March in New York City. More than 400,000 people—including a large delegation from WWF—demonstrate the urgent need for governments to act on climate change, two days before world leaders convene in the city for a UN-led summit on the issue.

December 2015

Historic Paris Agreement adopted. In the first truly global agreement to curb climate change, 195 countries agree to a plan that aims to keep global temperatures from increasing more than 1.5°C above historical levels. It enters into force 11 months later.
April 2017

June 2017
June 2017

September 2018

Global Climate Action Summit takes place. Leaders from states and regions, cities, business, investors and civil society call on national governments to join forces to step up climate action ahead of 2020—the year when global greenhouse gases need to fall sharply to avoid the worst impacts of climate change.
December 2018

We Are Still In leaders attend international climate talks. World leaders finalize key details of the Paris Agreement, including how countries will report progress on meeting their climate targets and the launch of a process to trigger a new round of targets by 2020.