Species Spotlight: Polar Bear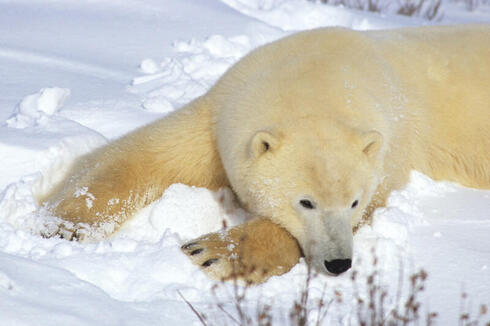 Questions and Answers

How much time do polar bears spend hunting?
Polar bears spend over 50% of their time hunting for food, but less than 2% of their hunts are successful.
How are polar bears classified?
Polar bears are classified as marine mammals because they spend most of their lives on the sea ice of the Arctic Ocean.
Can polar bears swim?
Polar bears are very good swimmers, paddling with their front paws and holding their hind legs flat like a rudder.
Habitat

Polar bear populations live on the annual Arctic sea ice in northern Canada, Greenland, Norway, and Russia.

Diet

Between late April and mid-July, polar bears hunt seals, such as ringed and bearded seals, on the sea ice.

Threats

Global warming is shrinking their ice habitat.

Interesting Fact

Although polar bear fur appears white, it is actually clear. The hairs are hollow and contain no pigment. Reflection of the sun's light makes them look white.