TNRC Blog - Line of Fire: Supporting Indigenous Peoples at the Frontline of Anti-Corruption and Environmental Defense

Harnessing knowledge, generating evidence, and supporting innovative policy and practice for more effective anti-corruption programming
Line of fire: Supporting Indigenous Peoples at the frontline of anti-corruption and environmental defense
This TNRC event, hosted by the U4 Anti-Corruption Resource Centre, shared research insights and practice experience on the frontline roles played by Indigenous Peoples in anti-corruption and environmental defense. The panel was moderated by Achiba Gargule (U4-CMI) and featured Liliane Mouan (Amnesty International), Aled Williams (U4-CMI), and an anonymous representative of a community organization engaged in Indigenous environmental defence in the Americas.
2020 was the deadliest year on record for environmental defenders, with 227 people killed for defending forests, water or other natural resources. There is growing awareness of and attention to the precarious situations of environmental human rights defenders in general, with initiatives from, among others, Global Witness, Mary Lawlor (the UN Special Rapporteur on Human Rights Defenders), and Amnesty International.
But Indigenous Peoples organizations need more support, according to recent research from Rainforest Foundation Norway, including for their roles in environmental defense. Secure land tenure and forest management by Indigenous Peoples and local communities in tropical countries has received only a small share of international donor funding over the last ten years: just USD 270 million per year on average. This is less than 1% of Official Development Assistance (ODA) for climate mitigation and adaptation over the same period.
The Brookings Institute's Leveraging Transparency to Reduce Corruption Project has highlighted how many Indigenous Peoples live in biodiverse and resource-rich regions that also have revenue-generating potential from extractive industries. Resource governance problems are not unique to Indigenous communities. However, legacies of colonization and modern-day exploitation pose distinctive threats, and corruption is driving many of them.

Indigenous Peoples can be left out of positions of decision-making to extract resources, especially when insider dealing, favors to political supporters, and outright bribes drive those decisions. A norm of consultation between governments, industry, and Indigenous Peoples prior to the start of extraction has taken root, especially in Latin America, but the more rigorous standard of consent by Indigenous groups has yet to take hold in most jurisdictions.
The threats to Indigenous land do not end once extraction begins. Indeed, resource extraction, whether on or near Indigenous land, can wreak havoc on the environment and damage public health. Corruption can exacerbate environmental damages, from bribes of environmental inspectors to the rollback of regulations to benefit business interests.
And although Indigenous Peoples disproportionately bear the costs of resource extraction, they often receive far less than their share of benefits from resource-derived wealth, a problem often exacerbated by corruption that misdirects or misuses revenues promised to Indigenous groups or simply leaves them out of the distribution in favor of more politically or financially influential actors.
Examples of environmental corruption, human rights abuses, and how these are challenged, can be gleaned from the Americas, where corruption is often used to maximize profits and gain unfair advantages by not fulfilling labor rights or environment, climate and human rights agreements. Politicians and firms are typically beneficiaries, though organized crime cartels are also involved. Those who challenge this corruption, including Indigenous Peoples, journalists and other human rights defenders, have been under attack in the region. These examples highlight the problems:
In a heavily populated and industrialized water basin experiencing severe pollution due to inadequate wastewater treatment, powerful interests use corruption to reduce monitoring for banned agrochemicals. In surrounding communities, children are sick or dying from kidney disease and other illnesses deriving from this pollution.


A mining project in the region follows almost no legal standards with regard to labor rights, the environment, or human rights. To develop the project without prior consultation and benefit-sharing, the company involved has captured government at various levels, including the judiciary. If community resistance to the project continues, cartels are used to quell dissent. The result is that an entire ecosystem is under illegal exploitation, with companies, cartels and government forcing displacement of the population and creating a "silent zone" where no dissent is possible.
Situations like these are maintained through corruption and violence, where economic and political power, as well as arms, are used against communities, human rights defenders, and journalists. In these lopsided struggles, the disadvantaged sides need external support, which can include financing and political support. Particularly important, however, is to challenge corruption from the "Global North" through ESG (Environmental, Social, Governance standards and supply chain initiatives and interventions.

Amnesty International's support for human rights defenders, including Indigenous Peoples in environmental anti-corruption, provides an example of how such work can be approached. Recent research has highlighted the repression of anti-corruption human rights defenders in Africa, illegal logging, repression and Indigenous Peoples' rights violations in Cambodia's protected forests, and illegal cattle farming in the Brazilian Amazon. Amnesty also engages in advocacy, including through its Individuals at Risk work, which includes a number of measures to assist people in imminent danger, including urgent letter-writing to relevant authorities, compiling case files, and solidarity and relief actions.

What more can be done by international donor organizations to support Indigenous Peoples at the frontlines of anti-corruption and environmental defense? Discussion focused on boosting financing and projects focused on this area would be useful, but that there is also a need for greater awareness-raising of the practical challenges and potential solutions.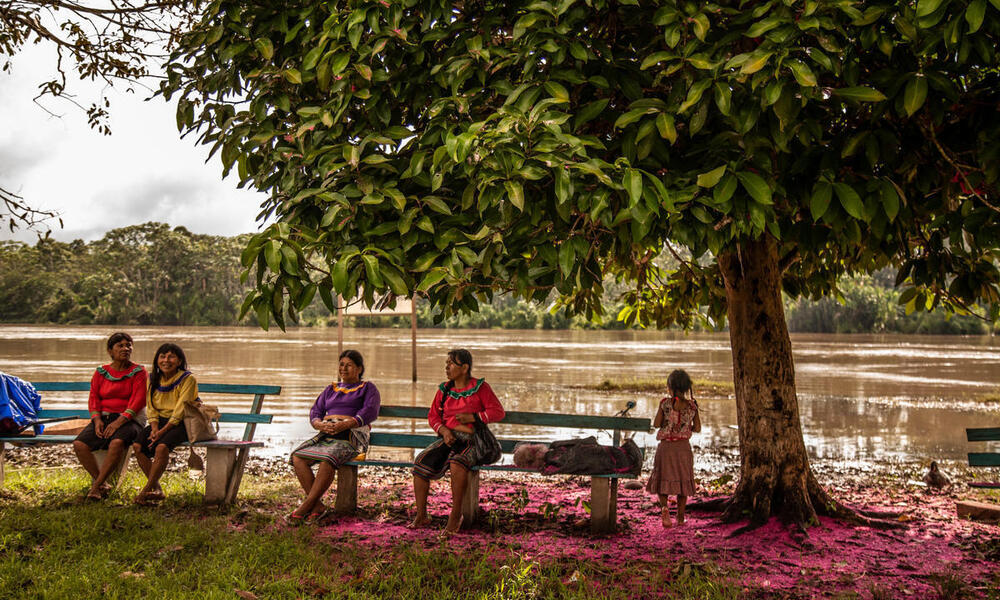 Image attribution: © naturepl.com / Jen Guyton / WWF; © Brian J. Skerry / National Geographic Stock / WWF; © Georgina Goodwin / Shoot The Earth / WWF-UK; © Hkun Lat / WWF-Aus