Our choices matter. Each decision we make impacts us directly, as well as polar bears, sea turtles and every species on the planet. Pollution from dirty electricity is warming our planet, raising coastal waters and pushing weather to extremes—threatening the species and places WWF works so hard to protect and that you care so deeply about.
But we can turn this around. Choosing renewable energy has never been so easy and affordable.
Renewable energy like solar can save you a ton of money on your energy bills. And solar has a much lower impact on our environment, eliminating the release of dangerous carbon pollution that causes climate change.
Our energy choices make a difference. Fortunately, there is clean, abundant energy available from the sun and it's easier than ever to access.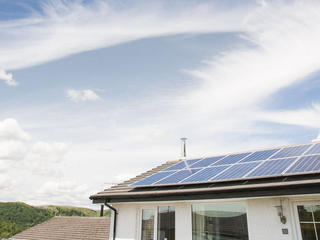 What WWF is doing
WWF is working here in the US and around the world to mobilize people to repower their cities, companies and homes with affordable renewable energy.
Solar Boat in Galapagos

In the Galápagos, WWF helped transform a sea vessel once part of an illegal fishing operation into a boat entirely operated by solar power. Converted in partnership with the Galápagos National Park, the boat will eventually transport tourists to the natural riches of the remote islands. Solar technology saves money on fuel costs and avoids the risk of gas or oil spills that could threaten the Galápagos' pristine marine environment.

Spreading Efficient Cook stoves

Many families in developing countries depend on cook stoves fueled by wood and this demand depletes nearby wildlife forest habitats. To address this problem, WWF established programs to find alternative sources of heat. In Democratic Republic of Congo, WWF helped increase the use of efficient charcoal stoves by 600 percent. In Nepal, WWF is promoting the use of biogas stoves, each of which saves nearly five tons of firewood each year.

WWF Employees Going Solar

WWF employees are just as committed to making a difference in our own lives as we are for the rest of our planet. That's why we've recruited dozens of WWF colleagues, neighbors and friends to install solar panels on their own homes. One of the first employees to make the switch is Keya Chatterjee. Today 100% of her home's electricity is supplied by solar panels.

Making the Business Case for Renewable Energy

WWF engages with companies in many ways to reduce carbon pollution and adopt more renewable energy, both in their own operations and along their supply chain. In 2013, WWF released the groundbreaking report The 3% Solution which identifies novel approaches for the private sector to save hundreds of billions of dollars by boosting energy-efficiency measures and transitioning to low-carbon energy sources like wind and solar.

Repowering American Communities

With cities responsible for more than 70% of the world's carbon pollution, local leadership will be critical to addressing climate change. WWF created the Earth Hour City Challenge to mobilize and support cities transitioning to a climate-friendly, renewable-powered future. In 2013, sixty U.S. cities participated, each submitting inspiring plans for achieving cleaner and more sustainable communities.
Help spread renewable energy and save money by installing solar panels on your home. It's doable!