UPDATE: Due to the COVID-19 (coronavirus) pandemic, EFN is only accepting applications for trainings, conferences, or research-related activities that are accessible online or available locally at this time. Please review the updated guidelines below.

If you have any questions or concerns, please email EFN at [email protected].


OVERVIEW
The benefits of receiving a Russell E. Train Education for Nature (EFN) grant continue long after final project reports are submitted. The EFN Alumni network includes over 2,800 professionals working on critical conservation topics in Asia, Africa and Latin America. EFN is committed to ensuring that our alumni continue to advance in their careers and become future voices for conservation.
EFN Alumni Grants support ongoing education, training, and research opportunities for former Russell E. Train Fellows, Russell E. Train Scholars, and Professional Development Grant recipients who have completed the terms of their WWF grant contract and meet all of the eligibility criteria necessary to be considered for a grant. Applicants may request up to $2,000.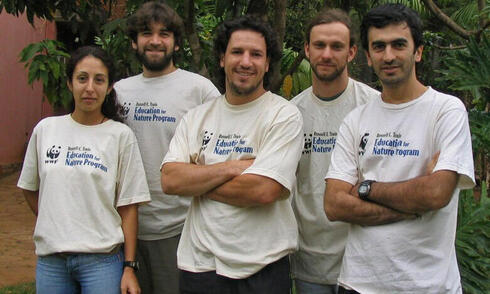 ELIGIBILITY

Applicants must meet all of the following eligibility criteria to be considered for a grant. Specific eligibility criteria for the February 1, 2022 deadline is included below. Please confirm you meet all eligibility requirements before applying. Approval of trainings and conferences is up to the discretion of EFN.
You must be a former Russell E. Train Fellow, Russell E. Train Scholar, or Professional Development Grant recipient.
You must have successfully completed the training or degree program for which you received your EFN grant.
You must have worked in conservation in your home country for at least two years since completing your EFN-funded training or degree.
You must currently be working or conducting research in conservation in your home country.
You must have submitted all reports required by your grant contract.
You must have a bank account in your own name that can receive US dollars and international wire transfers.
You must not have received a grant from EFN in the past three years.
You must not have received more than four grants from EFN.
The proposed training must take place at least 60 days after the application deadline.
You must submit all required documents by the application deadline.
Additional Criteria for the February 1, 2022 Deadline:
Only trainings and conferences that are available online or are locally based are eligible. Locally based courses are eligible if they require limited travel and follow national COVID-19 restrictions.
Trainings and conferences must be offered through an accredited institution.

If the proposed training requires an application, you must have already applied to or be accepted to participate at the time you submit your application.
Courses must be completed no later than February 1, 2023.
Applicants must meet the minimum requirements designated by their course.
For online trainings or conferences, applicants must have stable internet connection for coursework and a computer.
For online trainings or conferences, priority will be given to courses with defined start and end dates or "live sessions".
EFN will also consider costs associated with publishing scientific articles or other research-related expenses as long as there is no travel associated with these requests.
Courses and expenses that will NOT be eligible:

Online courses that are part of a university degree program or online degree are not eligible.
EFN will not fund in-person trainings or travel that occurs outside the applicant's home country.
Entirely free courses with NO associated fees will not be considered.
EFN will NOT cover the cost of a computer purchase.
NOTE: Meeting the minimum eligibility requirements does not guarantee you will receive a grant.


APPLICATION PROCESS
All applicants must complete an application by one of the deadlines noted below. The proposed training must take place at least 60 days after the application deadline to allow EFN time for review, selection, and processing of the grant.

February 1, 2022 -ONLINE or local trainings/conferences only
May 1, 2022 - TBD

August 1, 2022 - TBD

November 1, 2022 - TBD
Individuals may submit an online application at any time. Completed applications will be reviewed on the dates noted above, and applicants will be notified of the results within one month after the application deadline.
For the February 1, 2022 deadline, the following costs will be considered at the discretion of the EFN program: registration fees and tuition for virtual trainings and conferences, required books, required materials (e.g. headphones, computer camera, notebooks), required temporary licenses (e.g. GIS, excel), and Wi-Fi costs.

Employer Approval Form

EFN requires employer approval for all Alumni Grant applicants. Due to COVID-19 circumstances, EFN may adjust this requirement based on special circumstances. If you have any questions about your eligibility, please email [email protected]. The process for submitting the employer form is noted below:
Applicants will put the email address of their supervisor in their application.
Once the applicant submits their completed application, their supervisor will receive an automatic email requesting an employer approval document to be uploaded. This document's responses will be used during the review process.
Employers can use this template for ease of filling out the required information. They will then need to save the completed document and click the upload link in the email they received.
Please note: Applications will not be considered complete until after the employer approval form is uploaded.

APPLY HERE


RESOURCES
EFN is committed to providing a platform for our alumni to share lessons and stories with each other and the greater conservation community. The following resources are available to connect with EFN alumni and other conservationists:

EFN's LinkedIn group helps EFN grantees connect with one another and share their work (this is only available to EFN grant recipients).


FOR MORE INFORMATION
For more information on Alumni Grants and other questions, please e-mail us at [email protected].
For information on the upcoming Caroline Goldman Cassagnol Fellowship, please visit here.