OVERVIEW
The benefits of receiving a Russell E. Train Education for Nature (EFN) grant continue long after final project reports are submitted. The EFN Alumni network includes over 2,100 professionals working on critical conservation topics in Asia, Africa and Latin America. EFN is committed to ensuring that our alumni continue to advance in their careers and become future voices for conservation.
EFN Alumni Grants support ongoing education, training, and research opportunities for former Russell E. Train Fellows, Russell E. Train Scholars, and Professional Development Grant recipients who have completed the terms of their WWF grant contract and meet all of the eligibility criteria necessary to be considered for a grant.
See below for eligibility criteria and how to apply.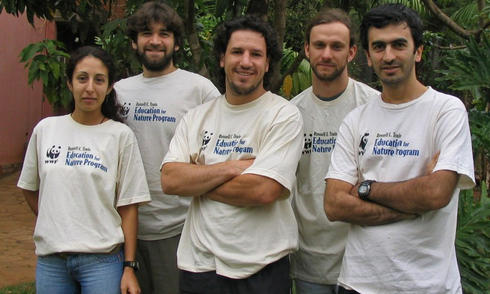 ELIGIBILITY
To be eligible for an Alumni Grant, you must meet the following criteria:
You are a former Russell E. Train Fellow, Russell E. Train Scholar, or Professional Development Grant recipient.
You completed the training or degree program for which you received your EFN grant.
You have worked in conservation in your home country for at least two years since completing your EFN funded training or degree.
You are currently working or conducting research in conservation in your home country.
You submitted all reports required by your grant contract.
You must have a bank account in your own name that can receive US dollars.
You must not have received a grant from EFN in the past three years.
You must not have received more than four grants from EFN.
If you are unsure if you meet all the eligibility criteria listed above, please contact efn@wwfus.org to confirm if you are eligible to apply.
APPLICATION PROCESS
Applications are accepted on a rolling basis. Grant requests may not exceed US $3,500. EFN Alumni from any country are eligible to apply. Individuals who submit their applications less than 90 days before their proposed activity will not be considered for funding.

Please note: EFN has limited funds for Alumni Grants; therefore, meeting the minimum eligibility requirements does not guarantee you will receive a grant.

Click HERE to access the application.
RESOURCES
EFN is committed to providing a platform for our alumni to share lessons and stories with each other and the greater conservation community. The following resources are available to connect with EFN alumni and other conservationists:
The EFN Facebook fan page is a platform to learn about upcoming scholarship and grant opportunities, conferences, and training courses. LIKE us on Facebook to connect to the EFN network (this is a public resource).
EFN's LinkedIn group helps EFN grantees connect with one another and share their work (this is only available to EFN grant recipients).
FOR MORE INFORMATION
For more information on Alumni Grants please review the frequently asked questions document. For other questions, please e-mail us at efn@wwfus.org.