Bhutan: Committed to Conservation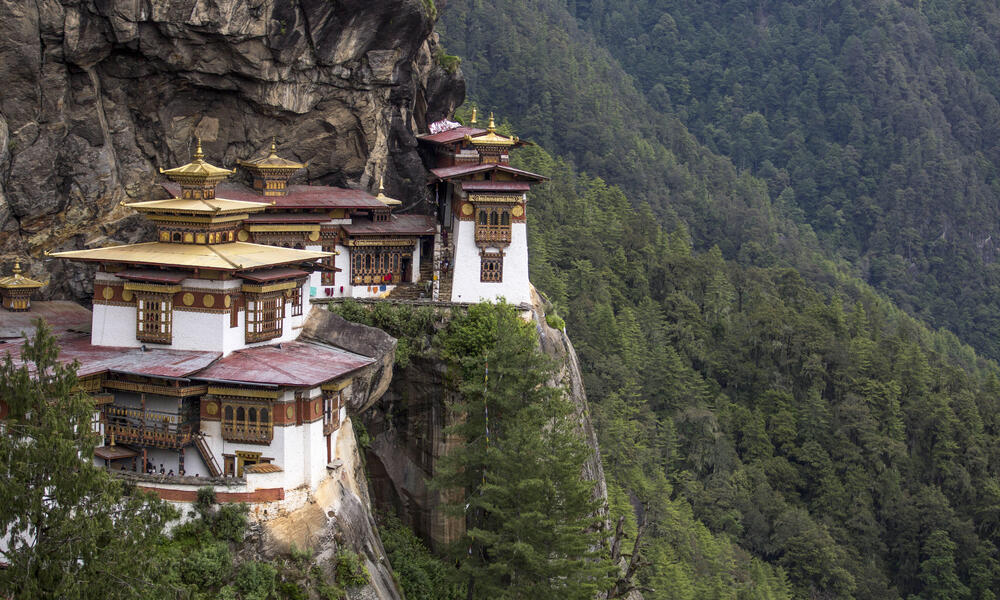 Bhutan is one of the smallest countries in the world. But its commitment to conservation is bigger than most.
Conservation of the environment is one of the four pillars of Bhutan's Gross National Happiness philosophy. As mandated in its constitution, Bhutan preserves (at all times) 60 percent of its land under forest cover. Bhutan has succeeded in doing so. More than 51% of the country is protected—the largest percentage of any Asian country. Most of it is intact forests interwoven with free-flowing rivers.
Evidence of this commitment to conservation is everywhere in Bhutan. Native wildlife—including endangered royal Bengal tigers, elusive snow leopards, elegant black cranes and elephants—all roam free in the country's 5 million acre network of protected areas. The people of this Buddhist kingdom can hold on to a fundamental birthright: living out life in a healthy environment. And one of the country's top industries—ecotourism—is thriving and growing.
The world benefits, too. Bhutan is in a region that provides water for one-fifth of the world's population. Bhutan also is at the heart of the Eastern Himalayas, which is one of the world's 10-most biodiverse regions. And Bhutan's forests help keep the world's climate change at bay by absorbing carbon dioxide.
Tshering Pemo admires a butterfly at the nunnery in Paro where she lives and studies Buddhism. One of the most important things she said she is learning is that nature is a gift that we should respect and cherish.

Farmers from rural Bhutan sell their produce at the Centenary Farmer's Market in Thimpu, the country's largest city. Providing avenues for farmers to continue to work in rural areas is an approach Bhutan uses to ensure that its best stewards of the land can help protect Bhutan's natural areas.

A group of women and children crush cans that they will recycle. Recycling is a growing industry in Bhutan, as it is a way to address the country's trash problems and for its residents to generate income.

Sigay, a farmer from Phobjikha Valley, enters a tent he has set up so he can look out for boars and other wildlife that try to come onto his farm at night and attack his livestock. WWF helps rural communities develop solutions to the types of human-wildlife conflicts Sigay and other farmers face.
Bhutan at a crossroads
But Bhutan's natural resources are on the brink of being more threatened now than ever before, despite the government's political will and conservation milestones. Why? The country has changed more in the last 50 years than the past 500 years combined.

Rapid modernization, the adoption of democracy, and a dramatic shift in demographics have all contributed to a country in transition. Today, 60 percent of the country's population is below the age of 34.

With change comes new challenges, particularly for the environment. Natural resources are exploited as new industries are created and existing ones grow to meet the needs of a rapidly growing population. There are fewer "stewards of the land" in rural areas, as people move to cities and larger towns in search of the perceived and real comforts of modernity. And, as in many Asian countries, the impact of climate change and the poaching of wildlife are on the rise.

If the country does not address the challenges now, it risks losing everything it has worked so hard to protect.
Balance is the solution
"We need to balance the need for economic development – like hydropower and tourism – with the need to protect natural resources," said WWF Bhutan Country Representative Dechen Dorji. "We need to balance jobs in the cities with jobs in rural villages. And we need to balance tradition and age-old religious beliefs with the desires for modern amenities."
Since the 1970s, WWF has worked with the Government of Bhutan, Bhutan-based nonprofit organizations and local communities to achieve this balance. For example, we help conduct extensive wildlife surveys, create conservation management plans for national parks, and educate rural communities in how to minimize human wildlife conflicts.
But more is needed to keep pace with the speed and scale of change now impacting Bhutan.
Bhutan for Life
In August 2018, WWF, the Bhutan government, donors, and partners from around the world created Bhutan for Life. At the heart of the conservation effort is a $43 million fund—the first of its kind in Asia—to permanently protect Bhutan's network of protected areas. This funding will be combined with $75 million from the Bhutan government, which will be contributed over a 14-year period that starts in 2018. Thereafter, Bhutan will be positioned to fully fund all of its protected areas on its own.
Sustainable economic development, such as eco-tourism and organic farming, will be allowed in the protected areas, making this initiative a true example of how the Bhutanese seek balance.
This program is modeled after one created by WWF and other partners in May 2014 to ensure the long-term protection of the world's largest tropical rain forest, located in the Brazilian Amazon. WWF is helping to create similar programs in Colombia and Peru. They all rely on an innovative funding approach called Project Finance for Permanence that addresses an issue often seen in the conservation community: piecemeal, insufficient, and short-term funding for the management of protected areas, often because conservation budgets are the first to be cut in the face of legitimate and difficult tradeoffs. The new approach relies on a single closing, where all funds are committed at the same time and the government makes a commitment to the long-term funding of its protected areas.
"I am hopeful that, now that this program has been created, then what has been bestowed upon us by our visionary monarchs—this sacred environment—can be maintained for generations to come," Dorji said. "And Bhutan can serve as a model for our neighbors in Asia and the rest of the world."
Learn more about the most important conservation story you've never heard.