Bringing fisheries forward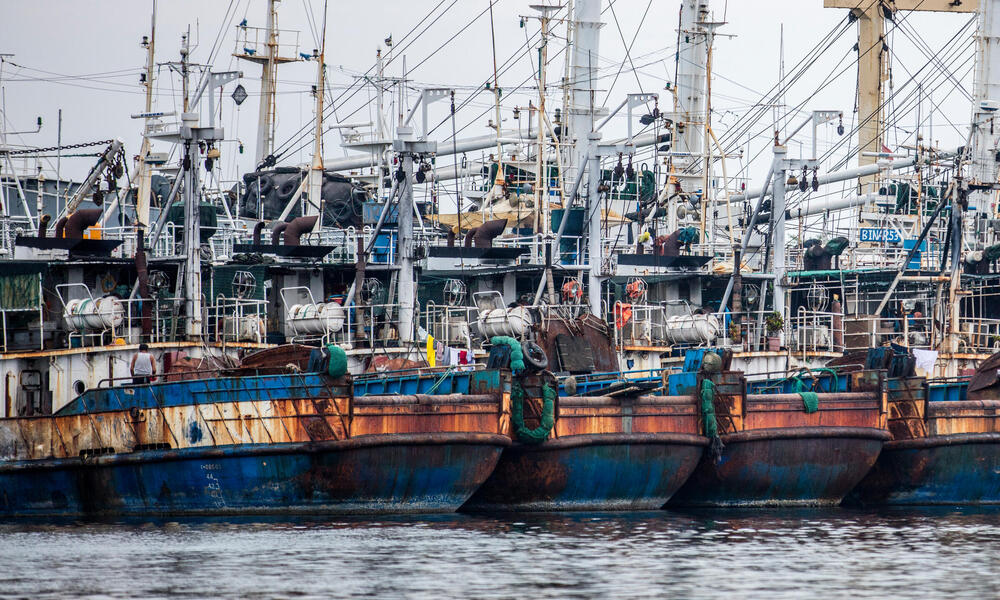 There is an abundance of electronics in almost every aspect of our lives via mobile phones, laptops, tablets, scanners, e-readers, and other handheld devices, yet the fisheries sector's uptake of electronic tools within its operations is very uneven. Greater implementation of collection and reporting technology throughout the global fisheries supply chain is a fundamental change needed to reduce illegal, unreported, or unregulated (IUU) fishing. IUU fishing is one of the greatest challenges to fisheries and poses risks to people, food security, livelihoods, and our marine resources.
WWF has been working to reduce IUU fishing for years and recognizes the necessity of widespread utilization of relevant technology throughout the fishing sector as one part of the solution.
To date, there had not been a global examination of the status of electronic tools in major exporting countries. To facilitate improvements, WWF commissioned a groundbreaking report on the current status of electronic information systems across major exporting countries and regional fisheries management organizations of fish and fish products to the European Union and United States.
This baseline study is a vital starting point. By collecting accurate and verifiable information electronically about fishing operations, a better understanding of where and how IUU fishing is occurring will be developed. This information will also provide key insights into related problems such as forced labor, seafood mislabeling and overfishing
Status of Electronic Collection and Reporting of Key Information in Major Fisheries
This report provides an evaluation of the status of electronic collection and reporting of key fisheries and product information in major fishing nations and regions.
Read the Report
According to the report's authors, many governments and private entities, even those involved in international commerce and dealing with fisheries at high risk of IUU fishing, have been slow to adopt the technology that will aid responsible management of fisheries. These findings are consistent with challenges previously observed with technology adoption that includes a lack of resources and prioritization from national, regional, and global levels, insufficient coordination among government departments, incompatibility of existing technology, diversity of fisheries, and complexity of the supply chain.
Examples of the assorted technologies available to the fisheries sector, collectively termed Electronic Fishery Information Systems (EFIS) in the report, include: vessel movement and location tracking via satellites, using video cameras to monitor at sea fishing operations, recording catch data digitally, and using software to trace seafood products as they move through the supply chain.
Paper forms and handwritten records still predominate in most fisheries despite being less secure and efficient than electronic records. The adoption of different technologies differs widely by country due to a multitude of factors related to how fisheries are governed and the resources that are available to them.
To better understand the status of EFIS, the report assigns scores to the 21 countries that are major exporters to the US and EU and the 15 major regional fisheries management organizations. The scores indicate how pervasively technology is in use by each country and identifies what areas most need improvement.
The authors conclude with a summary of all 21 countries that predicts the likelihood of each fully utilizing EFIS technologies within the next five to ten years and examines what is already occurring within the fisheries. Key conditions that will help to enable further implementation include comprehensive governance within fisheries, legislation, political support, NGO support, financial resources and expertise, and market orientation.
All fisheries sectors are increasingly reliant on readily available accurate data to coordinate supply chains and meet standards that are beginning to be initiated by governments. So far, only one area of data tracking has become widely used—vessel monitoring systems (VMS) that monitor the location and position of fishing vessels. This is, in part, due to promotion and education at the political decision-making level and the high value of the service. Other methods of data collection and reporting that are described as EFIS need to receive the same treatment to spur similar expansion across the supply chain.
WWF also recommends that fisheries adopt greater data sharing and promote openness. This will allow the whole sector, including private companies, governments, and civil society, to learn from each other and maximize technology adoption so these tools can deliver on their potential.
WWF currently works on programs that aim to support fisheries as they embrace technology to reduce IUU fishing. These programs include the recently launched Global Dialogue on Seafood Traceability, aiming to create universal standards, and numerous Fishery Improvement Projects. WWF will use the results of this report to help guide investment and to continue to promote sustainability for the future of the sector and oceans.