Building Local Knowledge for Fishing Sustainably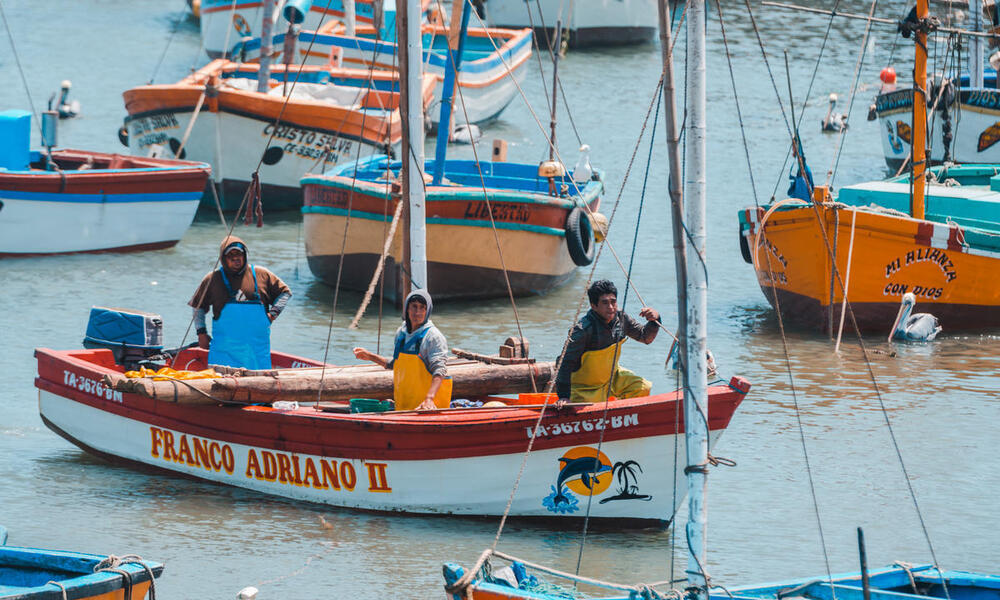 Around the world, thousands of coastal towns depend on fishing for their livelihoods, for sustenance, and to feed the three billion people who eat fish every year. Fishers want to get the most out of their efforts, but overfishing can cause long-term damage to ecosystems and, therefore, to the fishing communities themselves. Globally, 30% of assessed wild fish stocks are already overexploited and 60% are at their maximum fishing limit.
In order to ensure that we are all able to enjoy these resources long into the future, fishers must adopt more sustainable fishing practices. WWF has been leading projects to improve fisheries' long-term sustainability since 2010 and has successfully introduced training workshops in the last five years.
What is a Fishery Improvement Project (FIP)?
A FIP is a multi-stakeholder effort to address environmental challenges and promote responsible management practices in a fishery. The projects use the power of the private sector to incentivize positive changes toward sustainability in the fishery and seek to make these changes endure by establishing new government policies.

A key end goal of a FIP is to ensure the fishery performs at a level of an unconditional pass of the Marine Stewardship Council (MSC) standard - the best available third-party global standard for wild-caught seafood environmental performance. Once a FIP achieves that end goal, the fishery is encouraged to go through the MSC certification process by hiring a third party auditor to conduct a full assessment. Upon certification, the fishery's products are eligible to carry the MSC blue fish label, recognized by many consumers as a mark of products sourced with higher environmental standards.
Wendy Goyert and Dr. Geoffrey Muldoon, two WWF fishery experts, conduct FIP workshops to help communities make changes that will sustain their fisheries alongside their local marine ecosystems. "There are hundreds of fisheries globally that need to improve their practices, and we can't tackle all of them alone," says Goyert, Lead Specialist, Latin America Fisheries in Transition for the WWF-US Oceans Program. "That is why WWF has made it a priority to invest in training others around the world on how to develop and implement successful FIPs."
The trainings teach local stakeholders how to develop, implement, and monitor the progress of FIPs; communicate with and engage key partners; and develop funding strategies to support the financial needs of their projects. Participants also conduct exercises, using regional case studies as models, to test the skills they've learned and apply best practices for implementing FIPs in their local communities. Since 2015, workshops held in Indonesia, Vietnam, Chile, Peru, Mexico, India, and the US have drawn over 300 participants from across Asia-Pacific, Latin America, and the Caribbean. Alongside fishers, these trainings are open to government policy-makers, NGOs, seafood companies, and fisheries experts.
Moving forward, WWF is developing a virtual FIP training program geared towards FIP stakeholders around the world, making sustainability practices increasingly accessible.
Case Study: The Kerala, India Workshop
One goal of these workshops is to build local knowledge to manage fisheries more sustainably so that those involved can teach their own communities and no longer expend resources on bringing in outside experts. This was achieved in Kerala, India in 2018 after WWF partnered with the MSC and the Central Marine Fisheries Research Institute to deliver and implement FIP trainings. Through a combination of face-to-face training, visits to local fisheries, and remote mentoring, three local trainees completed an MSC pre-assessment course. Their newfound knowledge from these trainings enabled them to identify the environmental challenges in the Karrakadi shrimp, Poovalan shrimp, octopus, squid, and cuttlefish fisheries that comprise the market in the state of Kerala.

As a result of this in-depth, hands-on training, one of the participants, Vineetha Aravind, has become the first person in India to be accredited as an MSC lead auditor, now able to conduct MSC assessments.
She is now the coordinator for eight FIPs in India, which is comprised of shrimp, squid, and cuttlefish fisheries. She also provides some guidance and assistance on the blue swimming crab FIP in India.
Dr. Muldoon, who coordinated the process in Kerala, noted that "WWF has long acknowledged the importance of having competent, regionally-based MSC consultants to build local assessment and FIP development, implementation, and audit capacity. This helps alleviate high consultant fees and makes the MSC program more accessible to local and small-scale fisheries. After testing different training approaches, we feel we now have a suitable model to scale our effort to build local FIP capacity." As a result of WWF's close engagement with partners, the Kerala FIPs have yielded real and tangible results that are improving the fisheries and reducing bycatch.