Orinoco Basin Report Card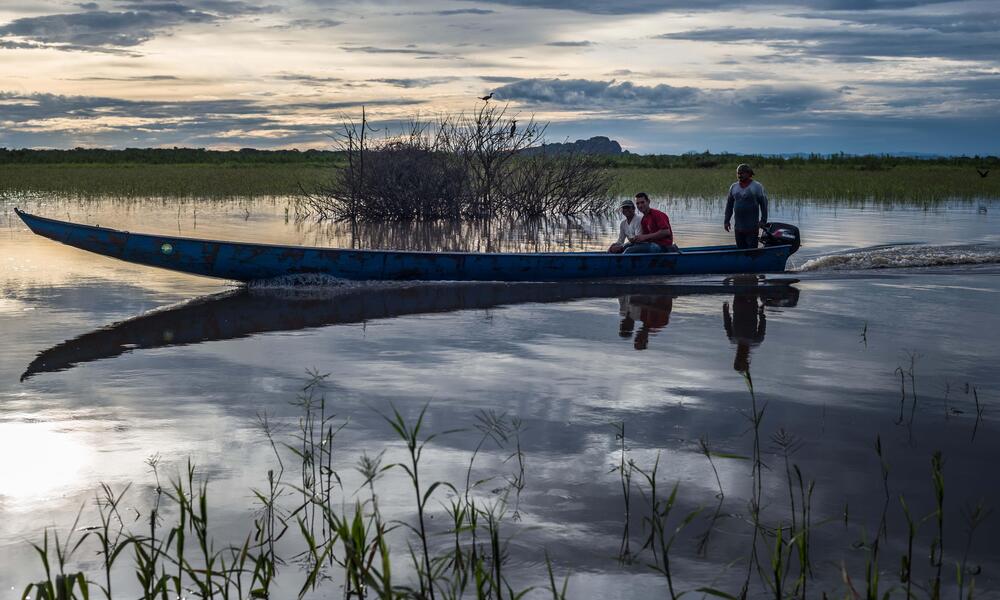 Flowing in a giant arc from Colombia and Venezuela all the way to the Atlantic Ocean, the Orinoco is one of the longest rivers in South America, its basin and flooded forests home to rich plant and animal life, ancient indigenous cultures, and growing cities and economies. But as the region develops, the challenges facing the Orinoco basin increase, threatening its precious ecosystems and all who depend upon them.
WWF, the University of Maryland Center for Environmental Science, and several local partners collaborated to develop a report card for the Colombian portion of the Orinoco river basin. The report card will help inform management and policy decisions that impact the Orinoco, building a better future for all.
Stakeholder Workshops

Built from the ground-up, report card development includes workshops that bring together representatives of various water users, many of whom are meeting for the first time through this process. All participants depend on the Orinoco in one way or another, and together they define their shared values.

Indicators for All

The series of workshops engaged more than 200 participants and over 60 institutions from throughout the basin. Together, these stakeholders identified about two dozen potential indicators covering issues of management, governance, cultural values, economic benefits, ecological or environmental factors, and human health.

Water Stewardship

All businesses depend on water in some way or another, and therefore experience some degree of water risks. In Colombia, the basin report card process seeks to engage businesses—particularly the productive sector—to ensure their values and impacts are represented. The river itself is critical for many industries, such as fishing, transportation and tourism.

Crucial for People

Several indigenous group still thrive in the Orinoco basin, maintaining their ancient culture while also tapping into more modern businesses opportunities—such as capturing and selling ornamental fish. For several centuries, non-native populations were scarce and typically farmers or ranchers. However, as Colombia's economy grow and other industries—such as mining and extractive—flourish, more people are moving into and using the basin's landscapes.

Rich in Biodiversity

More than 1,000 fish species have been recorded in the Orinoco river basin, including many ornamental fish that are important to the aquarium industry. The river also houses Amazon river dolphins, the giant river otter, and the Orinoco crocodile, which is one of the rarest and longest reptiles in the world. The terrestrial biodiversity is also exquisite and ranges from colorful birds, like the scarlet ibis and macaws, to impressive mammals, like jaguars, ocelots and sloths.
As one of the first places WWF and UMCES collaborated to create a report card, the Orinoco is crucial to ensuring the development process is carefully documented, analyzed and improved. Together we will track its impacts on the basin's future.