Plowprint Report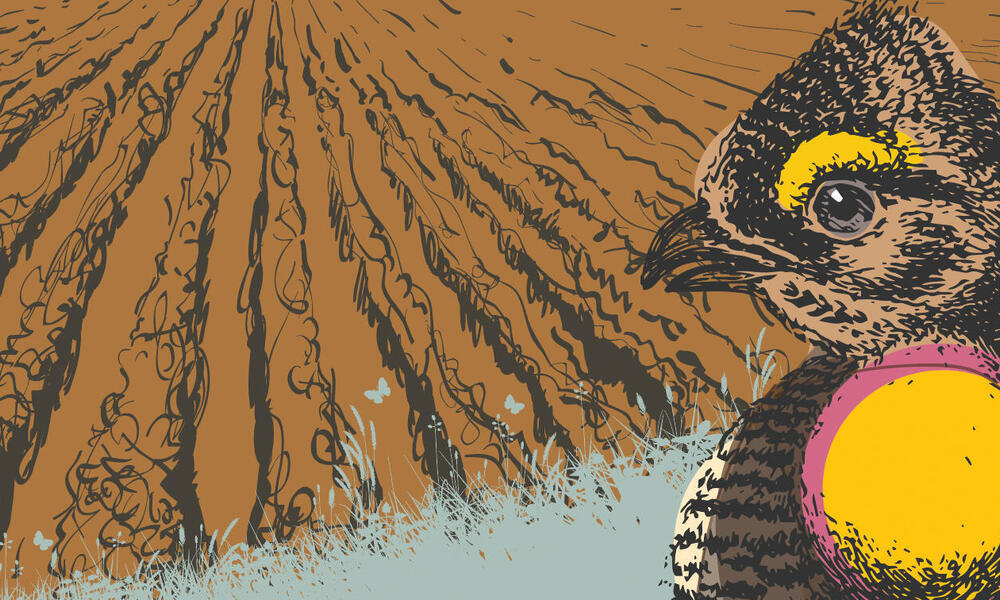 World Wildlife Fund's annual Plowprint Report tracks grassland loss across the Great Plains. The 2020 Plowprint Report finds that from 2014 to 2018, tillage of grasslands across the Great Plains has occurred at an average rate of four football fields ev­ery minute. This year's report is based on an updated, more accurate methodology, which reveals that although the number of tilled acres of intact grasslands has declined, the rate of conversion is still too high to sustain the wildlife and people that are dependent on intact grasslands. For the first time, this year's report also includes a separate analysis of the Mexican portion of the Great Plains, which will give readers a more complete overview of the state of the grasslands across the entirety of the region.
An interactive, online version of the U.S. and Canadian Plowprint map is also now available. Users can select and download the information for an area of interest within the U.S. or Canadian Great Plains and examine the acres of intact habitat, cumulative and new conversion to row-crop agriculture, and cropland composition.
To more effectively track grasslands loss, WWF has updated the methodology from that used in the first three Plowprint Reports (2016-2018) to incorporate changes to the underlying data and reduce possible error in estimates. These changes include:
1. The USDA Cropland Data Layer (CDL) was improved to a spatial resolution of 30m instead of 56m. All prior years of the Plowprint were re-analyzed to incorporate the improved spatial resolution.
2. Open water and developed areas in the U.S. were updated based on newly released National Land Cover Database (NLCD) data current through 2016.
3. WWF created a "roads mask" based on TIGER 2019 and Canada Road Network 2018 data. Line features for primary, secondary, and local roads were buffered to 30m to remove an error associated with road edges. The new water, developed, and roads masks were applied to all years of the Plowprint spatial data for consistency.
4. A 2-year crop rule was implemented for cropland to enter the Plowprint. A pixel must now be identified by the CDL or Canadian Annual Crop Inventory (ACI) as cropland for two sequential years in order to be counted as Plowprint. This check was established to improve error rates by excluding "one-off" misidentifications. This means that there will now be a year-long lag in the appearance of newly converted cropland as reported in the Plowprint Report. For example, land that was first converted in 2018 now has to be identified as crop in both the 2018 and 2019 CDL/ACI datasets before it is included as part of the Plowprint.
5. The CEC portion of the grasslands in northern Mexico have also been included for the first time, though because different methods were used than for the U.S. and Canadian grasslands, we report on Mexico separately.
In 2018—the year of land use that the 2020 report analyzes—grasslands loss in the Northern Great Plains (NGP) was approximately 550,000 acres, with 2.1 million acres converted across the Great Plains of the U.S. and Canada. This is a slight increase in annual conversion from 2017 of ~476,000 in the NGP and 2 million acres in the Great Plains.
In a positive contrast to the amount of grassland conversion, there was a significant increase in perennial cover; up 440,000 acres in the NGP and 2 million acres across the Great Plains. Tilled land that is no longer used for row-crop production is referred to as perennial cover (e.g., USDA Conservation Reserve Program [CRP], alfalfa, hayland, restored grassland, etc.). Recently restored perennial habitat is preferable to plowed ground because it offers improved ecosystem function such as water infiltration and storage.
Be sure to check out the interactive map of the Plowprint Report, or download the Plowprint Report below to learn more.