The first rule of gorilla tracking? Listen well
Local Ba'aka people help track gorillas in the Congo Basin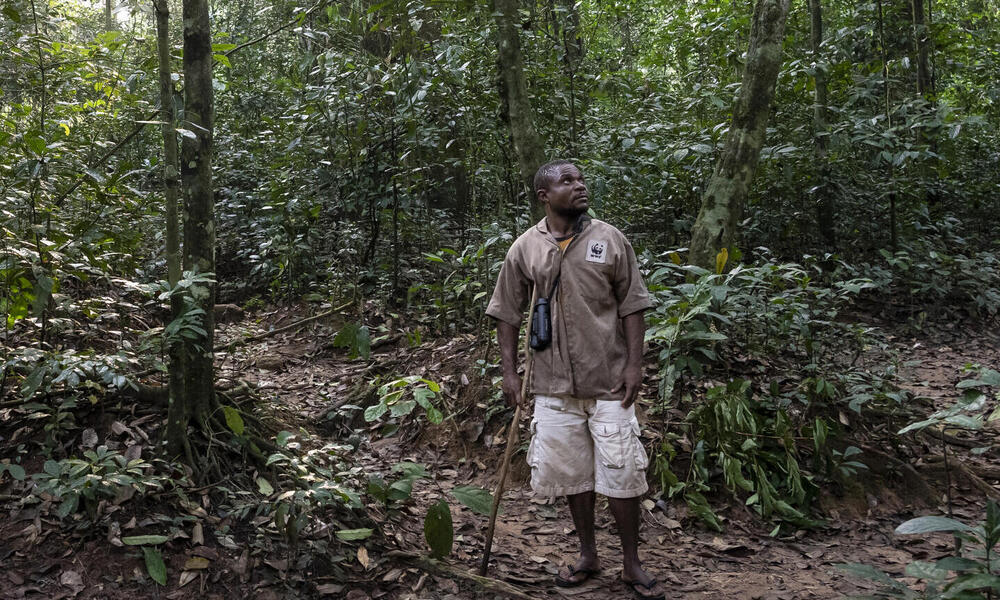 Date: May 05, 2020
Author: Andy Isaacson
A gorilla tracker walks the forest in search of signs. Discarded stems say: a gorilla ate here. Snapped seedlings, overturned logs, a faint depression in the dirt— all telltale signs. A trained eye can distinguish the footpaths of gorillas from those trodden by forest elephants, who tend to be unkind when startled and so require a wide and respectful berth.
"The first rule of tracking is listening well," explains Ossolo Dacko, one of several Ba'Aka trackers working at Dzanga-Sangha Protected Area, in Central African Republic, home to one of the world's only populations of habituated, western lowland gorillas. When Ossolo moves across the jungle, normally with guides and tourists in tow, his ears are trained to interrogate every breaking limb and leaf rustle. Inevitably, he leads them to the gorillas.
Like many Ba'Aka people, indigenous to the Congo Basin, Ossolo was a natural-born animal tracker. He learned the ways of the forest as a child from his father, who taught him how to hunt for game, collect honey, and forage for medicinal plants and mushrooms. Traditionally, Ba'Aka tended to avoid gorillas. "Our parents were scared of them," Ossolo says. Only rarely did they even hunt them, using snares. The Ba'Aka have a superstition that if a pregnant woman were to eat gorilla meat, it could kill the fetus. So the notion of spending hours face-to-face, peacefully, alongside these great apes? "It's really amazing," Ossolo says. "Today I sit next to a gorilla every day!"
More than two decades ago, WWF launched Dzanga-Sangha's gorilla habituation program with the help of primatologist Chloé Cipolletta. Tourists arrived soon after. The park hired local Ba'Aka, who already accompanied park rangers on poaching patrols, to track and monitor the daily whereabouts of the habituated gorilla groups.
"I quickly realized that their forest knowledge was not only essential to the survival of tourism, but equally as critical to the survival of their culture," says Allard Blom, WWF-US's Managing Director for the Congo Basin, who spearheaded the gorilla program. At the time, Ba'Aka had recently completed swift transformation from a society of hunter-gatherers to sedentary agriculturalists. The younger generation was losing the traditional ability to track wildlife. "At the time, there was no economic incentive to do it any longer," explains Blom.
The gorilla habitation program provided the Ba'Aka living near the park with a new opportunity. By 2020, Dzanga-Sangha employed more than 50 Ba'Aka as gorilla trackers. Today, WWF is working to sustain benefits to the community despite the global travel shutdown caused by COVID-19.

"They are really, really respected back in their villages," says Terrence Fou, who runs the gorilla habituation program. "Everyone wants to work in the program."
With his monthly salary Ossolo says he's been able to build a house, provide food and clothes and healthcare for his wife and four children, and extend that support to a much wider family circle. The park also covers his children's school tuition. "I always remind everyone in my family, when I come home with my salary, that this money is thanks to the work that I'm doing. And also, because I'm doing the work very well."