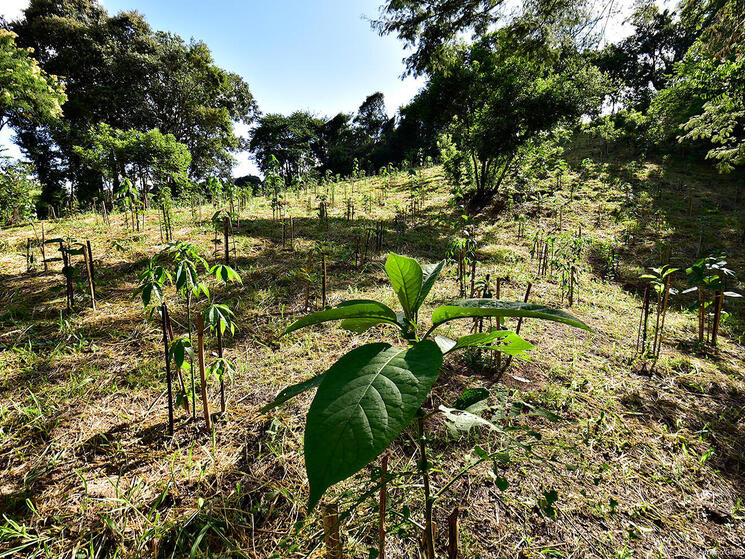 Date

: 26 October 2021

Author

: Anneliese Olson, HP Inc.
Here's a challenge for you: Reflect on the places where you experienced life's simplest pleasures. Do you imagine the scenic hike you took to get some steps in for the day? That park you took your kids to every Saturday morning? Or maybe even your own backyard?
It's impossible for me to imagine being in any of my favorite places without trees, but beyond my personal enjoyment, forests are so important because they are home to three-quarters of the planet's life on land and provide clean air and water. Forests are simply the best nature-based solution to address the climate crisis, and we must do what we can to protect them.
I'm fortunate to work at a company that understands the true value of forests both to its business and in the fight against climate change and knows the best way to make real impact is through partnership. HP Inc. and World Wildlife Fund (WWF) have been working together for over a decade to ensure that we are sourcing our paper products responsibly. Partnerships like this have helped HP reach many environmental milestones. HP brand paper has been deforestation-free since 2016, and in 2020, HP achieved zero deforestation for 99% of HP paper-based product packaging with the remaining 1% assessed to ensure reported fiber usage meets HP's Sustainable Paper and Wood Policy.[i]
In 2019, HP and WWF joined forces to go beyond our sourcing and broaden our conservation efforts to help safeguard global forest ecosystems. In the past two years, we've been collaborating to restore part of Brazil's threatened Atlantic Forest and increase sustainable management of state-owned forest farms in China—with the aim of protecting a combined area of over 200,000 acres.
Brazil's Atlantic Forest is a biodiversity hot spot, home to iconic wildlife like the jaguar and 7% of Earth's plant species. But it has lost more than 83% of its original area. Partnering with landowners and local groups, WWF and HP are helping to restore critical areas of the Atlantic Forest. Since 2019, together we have engaged over 50 local institutions and 150 community stakeholders in the Serra do Mar, Mogi Guaçu, and Upper Paraná regions to secure their participation in forest restoration activities.
In China, WWF and HP are working with forest agencies and forest owners to pursue Forest Stewardship Council® (FSC®) certification under the new FSC-China national standard across 220,000 acres. China is one of the largest producers of paper products, yet it relies heavily on imported wood to meet demand, much of which comes from countries with high risk of deforestation. Improving forest management in China can help reduce pressure on threatened and high value forests. The partnership is providing training and technical support to forest managers of 462,000 acres of forestland to help improve forest management practices and enable the long-term success of FSC certification.
Ahead of the UN Climate Change Conference (COP26) this year, we announced a partnership expansion with WWF to counterbalance the amount of paper, regardless of brand, used in HP printers by conserving an equivalent number of forest resources.[ii] This builds on HP's support of WWF's development of science-based targets for forests. HP will be the first company to pilot a new methodology developed by WWF as part of its work on science-based targets for forests to more comprehensively estimate the impact on forests from non-HP paper that runs through HP printers globally. And then HP and WWF will protect, restore, and improve the management of a requisite amount of forests. By doing so, HP is helping to ensure nature-based solutions are informed by the best available science and protect the co-benefits forest ecosystems provide for people, plants and animals. As part of this partnership expansion, WWF is also joining HP's Sustainable Forest Collaborative, a cross-industry collaboration we launched in 2019 to demonstrate scientific and commercially viable approaches to keep working forest ecosystems healthy.
For over a decade, our work with WWF and partners has helped us drive lasting, positive impact for the business and the planet. We're proud and excited for the next decade of working alongside WWF to make a forest positive future a reality.

[i] In 2020, 99% of HP brand paper and paper-based product packaging were derived from certified or recycled sources. Packaging is defined as the box that comes with the product and all paper-based materials inside the box.
[ii] Fiber by weight will be 1) certified to rigorous third-party standards, 2) recycled, or 3) balanced by forest restoration, protection, and other initiatives through HP's Forest Positive Framework. Paper does not include fiber-based substrates for HP industrial presses not listed in HP Media Solutions Locator catalogues.


The views expressed in this post do not necessarily reflect those of WWF.