It's Time For Soy Traders to Act
Date

: 19 May 2021

Author

: Jason Clay, Executive Director, WWF Markets Institute
First-of-its kind Soy Traders Scorecard finds major traders are not taking sufficient action on their environmental and social commitments
In the last 50 years soy acreage has more than doubled. In just the last two decades, soy production also doubled, mirroring the world's growing demand for animal feed. About 75% of the world's soybean crop is used as animal feed for poultry, pigs, livestock, and farmed fish. While a small percentage (~15%) goes directly to foods for human consumption, including vegetable oil, edamame, soy milk, tofu, and other alternative meats, global meat production is still expanding faster each year than all the alternative proteins on the market.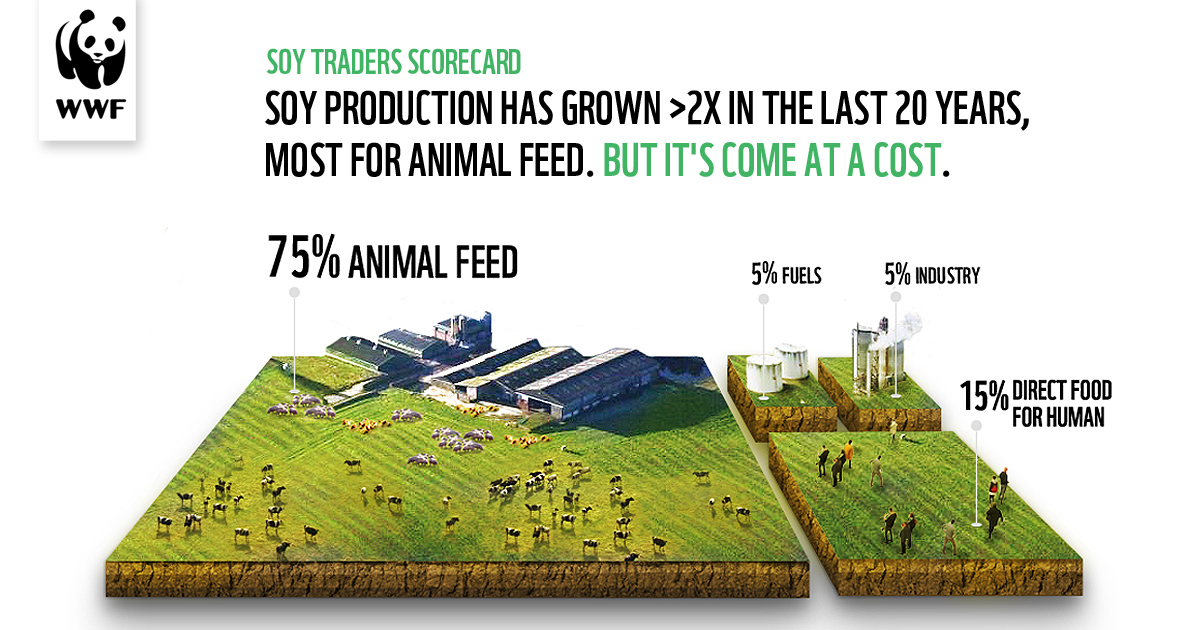 Soy is now one of the largest global drivers of deforestation and conversion of critical habitats, like the Cerrado, the Gran Chaco, and Chiquitania in South America, and the Great Plains across North America. We are also seeing encroachments beginning in the Miombo of Southern Africa, former permafrost areas of the Russian Far East, and the grasslands of inner Asia where China is acquiring 100-year leases for farmland. This rapid expansion is endangering wildlife, our climate, and the rights and livelihoods of local communities and Indigenous peoples.
It also appears that as the climate changes, much of this converted acreage will no longer be suitable for soy production in 20 years. But they will be degraded and will not support the levels of biodiversity that has been lost.
Downstream buyers of soy used for animal protein, as well as those who sell farmers equipment, agrochemicals, and seed each play a role in soy expansion. Soy traders, however, have an outsized role. And they present a bottleneck to industry transformation. According to a new Scorecard launched today by WWF in collaboration with Global Canopy, no global soy trading company is doing its part to prevent the devastating impacts of soy production on critical ecosystems or to tackle human rights abuses in their supply chains.

Multiple stakeholders have a role to play in eliminating environmental and social issues from supply chains, including soy. WWF and Global Canopy call on agribusinesses to scale up their commitments and implement credible plans in alignment with Accountability Framework initiative guidance (AFi), while increasing transparency and traceability in reporting on risk and progress toward commitments over time. We ask that:
Soy traders commit to zero conversion and respect human rights across their supply chains, with a 2020 or earlier cutoff date, and accelerate delivery against this commitment;
Soy buyers (feed companies, animal protein producers, retailers and brands) ensure that their soy supply chains are free of deforestation, conversion, and human rights abuses, and require suppliers to do the same across all their operations;
Input providers (equipment manufacturers and agrochemical and seed companies) require that the credit they advance in the form of inputs is not made available to soy producers that deforest or convert natural habitat;
Financial institutions require clients to adopt a conversion-free policy with a 2020 or earlier cutoff date, respect human rights, and set ambitious time-bound implementation plans to achieve commitments;
Policymakers adopt and enforce binding legislation to ensure that all agricultural commodity supply chains are free of deforestation, conversion, and human rights abuses.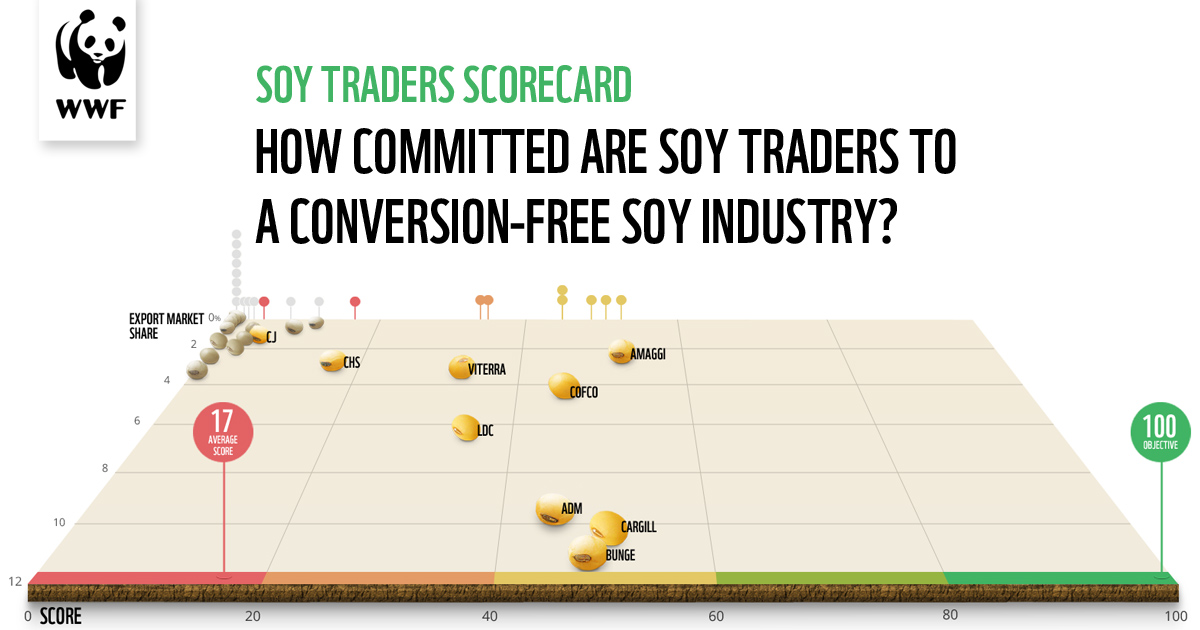 This is the first study to evaluate how effectively soy traders are embracing deforestation-free, conversion-free, and human rights commitments and implementation plans. The results are not good—they are all failing: the best company total score was only 52.5%. While traders are not the only institutions responsible for this situation, they are they connect producers to buyers. And if habitat conversion, human rights abuses, or illegal activities are involved, they are responsible for transporting illegally produced soy across international borders. The buck stops there.
Soy can be produced in ways that are ethical and responsible. It's time for agribusiness generally and traders specifically to do what it takes to get there. If they don't, then they should be held accountable for the GHG emissions, the human rights abuses, the loss of biodiversity and critical ecosystems, and the illegal practices connected to soy production.