Global Environment Facility
Overview
WWF and the Global Environment Facility (GEF) have a rich history of partnership and mutual support. At the first United Nations Earth Summit in Rio in 1992, WWF was an active participant in the international negotiations to establish the GEF. We have since been a ceaseless supporter of its policies and operations, participating in the design or execution of more than 100 GEF programs and projects.
The GEF is a partnership for international cooperation, bringing 183 countries, international institutions, civil society organizations and the private sector together to address global environmental issues. Since 1991, the GEF has provided $18.1 billion in grants and leveraged $94.2 billion in co-financing for 4,500 projects in 170 developing countries. Developed and developing countries alike have provided these funds to support projects related to biodiversity, climate change, international waters, land degradation, and chemicals and waste.
A new milestone in this partnership was reached in November 2013, when the GEF Council welcomed WWF as a GEF Project Agency. This status gives WWF the ability to work directly with the GEF's member countries to design and implement GEF programs and projects on their behalf, with full accreditation regarding GEF policies, rules and procedures.
WWF recently concluded a project that worked closely with local communities to reduce land degradation, forest loss, and climate change vulnerability in the Himalayas in Nepal. Empowered by the Global Environment Facility, WWF worked directly with the government of Nepal to design and implement the project.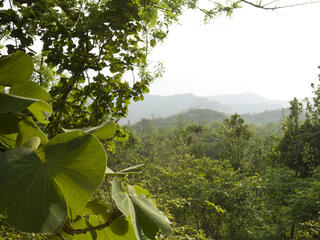 Why It Matters
The GEF exerts significant influence for positive change by investing in new ideas, bringing together influential partners and taking solutions to scale across the globe. As a GEF partner agency, WWF can leverage this influence—in conjunction with our own global network of expertise and partnerships—to protect some of the most vulnerable species, places and communities on Earth.

WWF's work is a natural fit with the GEF's mission. As a leading international conservation organization, we have significant expertise in financing action for environmental management. We also have a long history of active field presence around the world, including a longstanding presence in developing nations.

Our strong, active relationships with national and local governments, combined with our deep roots in the civil society of the places we work, give WWF the knowledge necessary to tailor projects to countries' specific needs. And because we have collaborated with GEF agencies for many years, we are familiar with GEF processes and objectives.
What WWF Is Doing
The recent accreditation of WWF as a GEF Project Agency allows GEF beneficiary country authorities and partners to rely on a worldwide network of experts, supported by 5000 staff people from over 100 countries. With more than 50 years of experience in local, regional and global engagement, WWF brings to the GEF family experience executing more than 100 GEF projects since 1992.
As a GEF Project Agency, WWF's goal is to address global environmental challenges and help GEF member countries develop strategic innovative solutions responding to complex national and regional issues.
For more information, please contact [email protected].
WWF Global Environment Facility Project summaries