The Bezos Earth Fund & WWF: investment in community and climate
Nature underpins human health, and climate is critical to maintaining our planet's balance. As the global climate warms at an accelerated pace, it threatens to break the natural systems that provide us with food and water and nurture our well-being. Yet, if protected, these same systems can be a vital part of the climate solution. The Bezos Earth Fund has awarded World Wildlife Fund (WWF) $100 million to harness the power of nature to stabilize the climate crisis. WWF is profoundly grateful for this transformational investment, and the impact this commitment will have on millions of people around the world.
The grant funds three areas of work:
To deliver on global climate goals, we must cut emissions in half by 2030; this will require extraordinary financial support to test new approaches and scale proven solutions. The Bezos Earth Fund's commitment sends an important signal to other institutions about the urgency of this crisis. WWF is honored to partner with grantees, governments, communities and others to accelerate climate solutions.
This grant will help WWF protect and restore mangroves, which store carbon and protect coastal communities from the ravages of climate-accelerated weather events. It also will enable WWF to develop new markets for seaweed as an alternative to fossil fuel-based products and to protect forests and other ecosystems from destruction in some of the most important landscapes in the world.
These projects aim to deliver substantial emissions reductions, conserve nature in areas greater than the state of California, and improve the resilience of more than 14 million people around the world. Support from the Bezos Earth Fund will allow WWF to leverage an additional $850 million, magnifying the impact of this work.
Mangroves for community and climate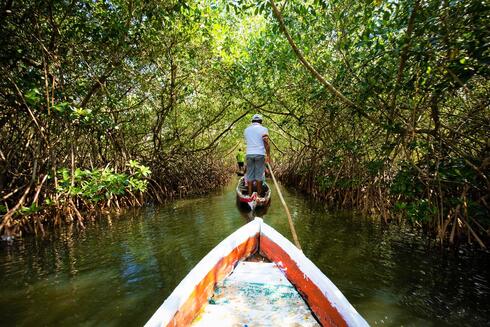 © WWF-US / Keith Arnold
Mangroves—nature's thin green line between land and sea—store three to four times more carbon per hectare than tropical forests, and they protect coastal communities from storm surges. WWF will increase conservation and restoration of these coastal forests through a combination of protecting standing mangroves and replanting efforts in Colombia, Madagascar, Fiji, and Mexico. We will work with local communities to ensure our efforts increase economic opportunity, improve health and food and water security, and build resilience in the face of extreme weather and rising seas.
Projected Impact
Protect and restore 1 million hectares of mangroves, safeguarding 1.8 billion metric tons of carbon (CO2eq) and improving climate resilience for 300,000 people annually living in vulnerable coastal areas.
A recent report from the Global Commission on Adaptation and World Resources Institute reveals what an essential role these underappreciated ecosystems play in addressing the impacts of climate change.


Mangroves are a vibrant part of coastal wetlands on five continents. Explore some of the most diverse coastal forests around the world.

Found along about two-thirds of the planet's tropical coastlines, these semi-aquatic plants constitute some of the most dynamic and biologically complex ecosystems on Earth.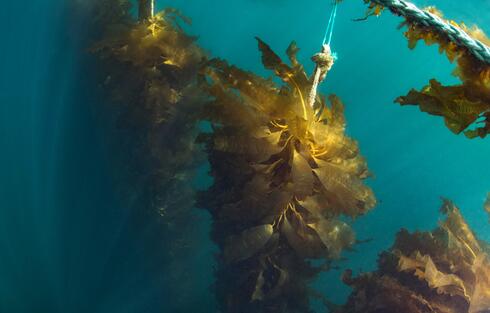 © Ocean Rainforest
Seaweed farming has the potential to revolutionize how we think of food security, ocean health, and climate mitigation. Through this initiative, we will drive increases in seaweed demand and supply for animal feed, proteins, and biodegradable bioplastics, resulting in significant greenhouse gas reductions. This work sets the stage for groundbreaking work on deep-sea sequestration, which could change the trajectory of climate mitigation.
Projected Impact
Accelerate seaweed demand and supply for animal feed, proteins, and biodegradable bioplastics, resulting in significant greenhouse gas emissions savings and providing income to thousands of coastal residents.
Seaweed is highly nutritious, easy to grow, and beneficial to ocean ecosystems. Learn more about how this hardy, resilient macro algae is becoming an increasingly valuable commodity.


Unlike terrestrial crops, seaweed doesn't require fertilizer, pesticides, freshwater, or land, and it grows rapidly. It acts as an underwater forest that absorbs carbon, nitrogen, and phosphorus, making it a valuable tool to fight climate change and a water purifier, while also creating new habitat for a diversity of marine life.

WWF-US is making its first foray into impact investment. Our first investment objective is to accelerate and scale growth of global offshore seaweed production for the benefit of people, communities, and climate gains.
Safeguarding nature to stabilize climate
Protected areas are one of the greatest tools we have to stabilize planetary warming by halting deforestation and increasing sustainable land use. Yet limited political will, insufficient financing, and inadequate recognition of Indigenous Peoples are accelerating the loss of nature. We will ensure protections of critical ecosystems in the Amazon, Africa, and Central America. We will work with communities in and around the areas we protect to help them prepare for climate change impacts and reduce threats to nature.
Projected Impact
Ensure enduring protection of 53 million hectares of critical ecosystems, safeguarding 11.3 billion metric tons of carbon (CO2) and improving the welfare of 14.2 million people by keeping intact those ecosystems that protect people from floods and other catastrophes, reducing their vulnerability to climate change.
WWF's plan to secure a permanent future for some of the highest-priority protected areas on Earth


More than 15% of land and 4% of oceans are designated as protected. WWF works with government leaders, public and private sector donors, NGOs, and other partners to securing funding to properly managing these conservation areas.