TNRC Guatemala pilot summary

Harnessing knowledge, generating evidence, and supporting innovative policy and practice for more effective anti-corruption programming
In 2020-2023, the Targeting Natural Resource Corruption (TNRC) project supported a range of
global pilots
to test anti-corruption approaches to address critical conservation challenges. In 2021-2023, WWF Guatemala led a participatory pilot to analyze the drivers of the illegal hunting and trade of jaguars, identify the role corruption plays in that trade, and develop behavior change and community-based solutions. This case study documents learning from their work.
A cultural and natural gem under threat
The Maya Biosphere Reserve (MBR) is the largest protected area in Central America. It is part of the Maya Forest (Selva Maya), the connected forests shared by Mexico, Belize, and Guatemala that are the largest tropical forest north of the Amazon. The MBR is also home to some of the most important Mayan archaeological sites and 180,000 people of diverse ethnic and cultural heritage.
The MBR is divided into different usage zones to accommodate both livelihood and conservation goals. Many of the people living in and around the MBR derive sustainable livelihoods from forests, running successful conservation enterprises and managing community forest concessions with low or even zero deforestation. However, the "buffer zone" of the MBR is much less successfully managed, with extensive cattle ranching leading to deforestation, human-jaguar conflict, and poaching.
Organized crime is behind much of the agricultural development causing the problem. However, in 2019 and 2020, evidence was beginning to suggest increasing demand for jaguar parts directly and a strong enabling role for corruption. As WWF Guatemala explained when they began their TNRC activity, "[o]ur ability to offer effective solutions for jaguar conservation would be greatly strengthened through a systematic understanding of the context and corruption risks that lead to jaguar hunting. Although corruption risk assessments have already been developed for the area, they have focused on its impact on illegal logging, archaeological looting, encroachment, and deforestation."
Implementation: Setting out with sensitivity
Due to the presence of organized crime and the need to collaborate with the government officials responsible for managing the MBR, WWF Guatemala recognized the need for caution and sensitivity from the beginning. As they reported, they kept the focus on "how we can address the issue of jaguar hunting and illegal trade of jaguar parts in a participatory manner and working alongside them as direct collaborators. We make no direct mention of the word corruption but focus on finding solutions to the issues mentioned above…."
Beyond government agencies, this careful strategy was also important for generating support from local community associations and civil society organizations. These organizations helped identify the most relevant communities to visit for the studies and coordinated meetings and field interviews with them.
Implementation: Political economy and poaching patterns
The main, overarching tool for identifying the drivers of illegal jaguar hunting in the MBR, and the ways corruption contributed, was a political economy analysis (PEA) based on participatory qualitative research with MBR communities. Components of corruption risk assessment, supply chain mapping, and criminology were included in this PEA.
Gathering the information
As the work for the study began, the team of WWF staff and a trusted consultant maintained their initial cautious orientation. They focused on understanding the dynamics that affected jaguar hunting, including corruption, but without mentioning the word "corruption." These careful in-person interviews, with anonymity, informed consent, and a small interview team, helped ensure stakeholder participation.
Validating the results
The team used the information collected to map the jaguar hunting and commercialization process, identify types of criminality involved, where corruption entered the picture, and the different power dynamics among the many actors in the system. They were able to use what they learned about corruption in many ways, such as knowing with whom they could work, with whom they could not work, and with whom working required precautions because it would be complicated or difficult but necessary and strategic. The team also identified specific threats related to jaguar hunting, including documentation of mafia presence in illegally hunting jaguar prey and intentionally baiting jaguars to attack livestock to have an excuse for killing and selling the animals. These threats formed the basis for forward-looking "opportunities for change" (see below).
In the final research stage, the team socialized the conclusions with their local counterparts and confirmed the change opportunities that were identified. Again, however, they emphasized that "no information was given about the corruption risks identified or the defined power of the several actors, only the methodology used, and the change opportunities were provided."
Results: Opportunities for change
For each threat identified in the analysis, the WWF Guatemala team also tried to identify opportunities for change. Subsequent recommendations and work focused on these positive improvements rather than more negative or punitive approaches. The opportunities address a range of weaknesses, including conditions that facilitate corruption, though the analysis also signaled the need for ongoing monitoring to assess their effectiveness. Some of the change opportunities, along with the high-level reduction in corruption risks that could result, appear in the table below.
Results: Behavior change and community solutions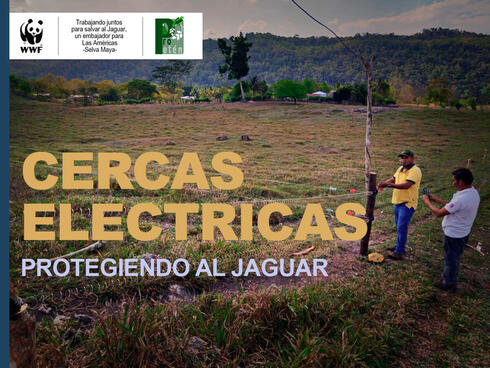 Based on the study results, the final stage of the project focused on working with ranchers to minimize conflict with jaguars and conducting behavior change activities to reduce fear of jaguars. WWF Guatemala and their implementing partner worked with government agencies and local farmers to install fences to protect livestock and develop jaguar-friendly farm management plans. They targeted farmers whose lands bordered protected areas and who had previous experience with jaguars, including jaguar attacks.
As well, WWF Guatemala and their implementing partner surveyed community members to identify knowledge gaps related to jaguars and protected areas. They then developed and broadcast several informative radio segments, including "Jaguars aren't your enemy;" "The importance of conserving jaguars, their prey, and the forest;" and "Recommendations to avoid jaguar attacks on livestock and improve productivity." They also shared many social media posts featuring the activities they were carrying out, like installation of electric fences.
These efforts are just the beginning, but they will inform the work left to do. Many human-jaguar coexistence measures still need to be developed and deployed with communities and the government. And WWF Guatemala emphasized that "measures like electric fencing will only have an impact if ranchers are involved and actively participate in jaguar protection and conservation."
Lessons learned and leveraged
Lesson 1 The importance of data
The WWF Guatemala pilot demonstrated the importance of data in two main ways: the challenge when data is lacking, and the power of data when it's used.
One of the earliest findings of the team's research was that they found nothing. That is, there was little to no reliable or scientific information available about hunting licenses, incidents of human-jaguar conflict, or basic jaguar sightings or seizures in the MBR. Without such information, officials and policymakers could not make well-informed decisions about how to manage jaguars and keep communities safe. Corruption and criminality also thrive in information-poor environments. It was for this reason that many of WWF Guatemala's first opportunities of change focused on developing, improving, and/or improving data.
Second, a clear understanding of the audience's knowledge and attitudes is the most important first step of social norms and behavior change interventions. That understanding is what helps identify target audiences and create messages that most resonate, so that a campaign does not waste time telling people what they already know or providing information they cannot use. In the survey mentioned above, statistics about how many people considered jaguars important for keeping nature in balance (60%), how many knew jaguars were protected by law (86%), how many had seen a jaguar (33%), and how many had suffered livestock losses they attributed to jaguars (43%) were all important inputs for designing workshops and radio education campaigns.
Lesson 2 Political economy analysis can be a tool of caution
WWF Guatemala's political economy analysis was key to their success. In part, this was due to the fundamental role a clear situation analysis plays at the beginning of any conservation activity, especially activities where corruption can affect outcomes. But in WWF Guatemala's case, their PEA specifically helped them navigate a very sensitive process. Through their PEA, the team was able to "understand the power and relationships among stakeholders and processes…understanding where the potential for corruption may be found and where we need to focus our interventions to strengthen weaknesses in the system, without directly placing blame on anyone."
Lesson 3 Progress is possible even in highly sensitive contexts

"Trust" is one key to navigating sensitive contexts. WWF Guatemala showed, like other TNRC pilots, that "alliances with local institutions that work in the area" help build "greater closeness and trust on behalf of the community members." A more unique finding, however, was the role gender played. WWF Guatemala's partner for the PEA reported that the fact that the researchers were female encouraged trust from women (through affinity) and men (as they were more comfortable sharing information).
More broadly, WWF Guatemala was able to achieve concrete results through their pilot despite the contextual challenges. They developed a course for rangers to strengthen their biological information capacities, which will help generate trustworthy information for decision making in protected area management plans. The pilot informed a collaboration on transboundary catalogue and information exchange about jaguars between Guatemala and Mexico, with hopes that Belize will soon join. Perhaps most concretely, the fences and other human-jaguar coexistence measures that this pilot produced will have direct impacts in the areas where they were installed, with additional potential impacts through the socialization campaign and collaborations with the government.
The main next steps for this work fall under the project "Jaguar: An Ambassador for the Americas." Several of the opportunities for change identified in the initial analysis are implemented under this project. Reflecting on what they gained from taking an "anti-corruption perspective," both in terms of the pilot activities and other work like the Ambassador project, WWF Guatemala reported that:

"For WWF Guatemala, getting insight into the corruption risks directly related to jaguars opened up possibilities for supporting government institutions…and local organizations through actions to mitigate the phenomenon of corruption that is so encrusted in Guatemalan society. The analysis not only gave us information about trafficking threats to jaguars, but also valuable information about which actions to take to save these felines, their habitat, and the species they coexist with—Actions like combatting illegal activity and corruption."
Annex: Final theory of change
Key
| | |
| --- | --- |
| Strategy | |
| Intermediate result | |
| Assumption | |
| Threat reduction | |
The WWF Guatemala team would like to thank the following entities for their collaboration:
Asociación Balam
Consejo Nacional de Áreas Protegidas (CONAP)
Fundación ProPetén
Fundación Defensores de la Naturaleza (FDN)
Asociación de Comunidades Forestales de Petén (ACOFOP)
Parque Nacional Tikal
Parque Nacional Yaxhá
Finally, this activity was just one of the many incredible contributions that the late María Amalia Porta made to the people and nature of Mesoamerica. The TNRC team honors and cherishes her memory.
[1] Please note that these are just examples derived from TNRC's body of knowledge, not necessarily specific risks or situations identified in the MBR or from WWF Guatemala's analysis.