2011 Fuller Science for Nature Symposium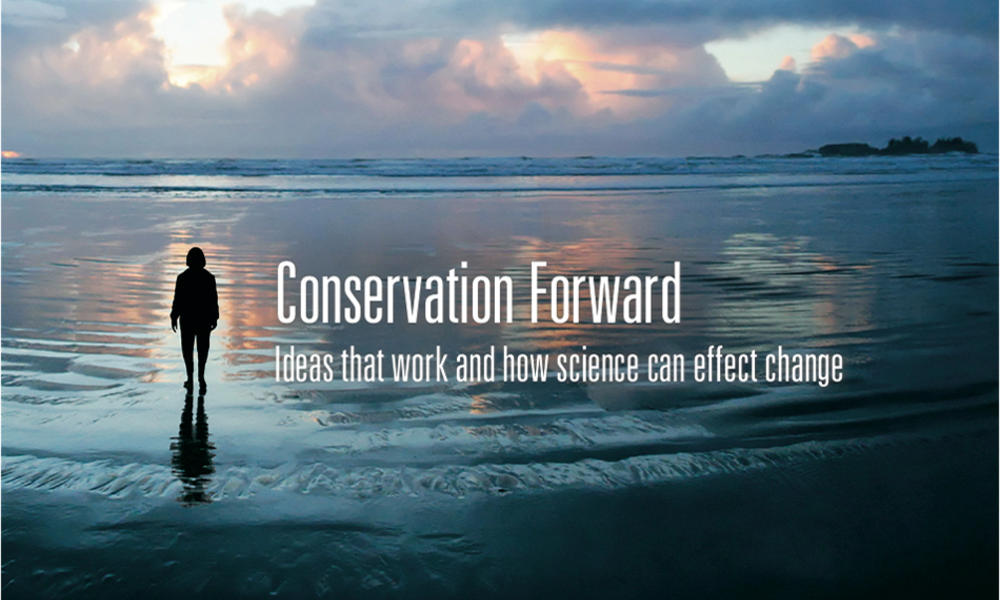 On November 17-18, 2011, WWF convened the 6th annual Kathryn S. Fuller Science for Nature Symposium. In celebration of WWF's 50th anniversary, the symposium explored innovations shaping the future of conservation.
Broadly, this two-day event highlighted transformative technologies and ideas, and discussed the future of conservation in relation to trends in energy, agriculture, climate change, and other major drivers. The symposium also focused on communicating science, motivating behavioral change, and crossing disciplinary and sector boundaries to achieve results on the ground. By convening conservation leaders and change makers from around the world, the event promoted the application of cutting-edge ideas for the next 50 years of conservation.
Schedule for 2011 Fuller Symposium

November 17, 2011: Welcome and Introduction - Carter Roberts, WWF-US

Session 1: Conservation Science in a Changing World
Keynote: On the Edge of Tomorrow: Global Trends and What They Mean for Conservation
Lester Brown, Earth Policy Institute
Watch Video
How Can We Feed the World While Sustaining the Planet?
Jonathan Foley, University of Minnesota
Adapting Conservation Science, and Conservation Organizations, to Climate Change
Rob Wilby, Loughborough University
Watch Video
Discussion
Moderated by John Fahey, National Geographic Society Chairman
Watch Video
Session 2: Crossing Boundaries
An Uncommon Peace: Environment, Development, and the Global Security Agenda
Geoffrey Dabelko, Woodrow Wilson International Center
Watch Video
Democratizing Conservation Science Through Engagement with Indigenous Communities
Anne Salomon, Simon Fraser University
Watch Video
Rethinking Markets and the Environment
Michael Jenkins, Forest Trends
Watch Video
Touching Hearts and Minds: The Experience of the Faiths In Changing Lives and the Planet
Martin Palmer, Alliance of Religions and Conservation
Watch Video
Discussion
Moderated by Cynthia Gill, USAID
Watch Video
Session 3: Communicating Conservation Science and Influencing Change
Using Social Marketing for On-the-Ground Conservation: The Experience of Rare
Brett Jenks, Rare
Watch Video
Changing Entrenched Beliefs and Encouraging Long-Term Conservation: Lessons from the Shark World
Rachel Graham, Wildlife Conservation Society
Watch Video
Dude, Where's My Climate Movement?
Randy Olson, Randy Olson Productions
Watch Video
Discussion
Moderated by Margo McKnight, Wildlands Network
Watch Video
Closing Remarks - Colby Loucks, WWF-US
Reception Celebrating the 50th Anniversaries of WWF and USAID
November 18, 2011: Welcome - Eric Dinerstein, WWF-US

Session 4: Transformative Technologies
From the Internet of Billions to the Internet of One: Maximizing the Impact of Technology on Conservation
Michael Jones, Google
Watch Video
Trends in Conservation Genetics: The Bottom Line and the Genome Revolution
Michael Bruford, Cardiff University
Watch Video
Seeing REDD: Cutting-edge Space Observations for Climate Mitigation and Conservation
Sassan Saatchi, NASA Jet Propulsion Laboratory
Watch Video
Emerging Technologies for Dynamic Wildlife Telemetry: Generating Data for Conservation Challenges of the 21st Century
George Powell, WWF-US
Watch Video
Discussion
Moderated by Penelope Firth, National Science Foundation
Watch Video
Session 5: Challenging Assumptions in Conservation Science
Rethinking People in Conservation: Stewards, Destroyers, and Everything In-Between
Susanna Hecht, University of California, Los Angeles
Watch Video
Can Hydropower Be Environmentally Sustainable?
Jeff Opperman, The Nature Conservancy
Watch Video
Paradigm Shifts in Protection: Lessons from Namibia
Patricia Skyer, WWF-Namibia
Watch Video
Money for Something? Conservation Impact Evaluation 2.0
Subhrendu Pattanayak, Duke University
Watch Video
Discussion
Moderated by Tom Lovejoy, The Heinz Center for Science, Economics, and the Environment
Watch Video
Keynote: Conservation Science for Sustainable Development: Beyond "Fighting for the Crumbs?"
William Clark, Harvard University
Watch Video
Closing Remarks
Kathryn Fuller, National Museum of Natural History