Solar powered water source helps reduce human wildlife conflict and provides additional community benefits
Date: June 18, 2020
Author: Whitney Kent
The Kapau community lies on the edge of the Sioma Ngwezi National Park, Zambia, in the Kalahari basin of the KAZA Conservation Area. The community has minimal access to water sources, including a few ponds and other perennial bodies of water which they must share with their livestock as well as wildlife within the park. Unfortunately, competition for water access between the community and wildlife has led to increased human wildlife conflict (HWC) issues, including crop raiding and livestock killings by other wildlife in the park.
In attempt to mitigate issues of HWC, members of Kapau would dig shallow wells to create other sources of water, which often collapsed due to the sandy soil they were dug into and contributed to waterborne diseases. In addition to these natural sources, the community only had two hand-pump water boreholes, narrow shafts drilled into the ground to extract drinking water. One borehole was only accessible to a single school and a handful of the surrounding villages, and the other was a 45-minute walk away and required hours of waiting in line to collect the water. On average, it took around five hours for the women and children of Kapau to fetch water at this distant borehole. Only after all the households had their water could these sources then be opened to the cattle for drinking, usually after the sun had already set, making them more exposed to predators.
With support and funding from the Isdell Foundation and WWF, a new solar powered borehole was installed in Kapau to expand their options for drinking water. The water from this new borehole is pumped into a 5,200 gallon tank which supplies a nearby tap where community members can fetch water. Out of the 494 households in the community, 78 of them now access water from this newly drilled source.
Beyond providing the Kapau people with an additional source of water, this initiative has also helped reduce instances of HWC. Cattle are now watered using troughs closer to the new borehole instead of the pans further out in the Park where they were more vulnerable. According to one community member, 61-year-old Sepiso Mulonda Sitoboha, having the new borehole in close proximity to her home extends a sense of security for her cattle from wildlife attacks.
"Our animals used to drink water late in the afternoon to evenings, and after drinking they are headed back home to be put in the kraal (cattle enclosure). Wild animals would attack cattle during this night movement from the water point to the village. Even thieves took advantage of this night movement of cattle to steal them. A lot of people lost cattle from wild animals and theft. Now this is no longer happening, we have our cattle secured in the kraals before sunset", she said.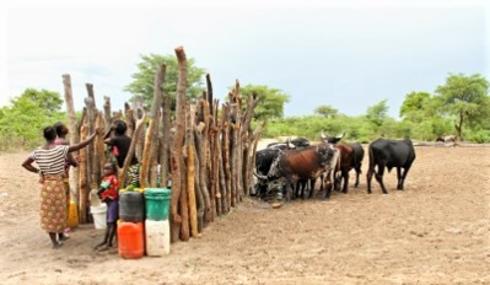 With this new and more accessible water source, the amount of time saved fetching water has been spent in new ways by the women of Kapau, including participating in community meetings, which they were previously unable to do. Women are now able to contribute to broader community decision making processes.
Another benefit reaped by the community from the additional water source is increased crop production. With the reduction in instances of crop raiding and destruction by other wildlife, more community members have considered tending gardens closer to their homes, a new activity for the community also enabled by the easier access to water. Selling produce among the community members helps to generate additional household income.
With increased senses of financial stability and physical security for members of their community, the Kapau people have gained more than just an extra source of water from this new solar-powered borehole within the National Park that they call home.