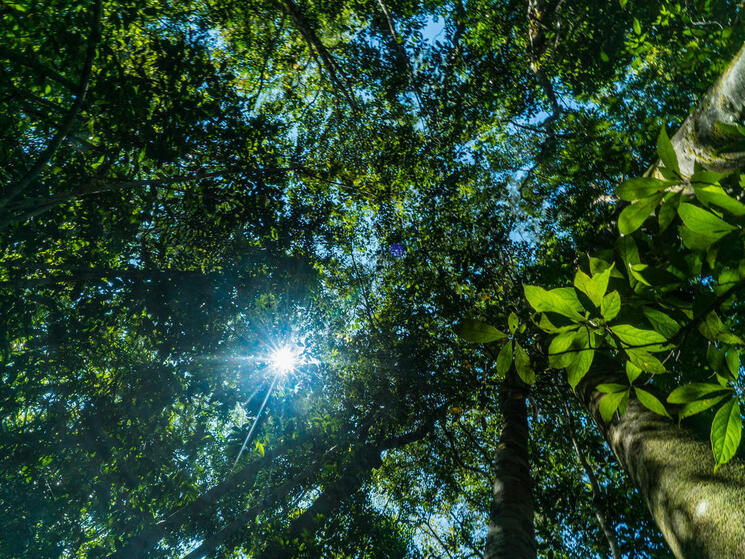 A Q&A with Linda Walker, Senior Director of Corporate Engagement for Forests, World Wildlife Fund
What is Forests Forward?
Forests Forward is a new WWF corporate program that engages companies around the world to help them reduce their forest footprint and support other on-the-ground actions—like forest restoration—to keep forests thriving for people, nature and climate.
The program is a one-stop shop for companies looking to implement best practices around nature-based solutions to deliver on their sustainability and business goals. Drawing on our deep expertise in forests, science and climate, WWF works with companies on both long-term and near-term strategies and collaborations that have lasting benefits—not only for the companies but also for local communities.
How is Forests Forward different from its predecessor, WWF's Global Forest & Trade Network (GFTN)?
For more than two decades, through our highly successful Global Forest & Trade Network program, we worked with companies across supply chains and the globe on actions they could take around responsible sourcing of forest products. Sourcing progress that companies made through the program has translated into millions of hectares of forests around the world that remain under improved management.
Forests Forward builds on GFTN's success and adds opportunities for companies that have made progress on their supply chain efforts to take additional actions to benefit forests. This can include forest restoration, forest protection and improved management in places that make sense for a particular business and that are also conservation priorities. In addition, Forests Forward engages companies across a broader range of sectors that want to take action for forests, including those outside of the timber and pulp and paper sectors.
How is Forests Forward unique?
First, Forests Forward is founded on WWF's commitment to rigorous science, integrated approaches and inclusive conservation. That commitment informs the sourcing practices we recommend, the landscapes we prioritize, the landscape actions companies can support and the metrics we use to quantify impact. Forests Forward participants have access to WWF forest and climate experts as well as those versed in commodity, policy and finance issues that affect forests and the people who depend on them.
Second, while we recognize complexity, the Forests Forward program offers a pragmatic approach to understanding where companies are starting from, helping them ascertain the risks they face and how to mitigate them while identifying opportunities for them to deliver on their business and sustainability goals. Through regular convenings among participants, Forests Forward also provides a space for companies with common challenges to collaborate, share lessons and discuss issues of mutual interest.
Third, WWF experts implementing our landscape projects have a long history working in those places and prioritizing an inclusive, rights-based approach to collaborating with local communities. And all our efforts involve thorough environmental and social analyses in accordance with the most rigorous social safeguards to ensure we consider communities, equity and local context. We really pride ourselves on our ability to engage all the relevant stakeholders—businesses, individuals, governments and other local organizations—to undertake these endeavors together. That's the key to long-term success.
Last but not least, Forests Forward also includes a global interactive platform where WWF and companies can highlight the actions they're taking in specific landscapes as well as the stories that illustrate the positive outcomes of those actions. The platform is regularly updated and accessible to the public so that companies can share their progress with customers and other important stakeholders.
Why launch Forests Forward now?
We're launching Forests Forward now because forests are under urgent threat: They're disappearing at an alarming rate. In 2019 alone, the tropics lost more than 29 million acres of tree cover. That's close to 30 soccer fields' worth of trees every single minute. It's time for innovative, collaborative programs that are backed by cutting-edge science and rooted in local communities to protect our forests and all who rely on them.
Secondly, we want to capture and channel the enormous amount of interest and ambition we're seeing on the part of companies to take action for forests and nature. Forests Forward funnels that ambition into lasting science-driven solutions that truly benefit people and nature in the long term, all in a way that also makes sense for businesses and helps deliver on their sustainability and climate goals.
Forests Forward is launching today with five companies in the United States. What do you envision for the future of the program?
Our target in the United States is to sign on 25 companies by 2025. Globally, the program aims to influence more than 370 million acres of forests by 2030.
We're ready to build on the momentum around nature-based solutions and use this program to celebrate leadership and accelerate change.

Businesses interested in joining Forests Forward can contact [email protected] to learn more.