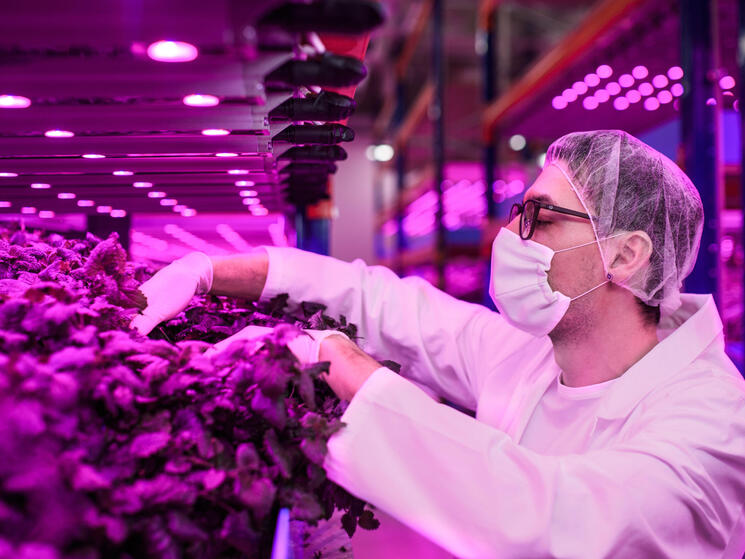 Date

: 14 December 2022

Author

: Julia Kurnik, Director, Innovation Startups, WWF Markets Institute
Food production is the largest human impact on the planet. It contributes to habitat conversion, greenhouse gas (GHG) emissions, soil degradation, agrochemical run-off, and inefficient water use. World Wildlife Fund (WWF) envisions a more distributed and resilient food system in which some food is produced at scale closer to consumers, with more efficient use of inputs, less waste, and a lower carbon footprint. Soilless indoor farming could help get us closer, especially if paired with energy and site innovations, community integration, and knowledge sharing. To that end, WWF embarked on a project to better understand the challenges of this growing industry and develop practical solutions.
In Phase I, we conducted a life cycle analysis of current systems, analyzed the future of indoor and vertical farming, determined the optimal conditions for farms to thrive, and conducted research on stranded assets, markets, and partnerships available in the St. Louis region. We found that the industry has tremendous potential, especially around water use, soil health, land conversion, food loss and waste, and pesticide use, but also often has a large energy footprint associated with direct lighting as well as HVAC costs.
In Phase II, we have used that research as a springboard for action. With the Yield Lab Institute, we formed the St. Louis Controlled Environment Agriculture Coalition (STLCEA), a group of more than 70 members, including local stakeholders, economic development groups, venture capitalists, banks, plant science experts, academics, universities, hospitals, groceries, major restaurant chains, community groups, indoor soilless farms, industry partners, and other potential partner organizations. The STLCEA Coalition committed to the twin goals of bringing a viable, innovative commercial vertical farm to the greater St. Louis region and exploring the feasibility of a Center of Excellence (CoE) on indoor farming in the region. In addition to spearheading the STLCEA Coalition's work, WWF also continued the research started in Phase I, using the life cycle analysis baseline as an opportunity to explore innovative energy systems utilizing various stranded assets and opportunities for community integration.
The STLCEA Coalition selected AeroFarms, a leading vertical farming company, to partner on this project. AeroFarms is planning its next commercial indoor vertical farm, around 150,000 square feet, in the St. Louis region, making this new farm one of the largest indoor vertical farms in the world once a site is chosen and the farm developed. We hope to be able to share more on that at a groundbreaking in spring 2023.
The Coalition also made strides in founding a Center of Excellence in St. Louis. In addition to the Coalition exploring some individual projects to move key ideas forward, The Yield Lab Institute has been leading efforts to establish a permanent CoE in modern agriculture production in St. Louis, building on the city's already deep plant science expertise and innovation. The physical CoE will be housed on the University of Missouri St. Louis campus.
In addition to these concrete actions, WWF delved into research to explore just how innovative indoor soilless farms can be. To complete our analysis, we modeled two hypothetical indoor vertical farms, one small and one large, and then calculated the energy and financial impact of integrating with various stranded assets. This included looking at both repurposing stranded assets and investing in more renewable energy options, such as river cooling systems used by shuttering coal power plants, underwater turbines, solar panels, food waste-to-energy hydrothermal systems, caves and mines, and steam loops. We also examined how farms could co-locate for energy synergies, such as utilizing waste CO2, sharing heat, and more. These are options that already exist and could be utilized by farms today, though where and when they would make financial sense depends on a site's attributes, farm goals, and other ecosystem characteristics.
We hope this work serves as a springboard for future efforts across the entire industry. While it won't look the same for every farm, every city, or even every country, there are many opportunities for an indoor vertical farm to integrate with a community while also addressing its energy footprint by utilizing stranded assets and unique partnerships. As the world continues to warm, we will need to continue to innovate around where and how we grow our food. We are excited to see indoor farms build on the research presented here to unlock their full potential and be part of a solution.
***
Related blog: Soilless Ag: We're Digging Into It