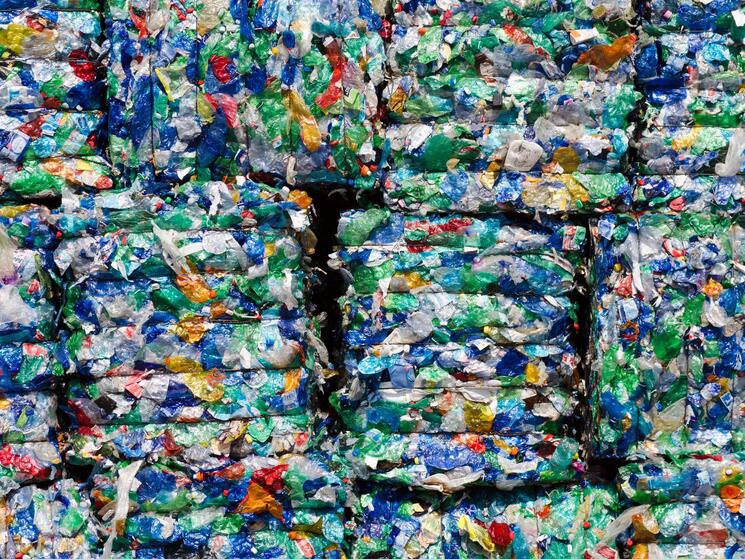 Date

: 08 December 2021

Author

: Erin Simon, Head of Plastic Waste and Business
Transparency is a critical piece to any corporate sustainability journey, as it raises the bar for accountability which in turn accelerates action. And for the plastic waste crisis, when corporate transparency is paired with cross-sector collaboration, we break down silos and unlock access to new data that sheds light into where and how companies can make the most impact on plastic pollution.
That's why in 2019, WWF set out to find a way to expand transparency around plastic waste by launching ReSource: Plastic to ask – how can companies really make a difference on plastic waste? With the release of Transparent 2021, our second annual report from the ReSource program, we're starting to be able to answer that question and it's helping us fill in that "how" gap.
ReSource members include some of the world's largest consumer good companies, so when these corporate leaders commit to making meaningful changes to their practices, including a focus on transparent measurement of their plastic footprint, the results can have real impact. Transparent 2021 examines the footprint of our members and measures progress across three ReSource goal areas: eliminating unnecessary plastic, making the plastic waste a company does need from more sustainable inputs, and doubling recycling rates.
Let's take a closer look at whether these companies have or have not made progress on plastic waste mitigation since we released our last report in June 2020.
Eliminating unnecessary plastic
This is an area where we've seen some incredible progress in a single year. The five ReSource: Plastic Principal Members – Keurig Dr Pepper, McDonald's Corporation, Procter & Gamble, Starbucks, and The Coca-Cola Company – eliminated more than half of their problematic plastic compared to the baseline established in the 2020 Transparent report.
Problematic plastic includes single-use plastic items which are either unnecessary or have inherent issues in their material or design which prevent them from being recycled or pose a specific environmental risk. They can include a range of materials, including things like straws, cup lids, or cutlery as well as specific polymers like polystyrene (PS), expanded polystyrene (EPS), or polyvinyl chloride (PVC).
In just one year, these five companies cut 57% of these items, either eliminating them from their business entirely or making them from alternative materials.
In addition to the reduction in problematic plastic, another notable development is in the advancement of reusability – an intervention that has the potential to curb the demand for single-use items. Several companies introduced or expanded reuse pilots, and/or participated in Consumers Beyond Waste to develop strategic guidance for environmentally and socially responsible reuse systems.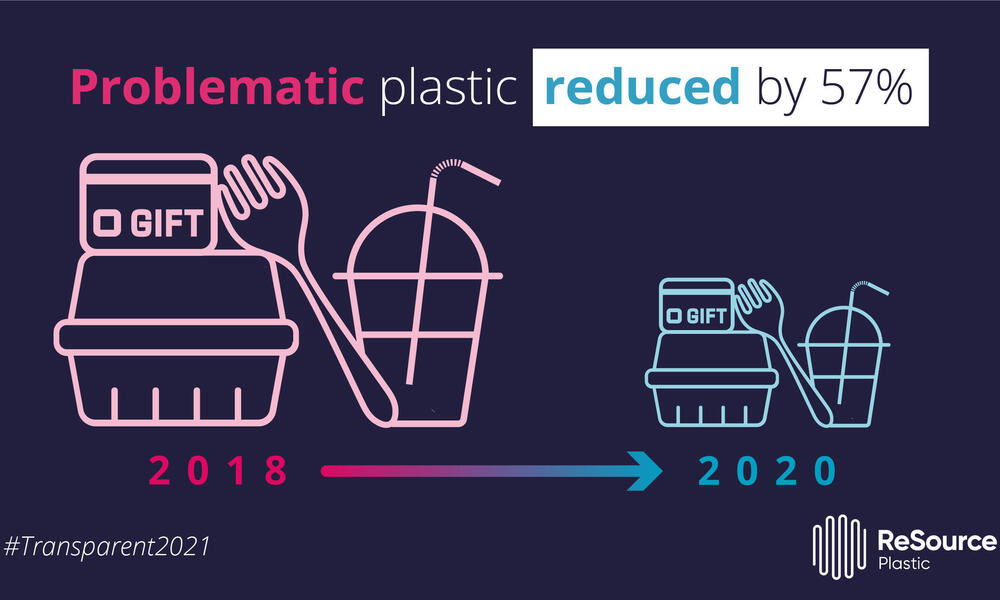 Shifting to sustainable inputs
We did see some progress toward incorporating recycled content into plastic that can't be eliminated, but definitely not enough. The use of recycled content among ReSource Principal Members increased from 7.8% to 9.6% (+124,000 metric tons) between 2018 and 2020. This modest improvement will need to be accelerated to meet companies' own time-bound goals. Unfortunately, despite demand for recycled content, there are systemic issues in waste management and recycling infrastructure that are creating a bottleneck here. Until those issues are tackled at scale, we will continue to fall behind our goals for recycled content.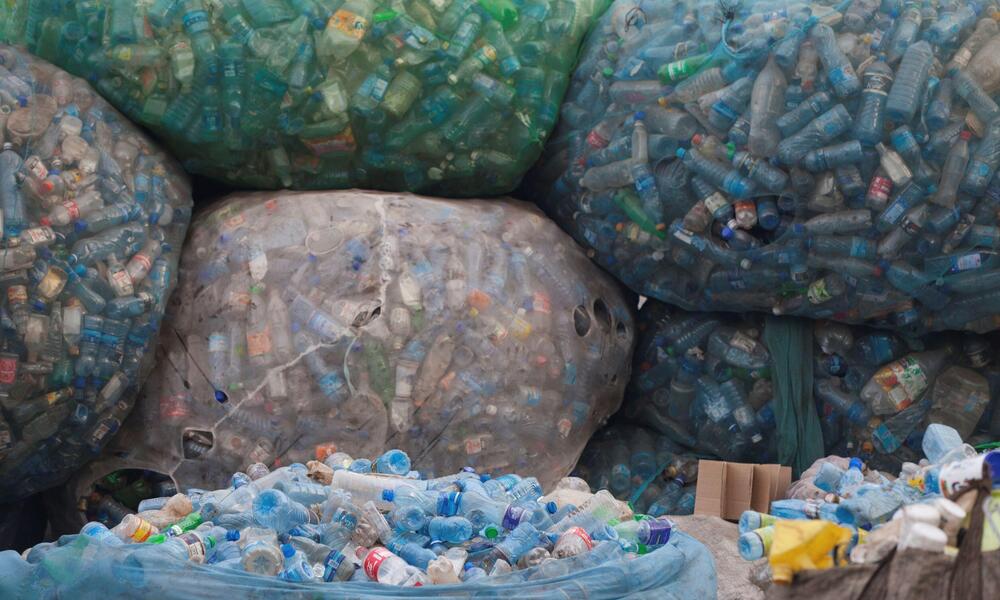 Improving recycling rates
It's not all bad news, however. Resource Members are committing to invest in and advocate for solutions that can help solve the many systemic issues that currently hamper recycling progress. Last year we saw critical foundations laid toward our goal of doubling recycling rates, with an initial focus on the US. A new Polypropylene Recycling Coalition, led by The Recycling Partnership, was established with some ReSource Members as cofounders or members, which has already awarded grants to 13 recycling facilities to increase recycling access for Polypropylene by nearly 6% in the United States. The American Beverage Association, a ReSource implementing partner, also made a $12.5M commitment to modernize PET recycling. This commitment is projected to make an additional 693M pounds of PET recycled content available over the next 10 years.


In addition to tracking the progress of the five ReSource Principal Members, the report also captured the baseline analysis of three new members—Amcor, Colgate-Palmolive, and Kimberly-Clark -- who will publish their progress in the next annual report.
Overall, my team and I are genuinely encouraged by the progress we've seen. Thanks to the unprecedented transparency from ReSource: Plastic Members, we can say we made real-world, quantifiable progress. While we still face many challenges ahead, this information will serve as a feedback loop – allowing us to continuously improve and fine tune our strategies. And importantly, it will allow us to identify even more of those major opportunities for collaboration across sectors and beyond supply chains so we can troubleshoot structural barriers to progress and bring game-changing solutions to scale.
As we dive right into the next annual reporting cycle, we already have plenty of priorities – much of which will be focused on strengthening the enabling conditions for systems-change. First, we'll be focused on to the next steps for "multiplying progress," leveraging external partnerships in key areas to accelerate momentum.
Secondly, we'll work to improve data gaps. Our insights are only as good as the data they are based on, and we still have some significant difficulties getting a hold of consistent and standardized data on waste management (Check out our article in Marine Science Bulletin to learn more about these gaps). And finally, we do expect to see more progress toward a global treaty to combat plastic pollution at UNEA 5.2. Just a few weeks ago, Secretary of State Antony Blinken committed US support for such a treaty, sending a strong signal to global leaders that this problem can only be solved when everyone comes to the table.
…
Read Transparent 2021, the annual ReSource: Plastic progress report