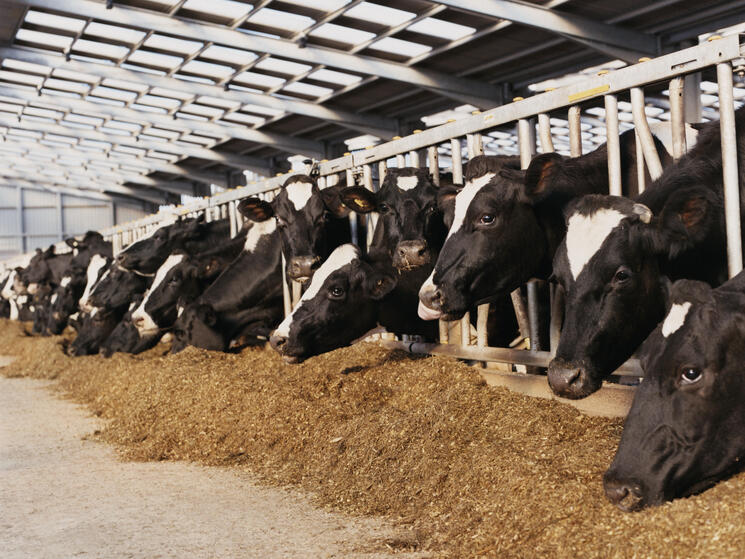 Date

: 27 January 2021

Author

: Katherine Devine, Director of Business Case Development, WWF
The Possibility Is Closer than You Might Think
Many large companies have made environmental commitments to reduce embedded greenhouse gas emissions in the products they make or sell, yet are struggling to reach them. Scope 3 emissions pose a particular set of challenges—all the indirect emissions that occur both up and downstream in a company's value chain, including from primary production, such as those emitted while producing milk on dairy farms. Within the food industry, supply chains are complex, with many ingredients going into diverse product portfolios. The dairy industry's Net Zero Initiative¹ (NZI) has established the goal of reaching net zero GHG emissions by 2050 and has set a bold agenda to achieve this goal. Recent analysis conducted by The Markets Institute @ World Wildlife Fund—based on assumptions and data shared by stakeholders in the dairy industry—demonstrates that achieving net zero for large farms is possible with the right practices, incentives, and policies within five years. If businesses also step up to make investments and collaborate with dairy farmers in their supply chain, the potential to reach these goals can become even more tangible.

Achieving net zero relies on reducing emissions in enteric fermentation, manure management, feed production and efficiency, and energy generation and use. As part of the NZI, the dairy industry will launch a pilot of several farms in 2021 to measure and track progress on emissions reductions in these areas, and the impacts from implementation of recommended practices and technologies. While some areas, such as feed supplements that have been shown to reduce emissions from enteric fermentation, will require government action via FDA approval for supplement use in the US, others are ripe for business investment and support to drive forward.
How Companies Can Drive Change

How can companies help drive these changes forward more quickly and at scale to reduce their Scope 3 emissions? There are several areas where investment and incentives are needed to help farmers as they transition to net zero practices. Although many of the practices outlined in the analysis have the potential to benefit both the environment and the farm's bottom line, the upfront investments are very often cost prohibitive, and the time until one would see benefit, depending on the practice, can be lengthy. Companies can incentivize farmers to implement climate-smart agricultural practices, support the purchase of anaerobic digesters, back research to help establish better information on the science behind carbon credits, and incentivize use of organic substrates in anaerobic digesters.
Large dairy buyers could reduce embedded carbon in their products by purchasing value-added carbon "insets" directly from farmers or cooperatives within their supply chains, which could increase the potential carbon credit value. Furthermore, companies could collaborate with farms and dairy industry organizations to find ways to bundle and purchase carbon credits produced on dairy farms where they buy milk. Were companies to work closely with the dairy industry to advance these initiatives and enable greater GHG reductions, they could potentially use these measures toward meeting their reduction targets for Scope 3 emissions [based on Science Based Targets (SBTs)], and incentivize dairies to embrace net zero practices through long-term contracts or other purchase or offtake agreements. Such agreements could provide stability and collateral as dairies consider investing in technology like anaerobic digesters, or transitioning to some climate-friendly practices that may take a few years to show financial benefits.
Although companies would benefit by buying such insets from farmers, it is important to note that such purchases would shift the emissions reductions from the farmer to the company. This would result in the dairy essentially selling the credits that would enable its net-zero status, as the emissions reductions cannot be double counted. This challenge raises the need for greater efforts to synchronize carbon markets to ensure proper incentives for famers, as well as enable more consistency in understanding of carbon credits.
Nestlé has already committed $10M to the Net Zero Initiative, which will enable the dairy industry to implement the pilots and take the lessons they will learn to the rest of the industry. Starbucks has also expressed an intention to support the initiative. Although the pilots are designed for large, Midwestern dairies, the research and findings from the pilots can be applied to farms of all sizes, and increased uptake of practices and technologies will likely bring prices down to make them more affordable for smaller dairies.
With no time to lose on making meaningful progress to address climate change, companies have the potential to accelerate the journey to net zero. Although this initiative is focused on dairy, similar models could be applied to other industries to push new and more ambitious commitments and progress towards reducing GHG emissions throughout the value chains that make up our food system.
¹NZI was founded by dairy organizations representing farmers, cooperatives, and processors including Dairy Management, Inc, the Innovation Center for U.S. Dairy, Newtrient, National Milk Producers Federation, U.S. Dairy Export Council, and International Dairy Foods Association.