Why WWF Cares about Meat, Poultry, Dairy, and Seafood
Between 1970 and 2014, global populations of mammals, reptiles, amphibians, fish, and birds declined by 60%. One major reason: where and how we produce food.
The loss of wildlife is driven most directly by the loss and degradation of their habitats—such as clearing forests, grasslands, and wetlands to make room for pastures, cropland, and fish farms.
The production of meat, poultry, dairy, and seafood contributes significantly to habitat loss as well as greenhouse gas emissions and water use. This is because it doesn't just take resources to raise the animals themselves but also to produce their feed.
At the same time, some livestock and feed production practices—such as well-managed grazing of cattle on grasslands and the use of cover crops to build soil health—can help mitigate environmental impacts and improve yields. While sustainable practices can vary by geography and production system, we encourage an outcome-based approach to food production that:
Preserves natural habitats and diverse wildlife;
Reduces the use of land, water, energy, and other natural resources; and
Limits waste, water pollution, soil erosion, and greenhouse gas emissions.
WWF works globally with food producers, traders, processors, brands, retailers, restaurants, trade associations, financial institutions, foundations, and governments to shift sourcing, financing, and policies to support more sustainable food systems—from cattle to chickens to farm-raised salmon. Together, we're examining what sustainable solutions are possible, what works and what doesn't, which tools are critical to improve animal protein production globally, and what it all costs, recognizing that it is critical to balance environmental, social, and economic concerns.
Our goal for 2030 is to reduce the key impacts of animal protein by 50% per gram of protein in the US and by 20% globally.
Beef and soy are the leading contributors to global deforestation, especially in Latin America which leads the world in forest loss. At current deforestation rates, WWF estimates that more than 290,000 square miles of Latin American forests, grasslands, and savannah will have been cleared between 2010 and 2030.

The world's grasslands are under pressure from expanding production of livestock and feed, as well as energy production, infrastructure, and development. For example, Brazil's Cerrado and the Chaco of Paraguay, Argentina, and Bolivia are losing grasslands to expanding agricultural production. Across the Great Plains of the US, Canada, and Mexico, the expanding production of wheat, corn, soy, and alfalfa—some of which is used for livestock feed—is contributing to the loss of intact grasslands that are home to pronghorn, songbirds, swift fox, and more.

Driven by deforestation and grassland loss, livestock emissions and feed production, agriculture is responsible for about one-quarter of humankind's direct, global greenhouse gas emissions, with livestock contributing about 14.5%. In the US, agriculture accounts for about 9% of the country's emissions and livestock less than 4%.

In 2014, people consumed more farm-raised seafood than wild-caught for the first time. While aquaculture can help alleviate the pressure that demand for seafood is putting on oceans, it still relies on wild-caught fish for feed. In addition, the expansion of fish farms can impact a variety of landscapes, such as the fjords of Chile where salmon are raised in open-water pens and mangroves of Southeast Asia that are cleared to raise milkfish and shrimp.

The production of livestock and feed also requires a lot of water. While water requirements differ dramatically by geography and production system, global averages are about 1,847 gallons of water to yield one pound of beef, 718 gallons per pound of pork, 518 gallons per pound of chicken, 391 gallons per pound of eggs, and 122 gallons per pound of milk. These figures are generally lower in the US.
What We Do
As the global population grows larger and wealthier, animal protein consumption is expected to grow by more than 70% between 2010 and 2050, most of it in developing countries.
With this trend in mind, WWF is working to improve production by engaging companies, their supply chains, and producers directly. Moving global markets is a complex undertaking. Our strategy is to partner with the world's largest food companies because they can help drive more sustainable production of meat and feed at scale. We help them identify risks and prioritize action, create more transparent supply chains and traceable products, engage suppliers and buyers to drive sector-wide progress, and monitor and verify that their efforts to improve production and sourcing are delivering the positive results our planet needs.
All of our work is built on identifying critical issues and trends quickly, so we can address them more efficiently and at lower costs.
Informing decisions with research
As a science-based organization, WWF recognizes growing concerns about the impact of producing more food, including animal protein, in a wealthier, warmer world. We also know that we have more than 7 billion food authorities on the planet—everybody is an expert. The question is: How can each consumer be better informed about the implications of their choices? Proteins in general and animal protein, in particular, will define the food system of the 21st Century. To that end, WWF and the Rockefeller Foundation are partnering to undertake global research that evaluates the range of environmental and nutritional impacts of each key source of protein, from grass-fed beef to lentils, so that we can make apples-to-apples comparisons. This work will be completed in 2019 and will be the cornerstone of WWF and Rockefeller's work going forward.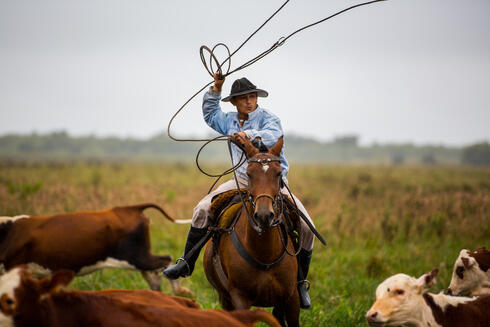 Ranching sustainably to maintain grasslands
Livestock grazing can be used to help maintain grasslands in landscapes that evolved with grazers, such as in the Northern Great Plains of the US and Canada. Through its Sustainable Ranching Initiative, WWF works with ranchers in this grassland ecosystem to identify and share better management practices that have a positive impact on soil, grass, water, and wildlife. We partner with diverse local, state, and national stakeholders to develop resilient communities in rural regions that depend on agriculture for their livelihoods by engaging producers on ecological and economic sustainability and identifying tools (such as long-term contracts) that help to increase their capacity to stay on the land and care for it, as they have done for generations.
Improving beef production
WWF is a founding member of the Global Roundtable for Sustainable Beef and its national counterparts in the US, and Canada. Together with other NGOs, industry stakeholders, and scientists, we're developing programs for producers, processors, retailers, and other supply chain stakeholders to measurably and transparently improve beef's environmental, social, and economic sustainability.
Conserving natural habitats
As a member of the Collaboration for Forests and Agriculture with The Nature Conservancy and National Wildlife Federation, with support from the Gordon and Betty Moore Foundation, WWF works with traders, processors, meat packers, retailers, restaurants, banks, investors, and other institutions to eliminate the loss of key Latin American ecosystems—the Brazilian Amazon rainforest and Cerrado Savannah, and the Chaco woodlands and grasslands of Argentina and Paraguay—from global beef and soy supply chains. Already, more than 60 of the world's largest beef and soy buyers, from the US to Europe to China, have committed to protecting these habitats.
Through the Good Growth Partnership, WWF is working with the United Nations' Environment and Development Programs, the International Finance Corporation, and Conservation International to help beef, soy, and palm oil companies implement their commitments to slow the loss of critical forest habitats.
More responsible aquaculture
WWF works with fish farms to improve their practices through aquaculture improvement projects so that they can meet the standard of the independent Aquaculture Stewardship Council. We also work with seafood buyers across the supply chain to encourage improvement by sourcing from farms engaged in these projects and certified to the ASC standard. We are also piloting programs and conducting research to improve the traceability of farmed seafood and its feed so that buyers and consumers can know where their products come from and verify they are responsibly produced.
Reducing the impacts of feed
As members of Field to Market: the Alliance for Sustainable Agriculture, WWF is working with other NGOs, U.S. Department of Agriculture's Natural Resources Conservation Service, universities, and some of the country's largest food and agriculture businesses to help farmers measure and manage the use of land, water, energy, and other resources needed to produce crops.
Through the Midwest Row Crop Collaborative, we're helping scale solutions to improve soil health and water quality on farms in Illinois, Iowa, and Nebraska. The program is designed to meet the objectives of federal and state task forces to reduce nitrogen and phosphorous pollution in the Gulf of Mexico by 45 percent by 2035.
WWF is also working with diverse stakeholders in industry and academia to reduce the impact that livestock feed has on the environment. Producing feed more sustainably and finding alternative, lower-impact feed sources—for example, micro-organisms, flare, and insects—can alleviate pressure on habitats that are converted for feed production as well as the use of fishmeal and oil in animal protein production.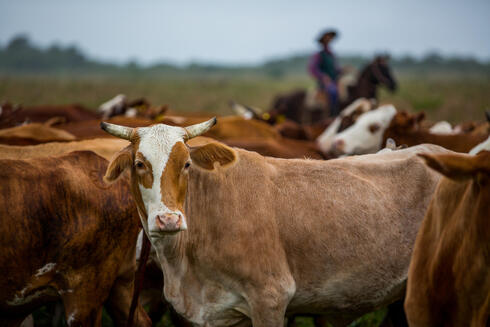 Turning livestock waste into an asset
In collaboration with the Innovation Center for US Dairy and other organizations, WWF is working to improve the production of dairy. By helping identify scalable solutions to re-use livestock manure, producers can turn a liability into an asset and a separate income stream. Finding ways to extract more energy, nutrients, and fiber from manure can reduce a farm's greenhouse gas and water footprints, while also minimizing the negative impacts of waste runoff on nearby waterways. In addition, we're working with the Innovation Center to scale a new, web-based tool that allows farmers to measure and manage greenhouse gas emissions from all aspects of production.
Making the business case
Environmentally sustainable practices must also be economically sustainable, or else they won't be around for long. WWF is developing business cases and other research to demonstrate the economic value of environmental sustainability. Already we have documented the benefits of improved efficiency in production, land rehabilitation, sustainable intensification, and the use of innovative financial tools, such as long-term contracts, to help producers make the investments required to become more sustainable and profitable.
Advocating for strong conservation policies
Farmers and ranchers are already proving that we can meet future demand for food in general and animal protein without sacrificing our environment; what we need now are policies that encourage them to do so. WWF advocates for USDA conservation programs that give producers the incentives they need to make sustainability economically viable.
In addition, market-based strategies alone will not address all of the key impacts of animal protein and feed production globally, especially because the biggest environmental impacts and the lowest production levels come from the poorest performing producers. Markets will not move them, but governments can and must. Building consensus among private sector and civil society actors can help move government in the right direction.
What you can do
If we're going to reduce the environmental impacts of food production, consumers must get involved, too. Here are five simple steps you can take today.
Consume mindfully. Consumers in the US should consider the environmental impacts of the foods they choose. By eating a balanced diet, following nutritional recommendations, and reducing overconsumption, people can maintain a more sustainable environmental footprint.
Reduce waste. About a third of all the food that's produced globally is never eaten—several times what's needed to feed every malnourished person on the planet. By saving food, we can provide food for more people without increasing its impacts.
Shop sustainably. Consumers should look for food items that are certified as more sustainable by independent organizations. By choosing certified or more sustainable foods, you can send a message to your favorite grocery stores and brands that sustainability matters to you.
Get to know farmers and ranchers. Most Americans are generations removed from farms. By visiting with nearby farmers and ranchers or your local farmer's market, people can begin to understand how agriculture can serve as a tool for conservation. And with greater understanding and personal relationships, we can begin to share in the challenge of producing and consuming food more sustainably.
Advocate for strong conservation policies. Congress and the Administration have a lot of influence over our food system and its impact on nature. You can get involved in the process. Ask your members of Congress to support policies that help farmers and ranchers conserve wildlife and grasslands while producing food.