Stories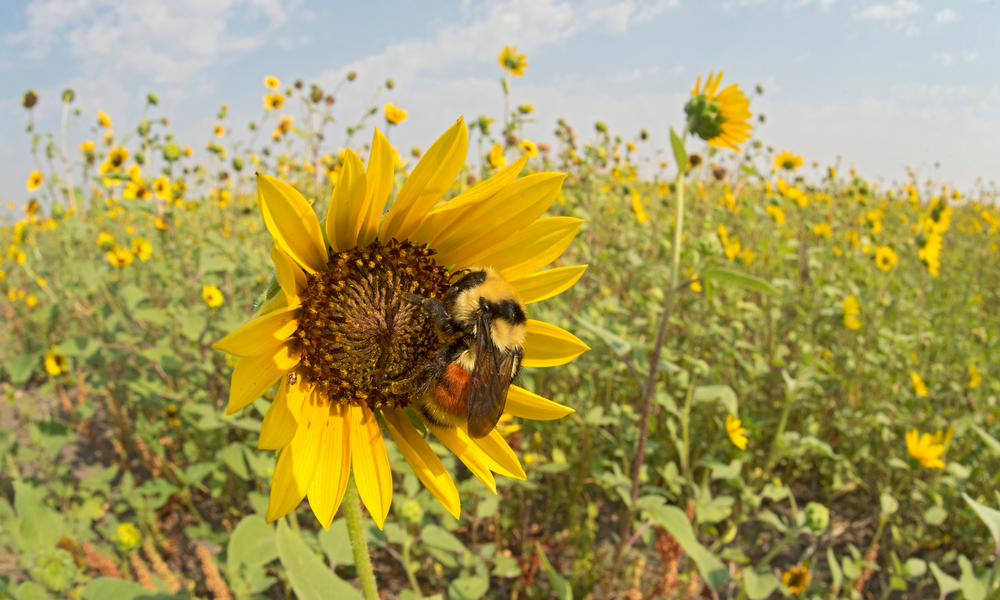 Right now, members of Congress are working out the final details of the 2018 Farm Bill, and the stakes for conservation are huge.
WWF Magazine: Fall 2017

Chris Field is confident we will solve climate change. We just need to do one thing first.

WWF Magazine: Fall 2017

Lindsay Bass helps forge collective solutions to the threats facing freshwater around the world.

WWF Magazine: Fall 2017

Edward Burtynsky's near-abstract photography documents the countless ways that water shapes our landscapes.

WWF Magazine: Fall 2017

US Fish and Wildlife Service recently announced manatees had been downlisted from Endangered to Threatened on the List of Endangered and Threatened Wildlife.

WWF Magazine: Fall 2017

WWF is working with partners to not only restore the United Kingdom's rivers and wildlife to a healthy state, but to protect them—and the otters and others who depend on them—from challenges to come.

WWF Magazine: Fall 2017

Explore a global WWF project that's combining big partnerships with bigger data to map and protect the world's last free-flowing rivers.

WWF Magazine: Fall 2017

Whether we're washing clothes or watering the lawn, all the water we use in our homes is drawn from a nearby lake, river, reservoir, or aquifer. Together, we can help protect this vital resource.

WWF Magazine: Fall 2017

Among fly-fishing aficionados, the golden mahseer is legendary.

WWF Magazine: Fall 2017

WWF National Council member Dan Sarles serves as executive director of the Eaglemere Foundation. He's helping WWF safeguard the environment, from Arctic waters to South American forests.

WWF Magazine: Fall 2017

Shambhu Paudel noticed that the research on freshwater species in his home country of Nepal was extremely limited. So, with help WWF's Russel E. Train Education for Nature Program, he's changing that.

WWF Magazine: Fall 2017

California is a global winemaking powerhouse. But extreme weather—from droughts to floods, all driven by climate change—could threaten that productivity.

WWF Magazine: Fall 2017

If you've ever gotten together with friends to play Risk or Settlers of Catan, you know the appeal of a strategy board game.

WWF Magazine: Fall 2017

All life depends on water. Learn how WWF is helping to secure global freshwater resources for people and a living planet.

WWF Magazine: Fall 2017

Solitary, beautiful, and elusive, the jaguar is the biggest native feline to roam the Americas.

WWF Magazine: Fall 2017

As monsoon rains roll in, wildlife in India's Kaziranga National Park begins to lumber toward higher ground beyond the protected area's southern border. WWF works to preserve these vital corridors.

June 30, 2017

WWF and Tiger Beer US are engaging in a campaign to fundraise to support rangers around the world, including those in tiger range countries to reduce the threat of poaching to this species. Tiger Beer will match up to $25,000 of consumer donations from July 1 through August 31, 2017 to support WWF's Back a Ranger Program.

June 29, 2017

In mid-October of 2016, an Amur tiger was seen in the Russian city of Vladivostok. Despite efforts to capture him, he proved elusive, and gained international attention. On October 20th, he was finally captured and taken to a rehabilitation center. After being rehabilitated, he was released into his new home, Bikin National Park.

June 27, 2017

Many people may not know that access to fresh water around the globe can have big impacts here in the US. This week, WWF released a new book entitled Water, Security and U.S. Foreign Policy, exploring how access to water affects US national security and prosperity and how the US can respond effectively. We sat down with two WWF experts to provide some background on this link between fresh water and national security.

June 27, 2017

The government of Belize has not put into place promised protections for the Belize Barrier Reef World Heritage site, leaving the largest barrier reef in the western hemisphere under threat from offshore oil drilling and damaging coastal construction, according to a new WWF assessment.

June 20, 2017

The village of Sobphouan, with help from WWF, is a leading example of successful efforts in Laos to replace traditional agriculture and farming—drivers of widespread deforestation—with sustainable rattan production.

June 16, 2017

Last winter, WWF and other volunteers built nests for the rare ringed seals of Lake Saimaa so they could give birth. Out of the 81 pups born months later, 90% were born in these man-made snowbanks.

June 12, 2017

Kimberly Clark and WWF have collaborated to raise awareness of the FSC logo and what it represents.

June 08, 2017

The government of Mexico announces a permanent ban on gillnets in the Upper Gulf of California - a fantastic and encouraging step forward in the path to saving the vaquita.