Stories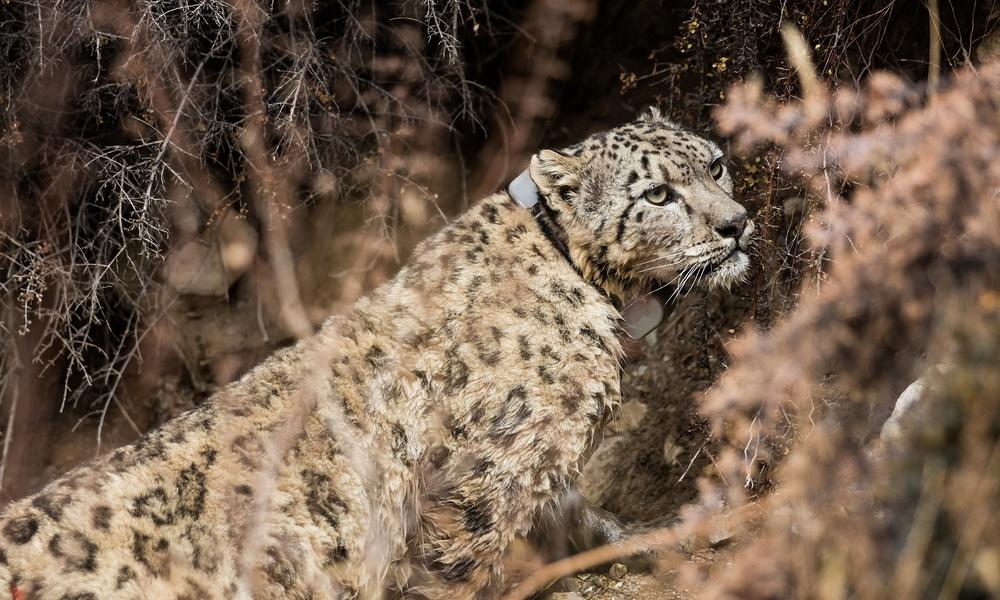 Elusive and solitary nature, snow leopards are rarely spotted and even less frequently studied within their rugged and harsh habitat. However last November, two snow leopards were captured, fitted with satellite-GPS collars, and successfully released back into their rocky homeland in Western Nepal. The two male snow leopards were the first since the 1980's to be fitted with collars within Shey Phoksundo National Park in Western Nepal.
WWF Magazine: Summer 2020

In Malaysian state of Sabah, WWF is helping to establish a wildlife corridor through a palm oil plantation to connect two reserves, which will protect crops and allow wildlife to roam freely.

WWF Magazine: Summer 2020

As global average temperatures rise, parts of Bangladesh are experiencing severe, unprecedented flooding. A photographer shares a glimpse of what life looks like on the front lines of climate change.

WWF Magazine: Summer 2020

Madagascar is home to remarkable, unique biodiversity. Unfortunately, threats to the island's flora and fauna abound. Without strong conservation strategies, several species could be lost for good.

WWF Magazine: Summer 2020

In the aftermath of Australia's devastating bushfires, WWF deployed field detection dogs to help locate surviving wildlife. During five days of searches in January 2020, the dogs found 10 koalas.

WWF Magazine: Summer 2020

San-Francisco based artist and ocean advocate Josie Iselin uses seaweed and historical imagery to create her mesmerizing, colorful artwork.

WWF Magazine: Summer 2020

Most lawns and gardens tend to need regular upkeep, but there's an easier way that's also far better for the environment: gardening with native plants.

April 06, 2020

The disease COVID-19 has caused a health crisis worldwide. We don't know the full and devastating reach of this pandemic yet, but we do understand how it underscores the destructive impacts of wildlife trade and consumption on human health and societies.


Leigh Henry and her colleagues from WWF's Tiger's Alive team visited Thailand, Laos, and Vietnam to continue the work of ending the illegal tiger trade and phasing out tiger farms.

April 02, 2020

The conservation and restoration of forests is a necessary component of a future where humanity is better able to manage and cope with the emergence of new infectious diseases. Without landscapes that balance the needs of both nature and people, the world will continue only to react to global health crises instead of preventing them.

There are many approaches that governments can take to mitigate their climate emissions and prepare for inevitable change, but sometimes overlooked is the role nature itself can play. Nature-based solutions are ecosystem conservation, management, and restoration projects designed to address a wide range of challenges while also benefiting biodiversity and human well-being.

April 01, 2020

Right now, reducing waste is ever more important and we can all look at how to do that in our own kitchens.

As the world is facing a global health crisis, the foundations of our food system are also called into question, along with the interactions between people and the natural resources we all depend on.

March 31, 2020

Tiger King, Netflix's new docu-series, is roaring with popularity, but behind the drama, there is a frightful truth: captive tigers in the United States are a significant conservation issue and could impact tigers in the wild.

March 30, 2020

In a significant step forward for nature and communities that depend on the mighty Mekong River, the Cambodian government has abandoned plans to build the Sambor hydropower dam and has put a 10-year moratorium on any new dams on the Mekong mainstem.

In Guatemala, thousands of people call the Teculutan and Pasabien watersheds home. Under the cover of iconic cloud forests, rivers flow down from the mountainous region called the Sierra de Las Minas; providing fresh water for nature and these communities, for drinking, hygiene and sanitation, agriculture, as well as for business operations and so much more.

March 19, 2020

As we all adjust to this ever-evolving situation, we hope it's comforting to know you are not dealing with this alone. Here are a few activities to help you learn about and explore our natural world from home.

It's one of the most common questions we receive—and a good one. The answer comes down to a single word: intention.

March 13, 2020

The latest survey assessing the population of monarch butterflies that winter in Mexico indicates a population decrease of 53% since the previous season. In the 2019-2020 wintering season, the area of forest occupied by monarch butterflies was 7 acres, down from 15 acres in the 2018 - 2019 season.

In Nepal, citizen scientists are working with biologists from WWF to help protect tigers, rhinos, elephants, and other wildlife found in Bardia National Park.

March 09, 2020

Every year, WWF activists head to Capitol Hill to meet with their representatives about pertinent conservation issues as part of Lobby Day. We spoke with three participants from around the country to learn why they're attending Lobby Day and what issues are most important to them.

March 06, 2020

In Tanzania, many urban and rural areas still function under traditional customs that put women at a social and economic disadvantage. Fortunately, those discriminatory traditions, norms, and stereotypes are being challenged. Sijali Kipuli from Somanga Village in Tanzania shows us how a social system in savings and credits can economically liberate the poorest people and empower women.

March 05, 2020

At about 6,900 meters below the ocean surface, a team of scientists discovered a new species. One of four specimens of the crustacean had been polluted with plastic before it had even become known to science.