Stories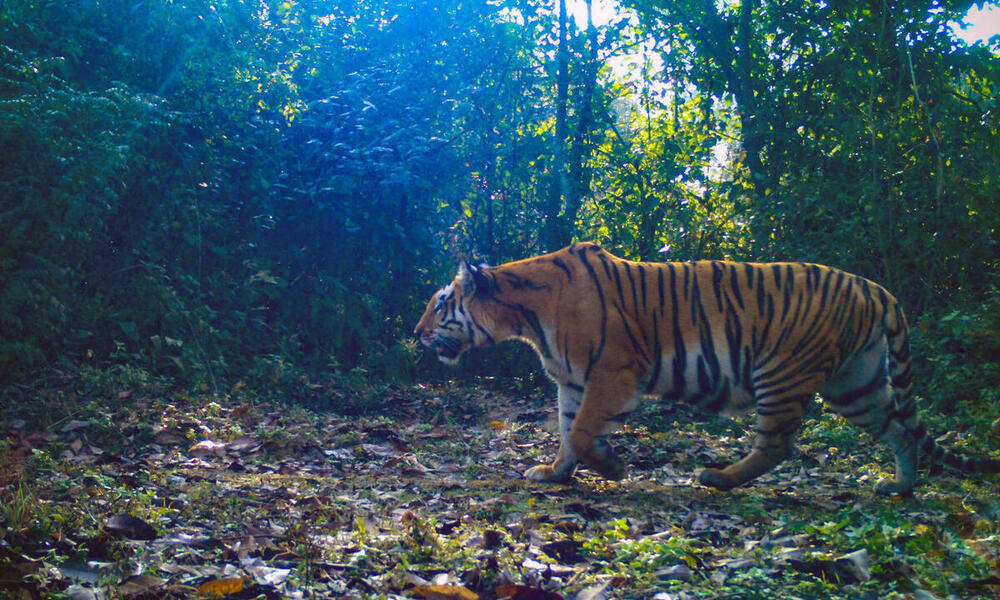 From dense jungles to the Himalayas, tigers are an elusive species—hard to find and hard to count. But, thanks to the use of camera traps, the movements and behaviors of tigers are now less of a mystery.
October 19, 2021

WWF co-developed a mobile application called TrazApp with fishers, government, and other supply chain actors, and has been training fishers across three fishing co-ops in northern Peru to use it.

WWF Magazine: Winter 2021

While WWF's primary work focuses on greater one-horned and black rhinos, the scope of our efforts—on antipoaching, habitat management, and more—supports all rhino species in one way or another.

October 14, 2021

Our oceans provide food, regulate Earth's climate, and are rooted in cultural traditions and community livelihoods around the world. When we work on ocean conservation, we are inherently also working with people dependent on the ocean, particularly those who live along coastlines.

WWF Magazine: Winter 2021

We know nature and humanity are far more intertwined, and far more at risk, than we ever imagined.

WWF Magazine: Winter 2021

Ensuring a future for one of the world's oldest mammals

WWF Magazine: Winter 2021

In Africa, much of the success of wildlife conservation has been tied to income generated from the travel and tourism industry.

WWF Magazine: Winter 2021

The white bellbird, native to the Amazon rain forest, has the loudest recorded call of any bird: 125 decibels, or roughly as loud as a rock concert.

WWF Magazine: Winter 2021

A global "eco-wakening" is underway.

WWF Magazine: Winter 2021

Community-driven solutions for people and nature in a changing climate

WWF Magazine: Winter 2021

A long, thin snout lined with razor-sharp teeth slowly emerges from an elongated box on the banks of the Ganga River. It is release day for this juvenile gharial.

WWF Magazine: Winter 2021

One of my first experiences rock climbing in Yosemite National Park was scaling the Southeast Buttress of Cathedral Peak, a vertiginous monolith that towers above Tuolumne Meadows.

WWF Magazine: Winter 2021

Vignesh Aier offers his thoughts on incorporating conservation into investment strategies.

WWF Magazine: Winter 2021

Scientists have estimated that, globally, seaweed sequesters as much carbon as mangroves, seagrasses, and salt marshes combined.

WWF Magazine: Winter 2021

On a cloudy, 104-degree day in the Kalahari Desert last January, my wife and I embarked on our first photography trip in more than a year.

WWF Magazine: Winter 2021

In May 2021, a team of WWF scientists, national park staff, veterinarians, and 17 citizen scientists set out on an expedition in the Dolpo region of Shey Phoksundo National Park.

WWF Magazine: Winter 2021

"The beauty of a coral reef is in its diversity; nature is more creative than I could ever be," says Courtney Mattison.

WWF Magazine: Winter 2021

From conquering hikes in Canada's expansive wilderness to snowboarding in the French Alps, my relationship with snow-laden peaks and evergreen-speckled hills was unshakable.

WWF Magazine: Winter 2021

The son of a Sicilian immigrant, Carlo Treviso grew up on the south side of Milwaukee, Wisconsin.

WWF Magazine: Winter 2021

Climate change is throwing off entire ecosystems, shaking rural communities that rely on produce and fresh fish for food.

October 04, 2021

In more than two decades at WWF, Irma's passion for conservation and sustainability has only grown, leading her to far-away locations throughout the world.

September 30, 2021

Thanks to increased conservation efforts, wolves are making a comeback in Europe.

September 29, 2021

Members of the Coalition to End Wildlife Trafficking Online have removed or blocked more than 11.6 million listings for prohibited and endangered species and associated products since 2018.


September 16, 2021

Alexandria Abuzanuq Ivanoff, who is from Unalakleet, Alaska, a small hunting and fishing community on the northwest coast, discusses how warming waters and increased shipping could impact Indigenous peoples and wildlife.