Behind the Scenes with: Emily Hermann, Associate Communications Specialist, Freshwater & Food
In our Behind the Scenes series we speak to WWF staff to learn more about their work and what makes them tick. For today's post, we caught up with Emily Hermann, an associate communications specialist on WWF's Freshwater & Food team.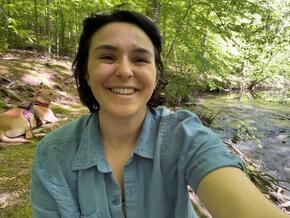 What is your role at WWF and what does a typical day look like?
I work as a Communications Specialist for the Freshwater and Food Team at World Wildlife Fund, meaning that I help to amplify the amazing work that my team does to protect freshwater and promote sustainable food systems.
While there is no typical day working at World Wildlife Fund, my work week includes a mix of creating content like blogs and web pages, preparing for events or report launches, and coordinating with other teams in WWF, including the marketing and media teams, to share our stories with the world.
But the largest chunk of my time is spent creating project management tools and systems. Within my team and across the organization, I have helped to document recurring processes, like how to get our logo approved, and create resources, like a "Comms 101" resource hub where team members can go to answer any questions that they may have about how to effectively communicate their work. These efforts help our conservation work run more smoothly at a foundational level.
Describe your favorite moment in nature.
One of the best moments I've experienced in nature was hiking in the Dolomite mountains of northern Italy. I remember the moment I arrived, I was astonished by the staggering, snow-covered peaks. I had never seen anything like it and couldn't wipe the smile off my face every time I looked up at them for the 4 days I was there.
Is there a project you are working on that you are excited about?
We've just completed and launched a very exciting project: a communications toolkit to support WWF offices around the world that work on conservation projects with The Coca-Cola Company. This toolkit is a one-stop shop of factsheets, guidelines, report templates, and other resources. By having these resources on hand, WWF offices can easily amplify stories about their conservation projects, which helps to raise awareness for how conservation solutions work and build momentum for other businesses and governments to take up these solutions as well.
What brings you joy outside of work?
The latest hobby I've picked up is sewing and creating new things with secondhand materials! Traditionally, textiles and clothes use a lot of natural resources when they are made. So rather than buying new items and increasing the demand for natural resources, I am able to give a second life to materials that were heading to the landfill and get the satisfaction of making something new that I can wear and enjoy. It's a win-win!
What previous experience have you had that led you to WWF, educational or professional?
I first started at WWF as a program analyst intern on the Food Loss and Waste team. With my undergraduate background in Biology and Science Communication from California Polytechnic State University (Cal Poly) – San Luis Obispo, and my side job experience working in restaurants throughout high school and college, I had unknowingly become a great candidate for the role.
That internship turned into a consultancy at ReFED where I provided Data and Communication Services. During this I had the fortunate opportunity of supporting the launch of the Insights Engine, an incredible data and solutions hub to tackle food waste. I am grateful to have returned to WWF about a year ago to hone my communications skill set and broaden my topical focus.
What's your favorite quote and why does it resonate with you?
Like many nature-lovers, I am a fan of Mary Oliver's poems and the way she observes the beauty of the world around her. One of my favorites is her poem, "The Summer Day." In the last line, "Tell me, what is it you plan to do / with your one wild and precious life?" She captures the potential to grow and change that we all have within our lifetimes and the opportunity to witness and enjoy what we have now.