Celebrating Women in Sustainability: Lisa Zwack
A Q&A with Lisa Zwack, Head of Sustainability, The Kroger Co.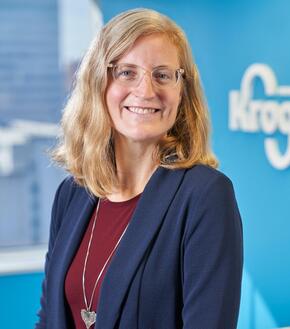 Why did you choose a career in sustainability?
It started in the seventh grade when I began volunteering at my town's nature center. I loved maintaining the sanctuary trails, helping rehabilitate injured animals, and learning about different ecosystems. Protecting nature for our collective well-being felt important, and I decided to earn my degree in environmental sciences. Fast forward to my current role at Kroger, in which I am helping one of the country's largest companies reduce their environmental impacts and seek positive outcomes, one change at time. I also think about the world in which my son and daughter are growing up, and how important it is to protect it for them.
What professional or educational experience led you to where you are now?
As they say, life is about the journey, not the destination. I have worked in multiple roles over the course of my career and have acquired skills and wisdom from each one that make me a better person today. After several years in environmental consulting, business development and communications roles, I earned master's degrees in business and sustainability at the Erb Institute at the University of Michigan. Completing this dual-degree program was the launching point for me to work in the corporate sustainability space. The ability to speak different 'languages'—business and sustainability—has proven highly important in a role where my primary goal is to be an internal changemaker and advocate for sustainability.
What are some of the biggest challenges of your work?
In my current role, I work with internal and external stakeholders to shape and drive our sustainability strategy, and everyone has their own priorities. Given Kroger's position in the food system, we have many topics to manage and perspectives to consider. For example, when we identify packaging for our private-label products, we need to keep multiple factors in mind: preserving food quality and safety, serving customer needs and ease of use, and maintaining brand aesthetics, to name a few. We're also keeping our sustainability objectives in mind at the same time, including zero food waste and sustainable packaging. Ultimately, our decision-making needs to be balanced and make sense for the company's purpose and livelihood, as well as for people and the planet.
How can we encourage more women to pursue a career in corporate sustainability?
I receive many inquiries from those at the early stages of their careers, asking how they can secure jobs in the corporate sustainability space—this is so encouraging! And I love seeing the rise of women in leadership roles across the sustainability sector, particularly because this shows younger women that they can be changemakers and influencers. To support women to pursue their goals, I think we need to celebrate all leadership styles, offer more work-life balance and flexibility in how work gets done, and offer more training and mentorship options.
How do you think corporate sustainability will change over the next decade and beyond?
I foresee a shift from corporate social responsibility (CSR) programs—often treated as a 'nice to have'—to environmental, social and governance (ESG) programs through which these topics are integrated into company strategies and become part of ensuring business resilience and longevity. Whether it's expanding revenues from sustainable products and services, routinely considering environmental impacts in supply chain decisions, or making sustainability more meaningful for employees, companies are poised to use their business models to improve the environment.
I also think we'll see even more collaboration to make sustainability happen. Many companies are realizing that they can't achieve their ambitious goals alone—they need partners to help solve complex problems. And that is one reason we at Kroger are thankful for our long-standing partnership with WWF to guide our sustainable seafood and food waste reduction work.
…

About Lisa
As Kroger's head of sustainability, Lisa Zwack leads and executes the company's sustainability strategy, driving measurable change across a variety of topics, including climate impacts, product packaging, responsible sourcing, animal welfare, waste reduction and recycling. In this role, Lisa engages key external stakeholders and partners with leaders across the Kroger enterprise to advance progress toward the company's ambitious sustainability goals. Currently, Lisa is focused on leading the development of Kroger's sustainability roadmap into the new decade.
…
The views expressed in this blog do not necessarily reflect those of WWF.